Pete Davidson Defends His "PDA" Comment On Ariana Grande's Photo Of Her Late Grandfather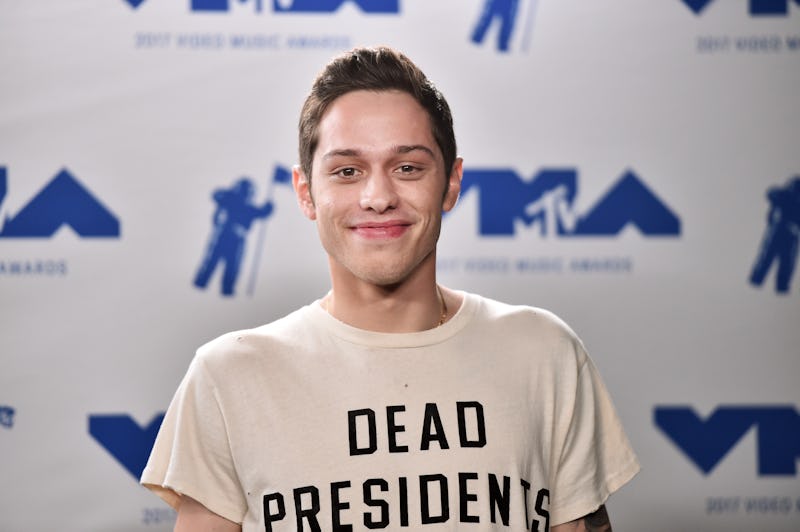 Alberto E. Rodriguez/Getty Images Entertainment/Getty Images
Ariana Grande shared a special connection with her grandfather Frank Grande (or "Grandpa Grande"). Four years after his death, Grande honored him with a series of social media posts on Sunday. But when her fiancé Pete Davidson commented on Grande's Instagram post about her grandfather, some of the singer's fans weren't impressed with what the Saturday Night Live star had to say. And when his words were misinterpreted, he felt the need to defend his relationship with his fiancée yet again in a comment that Grandpa Grande would probably approve of.
On July 22, 2014, Grande's grandfather died from cancer. On the fourth anniversary of his death, she reposted a selfie of her looking at him while in his hospital bed. She captioned the photo, "miss n love u forever my best friend." More than 3 million people have liked the photo on Instagram and the post has over 20,000 comments. But Davidson's comment of "omg what a cutie" garnered the most attention. Many people assumed that this comment was directed at Grande and noted how they felt it was an inappropriate time for Davidson to compliment his fiancée's looks. But Davidson clarified that he was calling Grandpa Grande a "cutie" in a comment that called out the people criticizing him.
Davidson replied directly to one user who had noted that he wasn't being compassionate to Grande. He wrote, "Are you guys all insane? I was talking about how cute her grandpa is. What's wrong with that? You guys will really look for anything to attack people. It's sad."
As a person who has spoken out about mental illness shaming in the past, Davidson should probably know better than to call people "insane." But his point that people are looking to criticize every aspect of his relationship with Grande is valid. Due to their whirlwind romance and engagement — and the PDA they show for one another — Grande and Davidson have faced a large amount of scrutiny. And this is far from the first time that one of them has felt the need to defend their relationship on social media. Grande recently explained why she added a song named "Pete" to her upcoming album Sweetener and she also handled the backlash to Davidson's Manchester bombing joke with sensitivity and maturity.
As Grande was mourning the loss of her beloved grandfather, she didn't need to worry about people condemning her romantic relationship. Instead, Davidson stepped up to try to put this issue to rest. He also liked the two other Grandpa Grande posts that the singer shared on Instagram. So, even though the pair weren't together when Frank was alive, Davidson was giving emotional support to his future wife through social media.
The drama surrounding Davidson's comment is particularly ironic because Grandpa Grande notoriously didn't approve of the internet. Along with the photo of Grande with her grandfather, she shared a video of her grandfather giving her advice. "Don't let them challenge you, don't let them intimidate you, and do your thing — that's the only way to do it," he tells her. Someone else then asks him, "What do you have to say to your granddaughter about the internet?" He replies, "Stay the hell off it." In another video that she posted in August 2014 — just a month after his death — Grande asks her grandpa why he hates the internet. He responds, "It causes too much nonsense."
Grande wrote on Twitter that her grandfather's views on the internet were "still relevant," but that hasn't stopped Grande from posting on social media. Yet, as shown by the hate frequently slung her and Davidson's way, Grandpa Grande definitely had a point about the "nonsense" that the internet can create. Even though Davidson and Grande may never heed Grandpa Grande's internet advice, they'll both use their platform to promote the power of positivity and speak up for one another, because they know that there's a whole lot of love and good on the internet as well.