Pete Davidson's Gift To Ariana Grande Will Definitely Make You Tear Up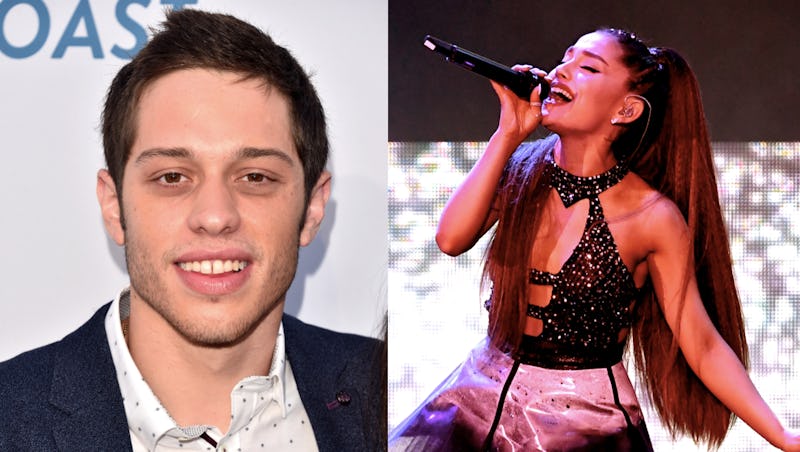 Alberto E. Rodriguez/Getty Images Entertainment/Getty Images; Kevin Winter/Getty Images Entertainment/Getty Images
It's been an intense week in the world of Ariana Grande and Pete Davidson. In addition to their general good times about New York City, the couple went for new tattoos, endured Davidson's wisdom teeth surgery, and shared a new special moment. Pete Davidson's gift to Ariana Grande was not something the singer could ever buy herself. In fact, it's something so lovely, and with so much meaning that if anyone wasn't on board with the couple beforehand, it might just have the power to change a few minds.
As Davidson revealed in an Instagram post of Grande, he recently gifted his fiancée with a precious item. He gave her his late father's NYFD pendant. E! Online pointed out that Davidson was quick to defend any haters in the Instagram comments. When one unnamed fan suggested that the comedian offering his "girl" his late father's chain might be disrespectful, Davidson stood up for his decision in an Instagram comment:
"For ur information that's not just some girl, that's my fiancé[e]. She's the greatest person I know. I gave it to her because she has my heart and that is the most precious thing I own. My dad would be so happy and love her so much."
So there.
Davidson's father passed away during the September 11, 2001 attacks on New York City, something that the comedian is slightly more comfortable discussing in public than he used to be — but still a subject he'd prefer to be quiet about, understandably. He and Grande both sport tattoos of the numbers 8418, which was the number on his father's badge from the fire department — AKA, the numbers on the pendant he used to wear. It's now in Grande's possession, a fact that they both take seriously.
Here's where the emotional, nostalgic element to the gift also fuels fan speculation. 8418 was Davidson's father's badge number, sure, but it could also be read as August 4, 2018 — a date that's just a few weeks away. Fans in the Instagram photos' comments have speculated that Grande and Davidson will marry on August 4, which would bring even more significance to those four numbers. The singer is releasing her newest full-length album Sweetener on August 17, and fans have already wondered if she and Davidson would tie the knot around then.
An August 4 wedding — it's a Saturday, by the way — would fit the narrative of their whirlwind romance, and even provide a little honeymoon time before Grande hits the road touring and Davidson returns to Saturday Night Live. Of course, there's always the possibility of the two having been together longer than fans realize; a lengthy piece on Refinery29 cites evidence suggesting the new bursts of PDA are fueled by months of having to keep the relationship a secret.
Of course, it's important to remember this is one-hundred percent fan speculation; the couple has never said anything directly or through representatives that would suggest a wedding is on the immediate horizon. Even though Grande's fans have a feeling that the wedding would occur near the release of Sweetener, and even if the numbers 8418 in a row are significant to the couple, no one can say for sure if they'll get married on that date. However, considering the secrecy of the beginning of the relationship, it's completely possible that they might do something special themselves to mark that date.
A glittering, pear-shaped engagement ring comes with a hefty price tag, but a pendant representing your father's memory is priceless. Who knows whether it's a clue for what their future holds? All that matters is it's something worth celebrating in this moment.