These Ariana Grande Quotes About Love & Relationships Are All About Knowing Your Worth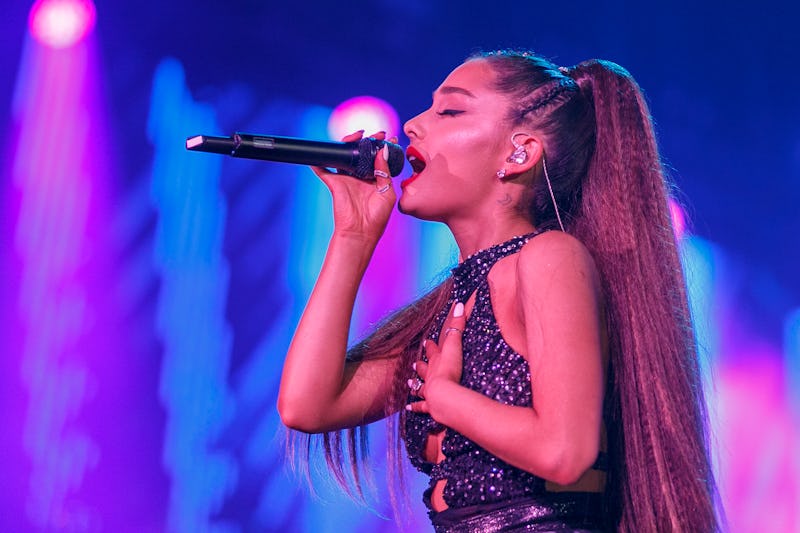 Rich Polk/Getty Images Entertainment/Getty Images
Singer and ponytail icon Ariana Grande has suddenly, intensely, and very publicly entered into a whirlwind love affair with Saturday Night Live star and comedian Pete Davidson. Between their gushy PDA comments on each other's Instagram pages and the very thirsty paparazzi pictures taken of them, it's hard to remember the recently engaged couple has only been publicly dating since the end of May. Some fans might be a little concerned for her because they want to protect her heart, but everything Ariana Grande has said about love in the past makes it obvious that she is wise beyond her years. That means, yes, she will be just fine.
Whether you're pro Grandson (Grande and Davidson's couple name as of now) or against, there's no denying that this is all happening quite fast. Ariantors are just worried for their girl. Basically, some people think no man deserves Grande's affections. But besides having a discography full of dreamy lyrics about love, she has been open about her relationships in the past. Grande has been in the spotlight since she was just 13 years old, and since then, she's dated quite a few people publicly (get it, girl) and learned a lot along the way.
She DGAF About What People Think Of Her Quick Engagement
Just as publicly as Grande has made her relationship with Davidson, she's made it clear that she doesn't give a damn what people have to say about it. The couple got a lot of flak and raised eyebrows when they got engaged so quickly, and when Grande posted a snippet of a new interlude from her album called "Pete," some on Twitter were so bold (aka rude) as to ask her, "Girl, I know you love him, but are you dumb?" But she let her critics know that she couldn't care less what they thought:
"I been the f*ck thru it and life's to short to be cryptic and sh*t about something as beautiful as this love I'm in."
She Knows How Scary Love Can Be
As Grande told Seventeen in 2014,
"Love is a really scary thing, and you never know what's going to happen. It's one of the most beautiful things in life, but it's one of the most terrifying. It's worth the fear because you have more knowledge, experience, you learn from people, and you have memories."
Genuinely inspirational.
She Knows Love Comes In Many Forms
Talking to Complex back in 2013 when she was just 20 years old, Grande showed her old soul. When asked if she had ever "experienced real love," she said:
"Love comes in many different forms. You can love somebody and not be in love with them. They can break your heart and you can cry over it but still not be in love with them. Love is a really peculiar thing. I think as far as being in love, I've experienced it."
If only we all had this kind of wisdom when we were 20.
She Knows You Need To Love Yourself First
Grande has been in several high-profile relationships, and between that and being one of the biggest stars in the world, it's probably easy to forget to take of herself. But she has learned how self-care, as she told Cosmopolitan in their April 2017 issue. When asked what lessons she had learned from past relationships, Grande said she always puts everyone's feelings before hers, but added:
"I've learned how to balance that out and be a loving partner but also nourish myself. A lot of people forget about the whole self-love thing when they're in love, and both are imperative."
You gotta date yourself first. Your feelings are valid too.
She Emphasizes Feeling Whole On Your Own Without A Partner
Despite being in multiple serious relationships for someone so young, and despite the fact that she has a lot of love to give, Grande doesn't need any man. In that same Cosmopolitan interview, she said,
"I've never looked at love as something that I need to complete me. I would like to be complete on my own first and fall in love with somebody who is also complete. You can still celebrate and be totally obsessed with each other, but I want to feel a hundred percent myself so that I can love that person better."
Such a strong point.
She Doesn't Want To Be Defined By Her Romantic Life At All
In 2015, Grande had just about had enough with being labeled as men's property by the media. Per USA Today, she said in an interview with The Sun: "I'm tired of needing to be linked to a guy. I'm not Big Sean's ex, I'm not Niall's new possible girl. I'm Ariana Grande." Put some respect on her name.
So if you're worried about Grande rushing into this engagement with Davidson, you may not be alone. But she's wise beyond her 25 years, and she looks like she's gonna be just fine. That's why her ponytail is so big: It's full of wisdom. God is a woman and her name is Ariana Grande.