Ariana Grande Knows She Isn't A Perfect Role Model — & She Wants It That Way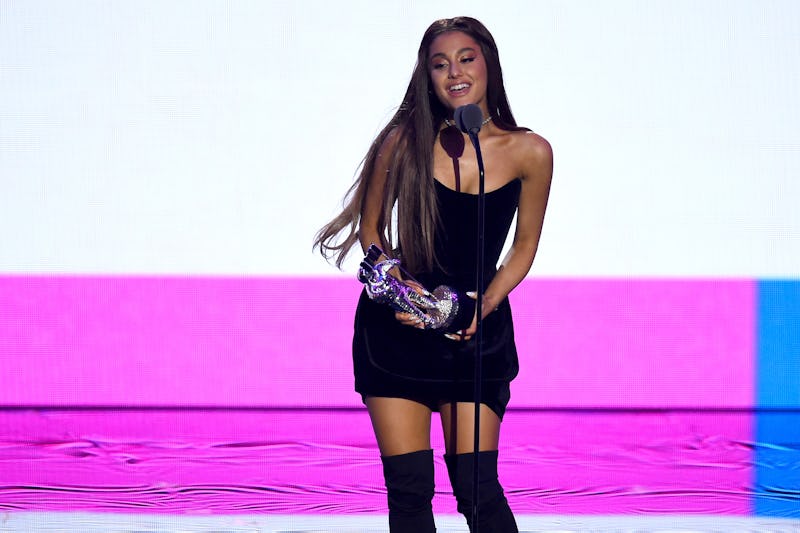 Theo Wargo/Getty Images Entertainment/Getty Images
Plenty of fans have looked up to Ariana Grande ever since her Nickelodeon days. Being seen as a role model can be stressful for celebrities, but it sounds like the pop star has a great way of thinking about it. Ariana Grande isn't a perfect role model, she explained in a BBC interview, and she likes it that way.
In the BBC special, which was recorded on Sept. 7 and aired on Nov. 1, Grande explained why she doesn't want her fans to think she's infallible. "If I'm going to be a role model, the last thing I should be is perfect, because that's not realistic," Grande told BBC host Davina McCall, according to People. She continued,
"As long as I'm honest and genuine and I share with my fans my truest self, that's the best that I can do, because that's allowing them to do the same thing."
Grande does share that "truest self" with her fans, too. The singer frequently posts behind-the-scenes videos of her everyday life on Instagram Stories. And she often takes the time to respond to fans' questions on Twitter, including giving honest answers to even the difficult ones. While she might seem like an untouchable A-lister, Grande also keeps things real by reminding fans that her life isn't perfect, and neither is she.
Grande has also been open with her fans about her struggle with anxiety, a topic she also addressed in the BBC interview. While mental health struggles certainly aren't a character flaw in any way, her honest words about anxiety emphasize the fact that her life, like anyone else's, isn't picture-perfect.
"It takes hard work and practice and therapy and self-care. And so much love," Grande told the BBC while speaking about anxiety, according to People's report. "It's just in your head, and it's just so crazy how powerful it is."
One of Grande's songs from her new album, Sweetener, addresses the topic, too. "Breathin'" is about Grande's anxiety, many fans believe, and it's nice to see her tackling such a difficult topic in her work.
Grande also showed her "truest self" in an Instagram Story post after her split from Pete Davidson. "It's very sad and we're all tryin very hard to keep goin'," Grande wrote to her fans. "Love u. and thank u for bein here always." Instead of trying to sugarcoat the topic, or to avoid talking about the breakup entirely, Grande was honest about how she was feeling about the whole situation.
The "God Is A Woman" singer's stance on being a role model is, in many ways, the best path a celebrity of her status can take. Grande knows people will look up to her, whether she wants them to or not. Instead of saying she doesn't want to be a role model, or trying to put out an image of being perfect, Grande has found a balance. She wants her fans to know she'll make mistakes like anyone else, and her life has ups and downs like anyone's does. And that doesn't make her a bad role model — it makes her human.