Arie Is Going To Appear On Becca's 'Bachelorette' Season — Seriously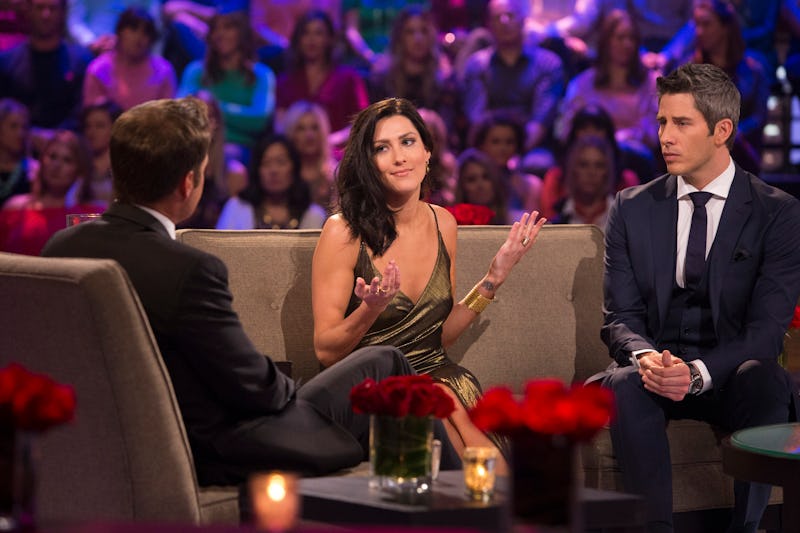 ABC/Paul Hebert
Becca Kufrin didn't end up doing the damn thing with Bachelor Arie Luyendyk Jr., who changed his mind choosing to propose to runner-up, Lauren Burnham instead in a controversial finale. But that doesn't mean he's out of Becca's life completely. It turns out, Arie will appear on Becca's season of The Bachelorette whether fans want him to or not. Though, it seems Becca was happy to have one last conversation with her former fiancé.
In a May 30 interview with Entertainment Tonight, Becca revealed that Arie will stop by the mansion. "He will show up, yes," Becca said, teasing that the two will "have a conversation and you'll just have to see that unfold." While she didn't give any specifics, Becca did say that the chat the two shared "wasn't emotional, it was just two adults sitting down, wishing each other the best and talking through our experiences."
Becca added, "That was our last conversation we've had. I knew that would probably be the last time we had a conversation, and I wish him and Lauren the best." Becca has said she's so over the Bachelor drama that she would attend Arie and Lauren's wedding, if she's invited. "I don't know if they'd invite me," she told People last week. "But, yeah, if they would want me there, I would want to share in their love because I truly do wish them nothing but happiness."
This is after her breakup with this guy was broadcast to millions. Seriously, Becca should teach a class about how to get over the guy, because the rest of the world could learn a thing or two from her about resilience.
The last time Arie and Becca spoke was on the After The Final Rose special in which she revealed she was open to continuing the process on The Bachelorette. "At the end of the day, the show is about finding love. I have a lot of love to give," she said on ATFR. Becca continued, "I want to be the best damn Bachelorette I can be. I'm so excited. I want to find love. I'm just so excited, I just want to do this."
It shouldn't be all that surprising to hear that Arie's was returning for Becca's season of The Bachelorette, especially to anyone who saw her first Bachelorette promo in which she ripped up a photo of Arie. The former Bachelor looms over the season with one of the guys bringing a cardboard cutout of Arie and Becca admitting her favorite date was destroying Arie-related items.
But the truth is, Becca expected Arie to play a crucial role in her Bachelorette journey. "I clearly was heartbroken by Arie and that was hard, but what's hard for me is having to break somebody [else's] heart," she told Entertainment Tonight. "It was difficult being in this position, kind of having that power to say goodbye and to hurt people." She realized, though, that she had to do that to find love.
Becca's revealed that she's engaged and while fans will have to wait a bit longer to find out to who, she's said she's really happy. "It was the happiest moment of my life. And it feels so good to say it," Becca told People earlier this week about finding the man of her dreams. "I still pinch myself, like, did that all just happen? It's been a whirlwind."
While Arie will make an appearance on The Bachelorette, it's clear Becca's moved on to better things. Of course, that won't stop Bachelor Nation from seeing what goes down when Arie returns to the show, which this time stars Becca.
Correction: A previous version of this story included the incorrect name of Arie's fiancé. It has since been updated.