Ashlee Simpson Finally Confirmed Who "Boyfriend" Is About, Putting An End To This 2005 Mystery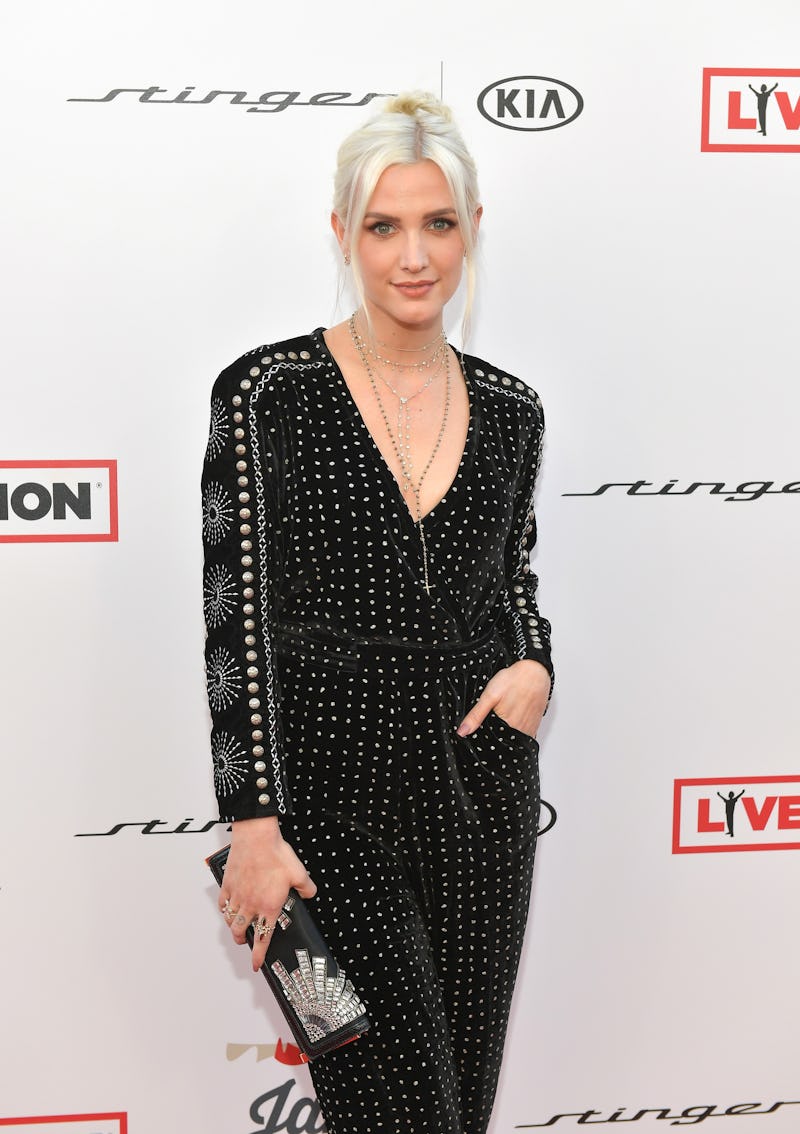 Neilson Barnard/Getty Images Entertainment/Getty Images
It's been thirteen years since Ashlee Simpson released her iconic single, "Boyfriend," and although much has changed since 2005, one thing remains the same: Everyone still wants to know who was accusing Simpson of stealing their boyfriend all those years ago. Well, thanks to her recent appearance on Watch What Happens Live, fans finally have their answer. Simpson's "Boyfriend" is about Lindsay Lohan and Wilmer Valderrama, and, even all these years later, Simpson wants to be clear: she never stole Lohan's boyfriend.
During a game of "Plead the Fifth," host Andy Cohen asked Simpson if her song was, indeed, about the tabloid drama surrounding her friendship with Wilmer Valderrama in the wake of his highly-publicized relationship with Lindsay Lohan. "There were rumors that the lyrics 'I didn't steal your boyfriend' were about you not stealing [Valderrama] from Lindsay Lohan," Cohen said, to which Simpson responded that she "hung out with him first, and I wasn't interested in him by then."
And when the WWHL co-host clarified that the line was written in response to Lohan, Simpson confessed, "I didn't [steal him]! I was done." As for how she feels about her fellow early-aughts pop star now, Simpson says it's "all love here" for Lohan: "We're great! All is well! And by the way, they're the best!"
Though she was an open book about the inspiration behind the song on WWHL — where she and husband Evan Ross were promoting their new reality show, Ashlee+Evan — the singer and actress spent years denying that "Boyfriend" was about the drama between her and Lohan, telling MTV News in 2005, "It's not about one person in particular."
"It's just something every girl can relate to," Simpson said at the time. "It's a song about [how] every girl out there sometimes thinks you stole her boyfriend. It's just making fun of that."
In another interview with Ryan Seacrest in 2005, Simpson confirmed that she did date Valderrama, but that the song was "me kind of making fun of something I went through. As far as saying who the song I wrote it about, or whatever, I'm not doing that with this record." She also described the situation that inspired the song as "very junior high, high school, college, and whatnot."
Valderrama famously dated Lohan back in 2004, though they didn't go public with their relationship until her 18th birthday party. Despite all of the tabloid attention, the relationship only lasted a few months; in 2005, the actor was linked to Simpson, with rumors swirling that he had dumped Lohan in order to date Simpson. (Valderrama denied that Simpson was the cause of the breakup during a 2006 interview with Howard Stern.)
"We've been friends for about 5 and a half years," Valderrama told People about his relationship with Simpson back in 2005. "All of a sudden we couldn't be in the same room before people were saying we were making out." He also said at the time that "everyone has moved on fine," from his relationship with Lohan, despite tabloid reports to the contrary, and that "I really wish her love."
Simpson, meanwhile, doesn't seem to be dwelling much on her old days as a Young Hollywood starlet, and is instead focusing on the launch of her reality show with husband Ross and their upcoming album. The singer recently described their music as being a collection of "soulful" love songs. "Evan and I, when we first started dating, we wanted to do an album about love. For me, it was taking a leap and saying, 'If I'm really going to do it, I have to put myself out there,'" Simpson told W Magazine about her new project. "We started writing songs together a long time ago," she said, adding that "both of us are inspired by beautiful soul music and duets. This is our passion-love project together."
Simpson may have written a song about Lohan and Valderrama in the early 2000s, but fans shouldn't expect any mentions of tabloid drama in her new music, and that's probably for the best.