Aziz Ansari Will Make You Hate Award Shows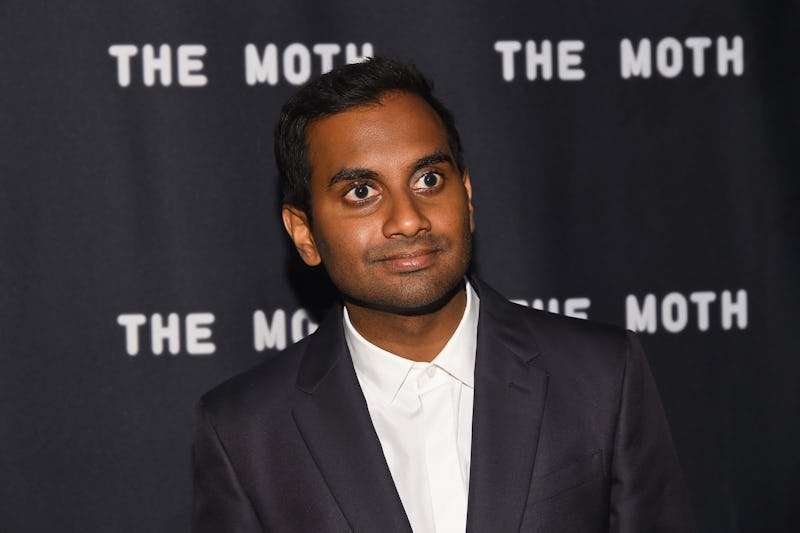 Ben Gabbe/Getty Images Entertainment/Getty Images
Getting dressed to the nines and rubbing elbows with some of the most famous faces in Hollywood may sound appealing from the outside looking in, but according to one heavy-hitting celebrity, attending award shows isn't all it's cracked up to be. Aziz Ansari absolutely hates award shows. And after listening to his acceptance speech from the October 30 BAFTAs, you probably will too.
Ansari was honored with the BAFTA LA Charlie Chaplin Britannia Award for Excellence in Comedy, and in true comedian form, used the grand stage to hilariously let out a few of his frustrations. The Master Of None creator and star made it absolutely clear that he isn't a fan of the showboating that usually takes place at these events — including the fancy dining and tribute video montages. And thanks to the actor, the many cases of FOMO experienced by fans tuning in from home are more than likely going to be slashed in half.
So hold off on trying to find those award show streaming links. And that envy you had for all of the seat-fillers? Yeah, you can finally let go of that, too. Because as it turns out, your at-home viewing parties may just be a little more fun, anyway.
Ansari started his speech off by letting the audience know how he tried to get out of actually showing up. "This is an honor," Ansari says. "One thing I hate about honors, though, is that you can't accept them from home. I tried, they said it was not possible."
Apparently, the award show taking place in Los Angeles created quite an exhausting experience for the entertainer. According to Ansari, he was actually already in London when he found out that he would be honored by the British charity. And just thinking about traveling from London to LA to accept a British award infuriated him. "That is not cool," Ansari says about the inconvenience. "I almost wanted to stay [in London] in protest."
"I was like, 'can I send a video? Can I accept that way?'" Ansari inquired. But, not accepting the award in person just wasn't an option. The BAFTA's location wasn't the only thing that ruffled Ansari's feathers, however. Taking extreme measures to attend yet another Hollywood event is what truly grinds this former Saturday Night Live host's gears. Ansari continues,
"We've done all of this sh*t so many times. You wear the tux. Some person comes to your house, puts some gunk in your hair, and on your face. You get in an SUV. You come here and eat this f*cking awful award's show food."
And from the roaring laughter Ansari received from the big names in the crowd, the entertainer totally isn't the only one unimpressed by the fancy events.
This isn't the first time Ansari has been critical about any Hollywood happenings. In fact, the star is known for being extremely vocal about the inclusion of diverse stories in the industry. In an April 2017 interview with Vulture, Ansari talked a bit about why making Master Of None a family affair was so important for him. Being the one at the helm certainly has its perks — one of them being that Ansari gets to cast his own parents in the Netflix show. And although working with family and friends can make for a good time, for Ansari, his motive had everything to do with making sure representation was a priority. He says,
"If every time you see a Muslim person, it's the f*cking guy from 24 or Homeland, yeah, it's going to shape your opinion of all these people ... If every time you saw a Muslim person on TV, and it's my dad, you'll be like, 'These goofy people! They're probably gonna ask me for a bite of my sandwich.' I don't think Islamophobic people have hate in their heart. I'm not saying it's justified, but representation is part of the problem."
He's enormously talented, and refuses to hold back when it comes to both hilariously, as well as seriously, letting Hollywood know exactly where he stands. If you weren't a fan of this witty human before, after seeing this speech, you totally should be.