So Many 'Bachelor' Alums Can't Contain Their Excitement About Ashley & Jared's Engagement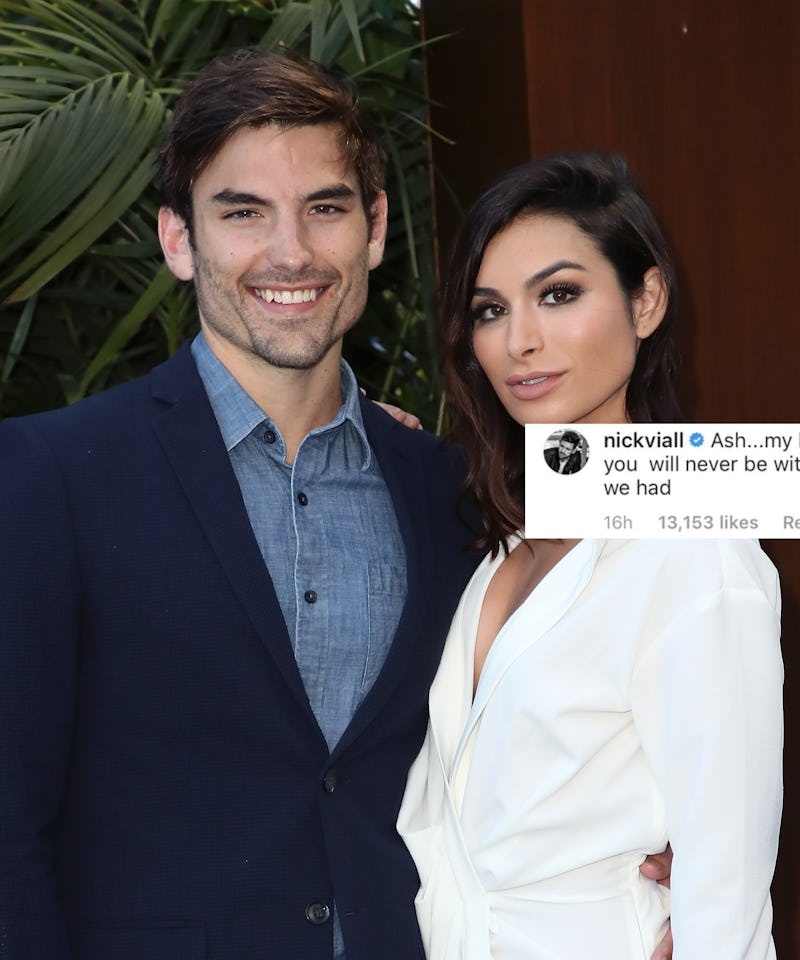 David Livingston/Getty Images Entertainment/Getty Images; Ashley Iaconetti/Instagram (screenshot)
Everyone in Bachelor Nation is overjoyed by Ashley Iaconetti and Jared Haibon finally getting into an official relationship. So obviously, Bachelor alums have strong reactions to Ashley I. and Jared's engagement news. This is the relationship that everyone cannot help rooting for, especially their fellow reality TV stars that have been there for the Bachelor in Paradise ups and downs in person. They had a lot to say about the future Mr. and Mrs. The viewers are very avid with their enthusiasm about the couples in the Bachelor franchise, but Ashley and Jared's biggest fans seem to be their former costars.
On June 18, People confirmed that Ashley I. and Jared got engaged while filming an appearance for Season 5 of Bachelor in Paradise. As of this moment, the couple has not publicly discussed the details of the engagement, but that's not super surprising since it will be a part of this summer's Bachelor in Paradise season, and they may be waiting to comment until the season starts airing.
Nevertheless, they each did share photos on social media post-engagement. Jared shared a photo of them kissing on the beach with the caption, "Love works in mysterious ways," on June 18. Ashley shared her own beach photo on that same day and wrote, "This was taken the night before we became fiancés!"
Both of these posts got a lot of feedback from Jared and Ashley's Bachelor friends.
Nick Viall Is Very Invested
Nick Viall, who was on Season 11 of The Bachelorette with Jared and Season 3 of Bachelor in Paradise with both Ashley and Jared, commented on both Ashley and Jared's posts — multiple times. He might even be their most invested third wheel.
During Season 3 of BIP, Nick told Ashley, "You will never be with Jared," but he's taking those words back now. Nick commented on Ashley's Instagram post with, "Ash... my bad on the whole 'you will never be with Jared' chat that we had."
He also commented with a bunch of emojis:
In response to Jared's Instagram post, Nick joked, "Does this mean you're moving out?" He also wrote, "Yayyyyyyyyyy!!!!!!!!" Definitely their most invested third wheel.
Tanner's Joke Is On Point
Tanner Tolbert, who has been there since the very beginning with Ashley and Jared's first meeting on Bachelor in Paradise Season 2, also commented on both posts. Tanner's joke on Ashley's post was exactly what a lot of BIP fans have been thinking: "Guy takes 2.5 years to date you.... then takes 2.5 weeks to propose... men."
Tanner also told Jared, "Good boy Jared.... good boy..."
Tanner got engaged to his now-wife Jade Tolbert during the same BIP season that Ashley and Jared first met. She is all about this relationship and the endless double dating possibilities.
Even Jade Weighed In
In response to Ashley's post, Jade wrote, "Wanna be couple friends for life?!? K thanks."
She also told Jared that their relationship is the "greatest story in all the land."
And Of Course, So Did Family
Ashley's sister Lauren Iaconetti, who was the only non-Bachelor contestant to ever be on Bachelor in Paradise, commented, "Yay!! @ashley_iaconetti those biceps thoooo."
Olivia Showed Her Support
The Bachelor Season 20 contestant Olivia Caridi commented on Ashley's post by saying, "Congrats to you two beautiful friends of mine."
Olivia had even more praise for the happy couple. She took the time to respond to Jared's Instagram post as well. She declared, "Now this is my favorite love story of all time!" Same here, Olivia.
Tenley Did, Too
The couple's fellow Bachelor in Paradise Season 2 participant Tenley Molzahn had lots of love for the future spouses. She wrote, "ahhhh!!!!!! I couldn't be happier! My heart is bursting for the two of you!!!! Yesssss!!!!"
Tenley also commented, "STOKED!!!! Yasss" on Jared's photo.
Even More Familiar Faces Celebrated
Jared's podcast co-host Vanessa Grimaldi took the time to comment on Ashley's photo with "Congrats friendssssss" and some red heart emojis.
Meanwhile, Corinne Olympios used emojis instead of words to convey her reaction to the engagement news.
Yup, BiP Alums Shared The Love
The couple's BIP Season 3 costar Jen Saviano wrote, "YESSSS! Congrats you beautiful people."
The Bachelorette Season 6 lead Ali Fedotowsky commented, "Congratulations you guys!!!! So wonderful!"
Two time Bachelor in Paradise alum Emily Ferguson told the couple, "CONGRATS TO YOU BOTH! Beyond happy for you! You both got your Happily Ever After. Can't wait for the wedding." And hopefully that wedding is televised.
Trista Chimed In, Too
Original Bachelorette Trista Sutter kept her reaction short and sweet, simply writing, "Congratulations!!"
So Much Paradise Support
Bachelor in Paradise alums Grant Kemp, Daniel Maguire, and Robert Graham had nearly identical "Congrats bro" comments on Jared's post.
This couple seems happier than ever. The fans have a restored belief that anything is possible when it comes to love. Their fellow Bachelor franchise alums have their back and share their excitement. It's very good to be Ashley I. and Jared these days. They are in love with each other and are loved by so many others.