Nick & Vanessa's Instagram Comments Exchange Will Pleasantly Surprise 'Bachelor' Nation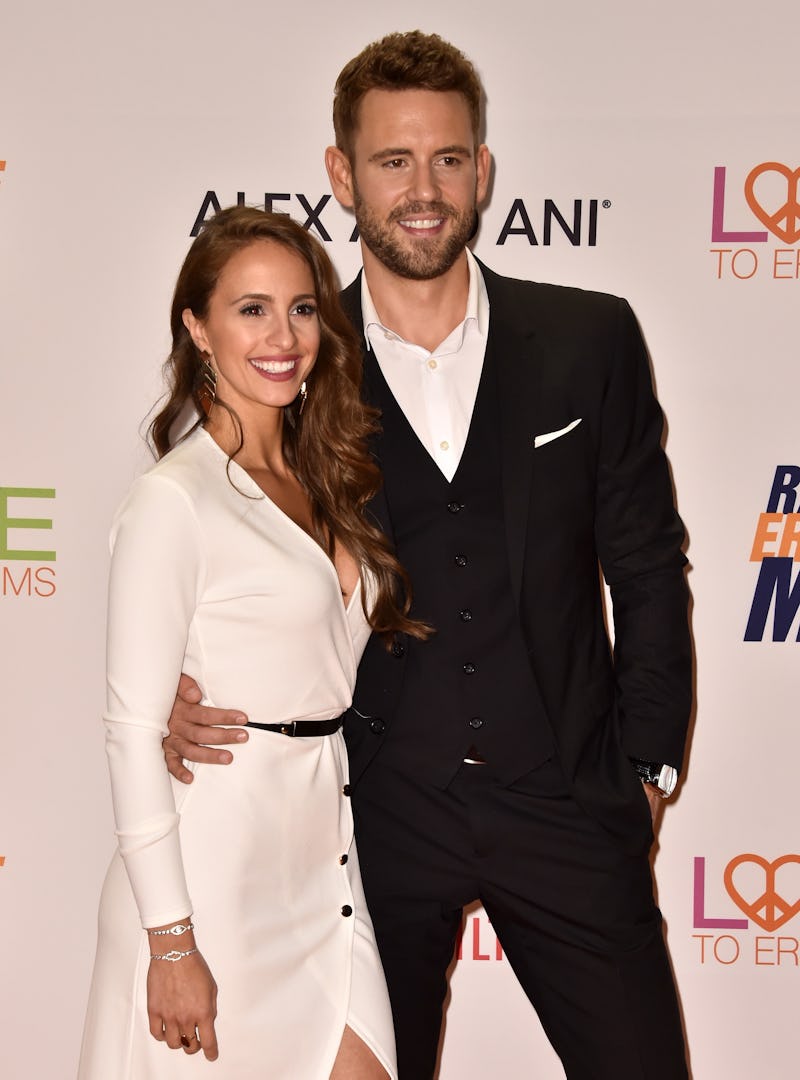 Alberto E. Rodriguez/Getty Images Entertainment/Getty Images
Nick Viall and Vanessa Grimaldi aren't engaged anymore, but that doesn't mean they can't be friends. The two of them had a funny exchange in the comments section of Dean Unglert's latest Instagram post, and it looks like there's no bad blood between them. Bachelor exes Nick and Vanessa's Instagram exchange shows that these two don't mind making jokes about being single, even if it's at their own expense.
Fan account @TheBachelorBanter first discovered the exchange, sharing screenshots of Nick and Vanessa's conversation on Instagram. Dean posted a photo of himself with Vanessa, along with the caption "work wife," a reference to his podcast with her and Jared Haibon. The caption was all in good fun, of course, but it looks like Nick didn't exactly appreciate the joke. "The irony of me seeing this while sitting by myself at a wedding," Nick commented.
Nick's joke brought in more than 4,800 likes, but it didn't stop there. Vanessa responded to Nick's comment, asking if he wanted her to be his "wing woman" next time. Her response was clearly a joke, and it's clever, too. But it's still funny to see her offering to help find him a date, considering the fact that Nick and Vanessa were still engaged a little over a year ago.
As if that weren't enough, Nick also left a second comment on Dean's post, writing, "I think my friends are trolling me on social lately." And while Dean probably didn't have Nick in mind when he posted the photo, Nick has been leaving similar comments on other posts. @TheBachelorBanter also captured a comment Nick left on Jared's Instagram post announcing that Tanner Tolbert will officiate his wedding. "Offended," Nick wrote on the post.
Nick and Vanessa got engaged on The Bachelor Season 21, but they announced their breakup last August. In their statement at the time, the couple said that they would "continue to be there for each other no matter what." But who would have guessed that would include Vanessa offering to be Nick's wing woman?
Dean also responded to Nick's comments on his Instagram post, joking that if Nick had listened to the Help! I Suck at Dating podcast, he might have been able to find a date for the wedding he was apparently attending this week. Could Nick be a guest on the podcast soon? If he and Vanessa are comfortable enough to be joking with each other like this, anything is possible.
Since his time starring on The Bachelor, Nick has expanded into acting. Nick guest-starred on Speechless, where he played a college dean. He's also appeared in episodes of General Hospital and Teachers, as well as in the TV movie A Christmas Cruise, according to his IMDb page. Vanessa, meanwhile, has been working with her charity foundation, No Better You, in addition to co-hosting the podcast with Dean and Jared. Vanessa also revealed in April that she had a new boyfriend, but she didn't share many details about her mystery beau.
Nick and Vanessa may not have found lasting love with each other, but it looks like they really will always be friends. Bachelor Nation is pretty small, after all, and it's nice to see the two of them sticking together to support each other.