Iggy & Diggy Should Get A 'Bachelorette' Spinoff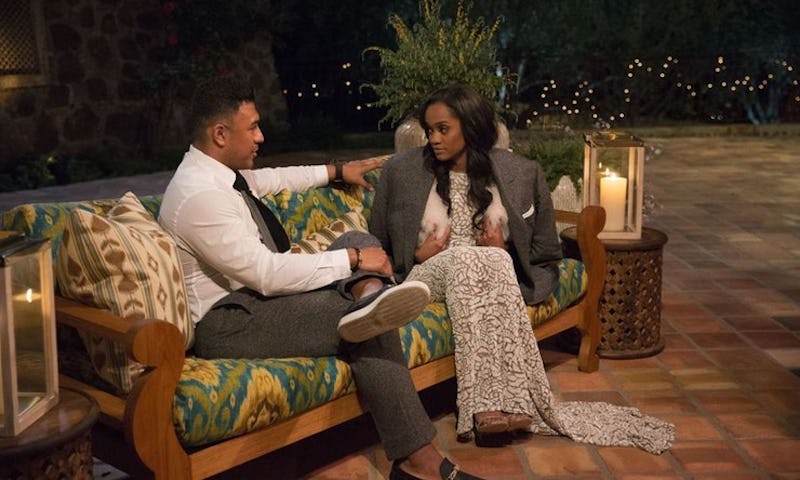 ABC/Paul Hebert
Having social media at our disposal can be bittersweet. Sure, it gives us mere mortals access to our favorite celebrities. But on the other hand, it can actually be quite a spoiler of sorts — like, who's making it to the final four of The Bachelorette Season 13. Thanks to a recent Twitter exchange, I'm almost certain two of this season's Chicago natives won't be getting a final rose, because Bachelorette contestants Iggy and Diggy want a spinoff. And actually, when you think about it, watching their bromance unfold sounds fun.
According to consulting firm CEO and Season 13 contestant Iggy Rodriguez's Twitter, he'd like for the potential project to be entitled Iggy and Diggy Take Chicago. And my guess is that the show would follow the #rosebros, as deemed by Rodriguez, around their hometown. Think of Paris Hilton and Nicole Richie's early 2000s' phenomenon The Simple Life, but with two accomplished (and very handsome) men of color. Just thinking about all of the shenanigans they could get into would make any Bachelor Nation fan tune in at least once. Oh, and add in the "looking for love" angle, and you have a show made for late-night television. Doesn't sound too shabby, eh?
The brilliant idea came to light when one fan tweeted,
Here's Rodriguez's response:
Senior inventory analyst and adorable bow tie-wearing, sneaker enthusiast Diggy Moreland responded with three "thinking emojis" and a retweet, so I'm guessing he's on board with the idea as well.
Unfortunately, however, with Rodriguez and Moreland shamelessly promoting their own potential ventures on social media, you can almost bet that neither will be the next Bachelor. (Although, of course, nothing is confirmed.)
Aside from Rachel Lindsay's Bachelorette season being groundbreaking, it's also introduced fans to a ton of interesting characters and some amazing eye candy. So much so, that I'd be totally fine with any Season 13 contestant popping up on my television screen post-Bachelorette. Whether that be watching these Chicago #rosebros hit the scene, or even, dare I say it, the Whaboom showing America the many gimmicks up his sleeve.