You Have To Follow Bekah M.'s 'Bachelor' Live Tweeting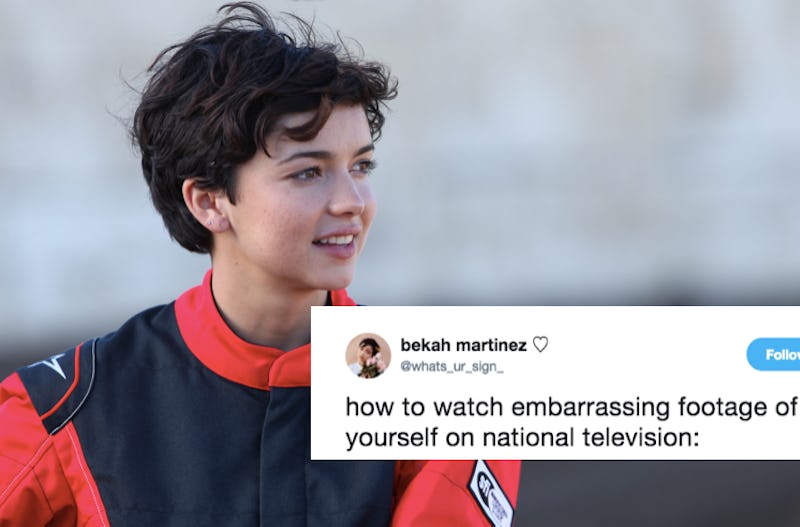 ABC
If you're not already convinced that you'd be best friends with The Bachelor's Bekah M., this should seal the deal. Bekah M. loves to live-tweet The Bachelor (senior producer: Lindsay Liles), and she is out in full force this week. Not only did she continue essentially making a meme out of herself, but she also offered some insight on the... unconventional date that Arie had some of the women participate in.
This week, a select few contestants were chosen to participate in a wrestling face-off for their group date, and some women were distinctly not on board at the beginning. Bekah, however, claims she was into it. "For the record, I had the time of my life on that date. when I was like 7yo my big brother and I used to do WWE-style matches in the living room swinging around couch cushions screaming THE CHAIR!! THE CHAIR!!'" she tweeted about 30 minutes into the show.
As far as memes go, she posted a hilarious photo of herself, deeming her footage on this week's episode "embarrassing" and apparently alluding to the idea that she needs alcohol to get through the experience of watching herself. Understandable, for sure — watching yourself not only participate in dates, but also wrestle on national television in a leather suit, sounds like a taxing experience that we'd all need to get through with a drink in hand.
She's also poking fun at the fact that viewers of the show have obviously noticed that, at 22, she's quite a bit younger than 36-year-old Arie. Bekah's age has yet to be revealed on the show, though a press screener of the season premiere confirmed that she's 22.
Her age remains edited out as the show airs, meaning that The Bachelor showrunners likely plan to make it a point of drama somewhere down the line. That may be unfortunate for Bekah, but viewers will likely be blessed with more cheeky tweets when the issue is finally brought up. She had also been previewing some of the mayhem of this week as the episode neared, though I'm not sure anything could have prepared us for that interesting ordeal that somehow qualified as a "date."
These certainly are not the only times Bekah has poked fun at her time on the dating show on social media, either. Her recently revived Twitter account is chock full of ridiculous jokes and jabs — she's definitely not afraid to make fun of herself. She recently shared footage from last week's episode of Arie telling viewers how much he liked her, captioning "I could be the whole package" as the camera panned over to her stuffing her face with food as the episode played on TV.
Bekah also isn't afraid to go a bit off-the-rails with her social media sharing. Last week, she posted a set of hilariously edited screenshots joking that Arie was a part of the Illuminati, and captioned the tweet: "Please stay informed."
And of course, there's also what seems to be the first time she made herself into a meme, captioning a dazed screenshot of herself with, "When you're out with your friends and they don't know you just stuck your tongue down some dude's throat."
Bekah's carefree spirit and wacky sense of humor have immediately endeared her to fans of The Bachelor — everyone basically wishes they could hang out with her and be a part of her hilarious snaps. Luckily for us, Bekah yet again nabbed a rose this week, ensuring that she has at least one more episode of live-tweeting up her sleeve as the season goes on.