Ben Higgins' Reaction To Lauren Bushnell Having A New BF Will Please 'Bachelor' Nation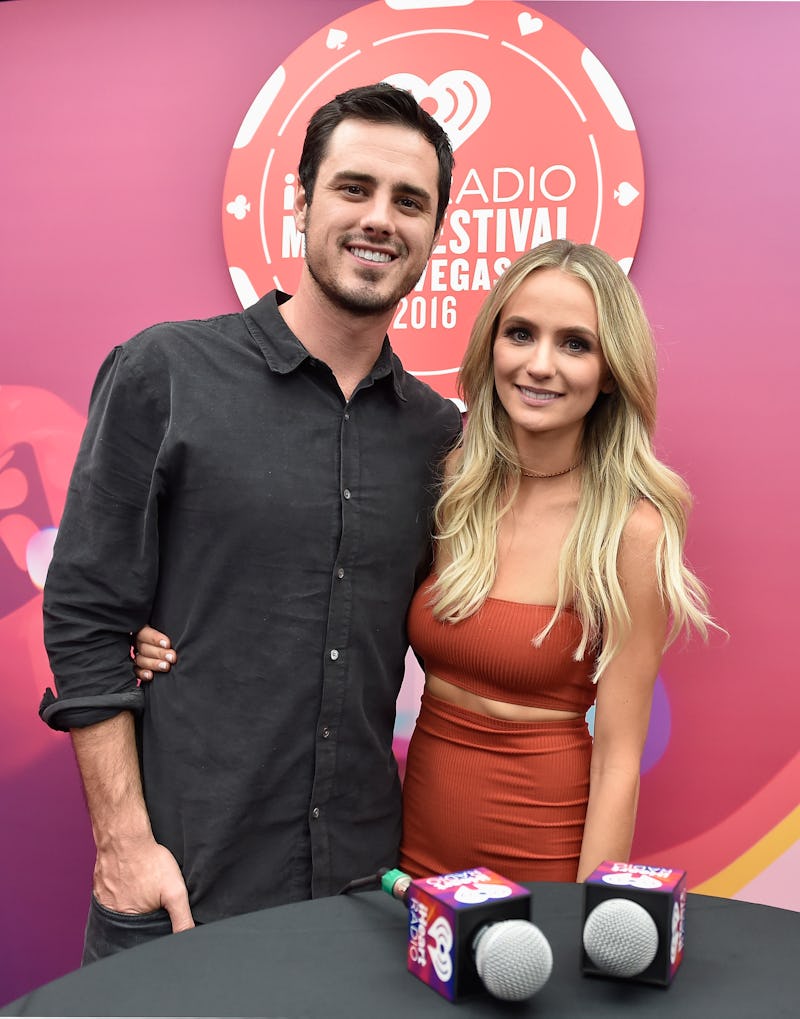 David Becker/Getty Images Entertainment/Getty Images
Bachelor Nation, gather' round, because you're going to want to hear how Ben Higgins reacted to Lauren Bushnell dating Chris Lane. As Bachelor fans will recall, Higgins proposed to Bushnell during Season 20 in 2016, but they ended up splitting in May 2017, a year and half after his proposal. Even though they went through a whirlwind of a romance, the former Bachelor wants nothing but the best for Bushnell, including in the relationship department.
While chatting with Entertainment Tonight on Monday, Higgins was asked about Bushnell's new relationship with country singer Lane. "This one was one I didn't know about," he began. "I think the first time, when she was dating Devin [Antin], I remember that feeling — like the Band-Aid getting ripped off. This time, and I mean this, I really want Lauren to be fulfilled and happy, whether it's with Chris or not." (Bushnell and Antin's split was reported in late August.)
Higgins' support didn't stop there, as he told ET,
"When it comes to her and her future relationships, I hope they're healthy and good and I hope they're bringing her joy. It's a weird thing when you date somebody, you care about them and then you hear they're dating somebody else. I just sit back and hope it's good."
On Nov. 14, ET first reported about Bushnell and Lane's relationship. At the time, Lane's rep told the publication in a statement, "It's brand new and they are enjoying spending time together."
At the 2018 CMA Awards, Lane opened up about Bushnell to ET. "This is a newfound thing, and I can finally say that I found my take back home girl," he gushed. At the time, the singer also revealed the two had been hanging out for "about a month" after being friends for awhile. Lane also said that he didn't know Bushnell when she was on The Bachelor, but that he saw her on TV and thought she was attractive. And, now, here they are dating. Lane also admitted Bushnell was his "first date ever to any awards show."
Lane didn't stop there and added, "I do like her. She's awesome." He later said, "The thing I love about her now that I didn't know then was while she is very beautiful, she has the best personality of anybody I've ever met."
They definitely sound happy, and Higgins couldn't be more thrilled for the two. He also told ET about Bushnell and Lane,
"I know they were friends when we were dating, and I know she always admired him and thought he was a good dude. I still care a ton about Lauren. I admire Lauren, she was a huge part of my life and we spent a ton of our lives together. What we have will always be something I remember."
It's nice to hear the former reality star send nothing but love Bushnell's way, especially now that she's happily dating someone else.