Beyoncé Just Got Her First No. 1 Single In 9 Years. No, Seriously.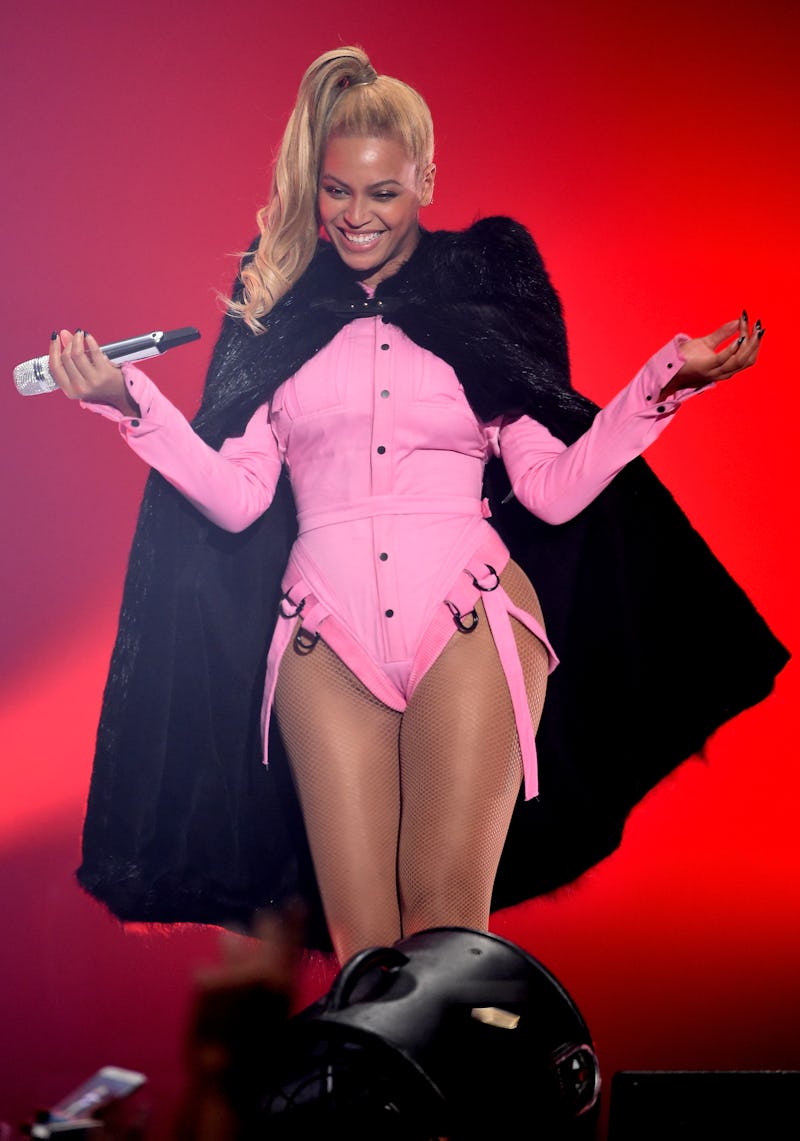 Jamie McCarthy/Getty Images Entertainment/Getty Images
With a little help from Ed Sheeran, Beyoncé topped the Billboard Hot 100 with their "Perfect Duet" collaboration. In the number one spot is exactly where she belongs, but it's been awhile since Queen Bey has earned that honor — like a long while. Believe it or not, "Perfect Duet" is Beyoncé's first No. 1 song in nearly nine years. The last time she earned the top spot on the Billboard 100 was with 2008's "Single Ladies (Put A Ring On It)." And while that news may be shocking to hear — seriously, I hope you were sitting down when you read it — it's not all that surprising when you consider the direction her career has taken in the last decade.
Billboard reported that the success of Sheeran and Beyoncé's "Perfect Duet" was powered by its first full week of sales. (The song was released Nov. 30, which marked the end of " album sales and streaming tracking week.") Between the Beyhive and the Sheerios — two of the more supportive fan groups — it's no surprise the collab would rake in the big bucks. The track, which originally appeared Beyoncé-less on Sheeran's latest album Divide, sold 181,000 downloads.
With "Perfect Duet," Beyoncé has racked up six No. 1's on the Hot 100 as a solo artist. (She earned another four No. 1's with Destiny's Child.) She's also not the only artist with such a long break between No. 1's. Both Sean Paul and Christina Aguilera went 10 years before earning another No. 1 on the Hot 100, according to Billboard. Not to mention the fact that Britney Spears also went over nine years between her 1999 hit "…Baby One More Time" and 2008's "Womanizer."
But Beyoncé not having a No. 1 in nine years especially stands out since she hasn't slowed down in those nine years. If anything she's released some of the most critically acclaimed works of her career. Since "Single Ladies," she's released three albums and 40 singles that have made it into the Hot 100 — seven of which have made it into the Top 10, according to Billboard. Her music and her videos have continued to lead the music conversation, if not completely own it. (Hello, who wasn't talking about the masterpiece that was Lemonade last year?) So, why don't the charts reflect that?
That's actually a pretty easy mystery to solve by looking at how she released her last two albums.
Beyoncé surprised the world by releasing her 2013 self-titled visual album to iTunes. She made history by earning her fifth straight No. 1 on the Hot 200 album chart; Beyoncé's the first woman to do this. But she didn't rule the Hot 100 due to the fact the album wasn't available on streaming services like Spotify and, despite being a visual album, wasn't available on YouTube. Those listens, combined with sales, radio airplay, and video streams, count toward a song's ranking on the Hot 100 charts. The fact that she also didn't release an official single, which meant there wasn't one particular track that was playing on radio, certainly didn't help her standing, which is why the album could be so popular but not one song from it would hit the top of the charts.
Then, when she released Lemonade three years later, she did so by premiering it as a film on HBO before dropping it exclusively on Tidal. She didn't release it on iTunes until later, missing out on those sales. Lemonade also wasn't available on streaming services like Spotify or YouTube, which missed out on all those streams, too. (In 2015, Billboard started counting Tidal streams, but, due to privacy concerns, doesn't always publicly share complete numbers, hurting a song's Hot 100 ranking.) Being the savvy business woman she is, Beyoncé knew all of this, but didn't care. See, she's moved to a place in her career that is less about ruling the charts and more about ruling the world.
That's why the nine-year fun fact is misleading. She might not be racking up No. 1s, but she's still breaking records. Perhaps some more important ones, since they have to do with social media, which is the easiest way to take the temperature of something. This year, Beyoncé broke records with her pregnancy announcement on Instagram, specifically earning the Guinness World Record for Most Liked Image in the social media site's history after she earned over six million likes in eight hours. She also earned the most liked Instagram of 2017 for announcing she was expecting twins.
Beyoncé didn't even release an album this year, but she was still named 2017's highest paid woman in music by Forbes, making $150 million this year. (Though, along with "Perfect Duet," she also jumped on J Balvin and Willy Williams' track "Mi Gente" to raise money for Hurricane Harvey relief.) On top of that, she's gearing up for a big 2019 with the announcement that she's playing Nala in The Lion King live-action remake.
What Beyoncé has shown in 2017 is she doesn't really need No. 1 singles to stake her claim on the world. She can do it all. To paraphrase her husband JAY-Z, Bey isn't a business (wo)man, she's a business, man. So, don't worry about any lags in Billboard hits, because the numbers won't ever fully tell the story of Beyoncé's success.