JAY-Z Finally Reveals What He Really Thought Of Beyonce's 'Lemonade'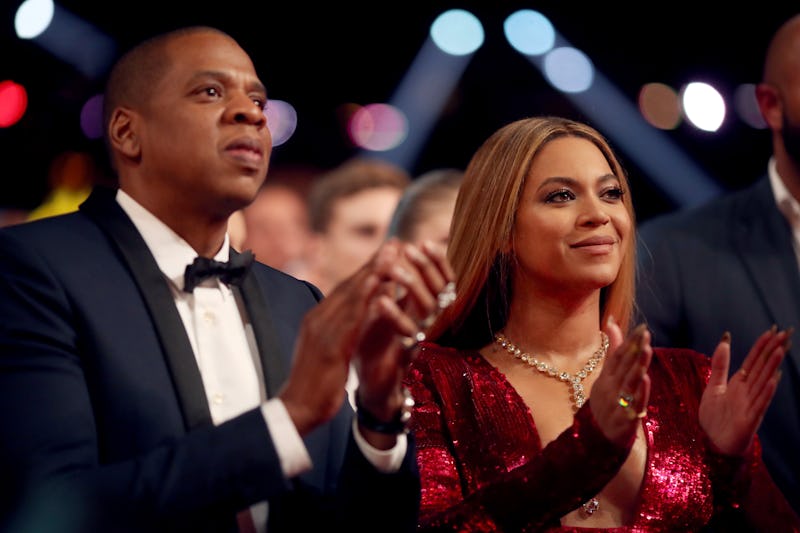 Christopher Polk/Getty Images Entertainment/Getty Images
Much tea has been spilt over Lemonade, Beyoncé's lush visual album from 2016. Considering how much of the album references infidelities, fans assumed at the time that JAY-Z's reaction to Lemonade was nothing good — so much so that many jokes were made about him being surprised and terrified by the surprise album. However, as he revealed to T: The New York Times Style Magazine, in many ways, he was in on it. The rapper sat down with the paper for a wide-ranging discussion, one that touched on everything from race to his relationship with Kanye to the "therapeutic" nature of working through marital issues through music. But one of the most significant takeaways was this: while Beyoncé's Lemonade album was intense, empowering, and unapologetic, it was not made with JAY-Z in the dark.
As the rapper explained in the interview, he was working on (what would become the album) 4:44 at the same time Beyoncé was finishing Lemonade. They were involved in the process of creating each other's albums. There was no secrecy, no "gotcha!"-style surprise. Beyoncé was writing the album she needed to write, and JAY-Z accepted it. In fact, that helped inspire them to make music together.
We were using our art almost like a therapy session," he said, and, from there, the pair began to make music together. Their collaborations came from a place of true togetherness; working on and through their challenges was a healing process for them both. "Most people don't want to do that," JAY-Z admitted, "You don't want to look inside yourself," to examine pain, particularly when you've caused another person to feel it. "Most people walk away, and like divorce rate is like 50 percent or something 'cause most people can't see themselves. The hardest thing is seeing pain on someone's face that you caused, and then have to deal with yourself."
Even so, JAY-Z saw the catharsis Beyoncé experienced while working on Lemonade. And it had him feeling some kind of way.
The one word he used to describe his overall reaction to Lemonade, and her reaction to 4:44 was uncomfortable. He must have said uncomfortable a dozen times or more throughout the interview. Her realness made him uncomfortable. Opening up on his own LP made him uncomfortable. He described the time they worked together as not unlike "the eye of a hurricane," and that "a lot of conversations" had to take place in the middle of their pain. Despite the emotionally taxing process, JAY-Z says that he was "really proud of the music [Beyoncé] made," and "she was really proud of the art [he] released" in turn. "At the end of the day, we really have a healthy respect for one another's craft," he remarked, "I think she's amazing."
Lemonade was first announced as a mysterious project to air on HBO, leading everyone to speculate that it was everything from a concert film to a surprise album. The visual movie that was then released as an album on TIDAL immediately lit the internet on fire, not just because of how good it was but because of how many of the songs referenced being cheated on. 4:44, JAY-Z's subsequently released album, made allusions to infidelity as well. But it was in the New York Times interview that JAY-Z confirmed that he had cheated, saying,
"You have to survive. So you go into survival mode, and when you go into survival mode what happen? You shut down all emotions. So even with women, you gonna shut down emotionally, so you can't connect... And then all the things happen from there: infidelity."
It's reassuring to know that, although JAY-Z acknowledges the groundbreaking Lemonade is a lot about him, it seems to have made their marriage stronger rather than tearing it apart. The respect that the two have for each other as people and as artists cannot be denied.