You Need To See Beyonce & Jay-Z's Epic Halloween Costumes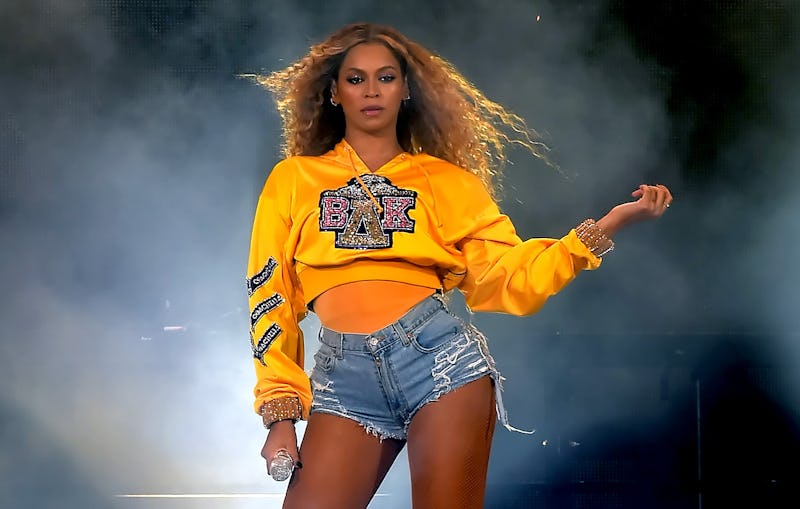 Kevin Winter/Getty Images Entertainment/Getty Images
This Halloween Beyoncé paid homage to not one, but two, iconic women and it couldn't have been more perfect. After sharing her first look on Oct. 30, in which she channelled the legendary singer Toni Braxton, Beyoncé totally won Halloween dressing as Florence Griffith Joyner — the Olympic track and field gold medalist who is considered to be fastest woman of all time. Bey's decision to celebrate the icons for Halloween 2018 appears to be part of her commitment of using her platform to celebrate feminism, African-American culture and the beauty of blackness — things that often tend to go unnoticed.
On Thursday, Nov. 1, the 37-year-old Lemonade singer took to Instagram to share a snapshot of herself in a replica of one of Flo-Jo's signature one-legged track outfits that she often wore during competition. Bey's tribute to Flo-Jo is special for so many reasons as it comes during the height of conversation about intersectional feminism and the fight for equality for all races and genders.
As both an athlete and physical presence, Griffith-Joyner was a force to be reckoned with. During the 1988 U.S. Olympic trials, she set a new world record in the 100m and later went on to win three gold medals at the subsequent Olympic Games that same year in Seoul, Korea, according to Biography.com. A bold figure and symbol of strength, Flo-Jo was widely recognizable for her fashion style, long, colorful fingernails, and flowing black hair.
She retired from competition shortly after dominating the '88 games, but remained a huge figure in pop culture figure in the years following. Griffin-Joyner tragically died in her sleep at the age of 38 from an epileptic seizure in 1998. However, more than 30 years later, her world records in the 100m and 200m remain untouched.
The sheer greatness and aura of Griffith-Joyner often goes unmentioned when it comes to speaking of important figures in the world of sports, just as it has with many pillars in the Black community — and particularly Black women — throughout history. Although she had proven herself over-and-over again, Flo-Jo's rise to the top ranks of track and field was met with a great adversity. Much like tennis star Serena Williams who, according to a report from Deadspin, has been tested for performance-enhancing drugs more than any of her counterparts, Flo-Jo's dominance in the sport was repeatedly questioned. She was often subjected to extensive testing during her competitive years — which she too continuously passed.
Beyoncé, who is notably a close friend of Williams, appears to know the importance of honoring those, such as Griffith-Joyner and Braxton, who have paved the way for others. Also paying homage to a legend in Black history this Halloween was Bey's husband, JAY-Z who appeared in a photo alongside his wife dressed as Olympian Tommie Smith, complete with Smith's bib number, black USA tracksuit, black leather glove and gold medal. In the snapshot, the hip-hop mogul is shown reenacting the track athlete's powerful Black Power salute which he, along with John Carlos, raised after receiving medals at the 1968 Olympic Games in Mexico. The Olympic moment, which was meant as a show of solidarity with people fighting internationally for human rights during that time, recently celebrated its 50th anniversary on Oct. 16 and arguably became one of the most iconic moments of the 20th century.
Similar to the current fallout over former NFL quarterback Colin Kaepernick's decision to kneel during the National Anthem to raise awareness about systemic racism and police brutality, Smith's symbolic gesture resulted in suspension from the U.S. Olympic Committee, according to the Washington Post.
Beyoncé never disappoints when it comes to honoring cultural icons. Last year, she dressed as Lil' Kim for Halloween 2017, rocking five different costumes inspired by the original Queen Bee. Before that, she collaborated with her daughter, Blue Ivy and her mother, Tina Knowles-Lawson to recreate the all female rap group, Salt-N-Pepa in 2016. The Carter family also shared a collaborative costume moment in 2015, reenacting characters from Eddie Murphy's 1988 box office classic, Coming To America. In 2014, Bey dressed as the iconic Janet Jackson and Blue stepped into the role of the singer's big brother, Michael Jackson.
While Halloween has become known as a day of fun on which many get dressed-up to gather candy, Beyoncé has offered the world the ultimate treat by using holiday as a celebration of feminism and Black excellence at its finest — and it's something that makes us love her that much more.