'Black Panther' Is The First Superhero Best Picture Nominee At The Golden Globes — Yes, Really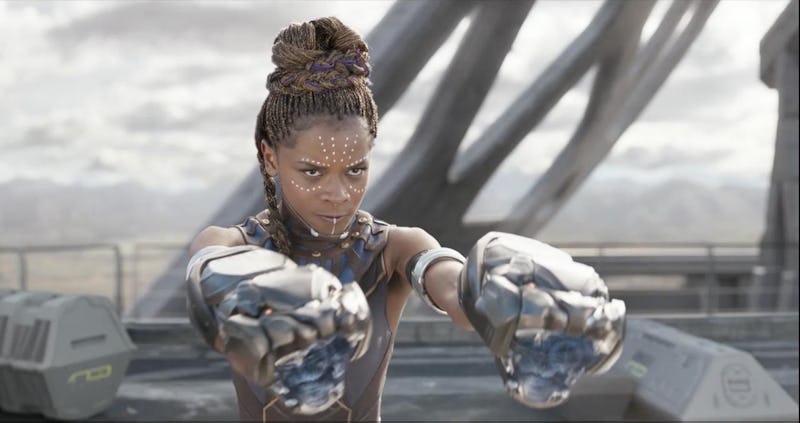 Marvel
Wakanda has another thing to celebrate. Black Panther has already made history at the 2019 Golden Globes with its nomination for Best Motion Picture — Drama. Just like that, Black Panther is the first superhero movie to ever earn a Best Picture nomination in either the Drama or Comedy/Musical category.
The first Marvel movie to star a Black superhero is now the first MCU movie to earn a nomination for one of the Globes' highest honors. The film, which earned $1.3 billion worldwide, according to The Hollywood Reporter, will compete against BlacKkKlansman, Bohemian Rhapsody, If Beale Street Could Talk, and A Star Is Born for Best Picture – Drama. Black Panther also earned two additional nominations for Best Original Score by Ludwig Göransson and Best Original Song for "All The Stars" by Kendrick Lamar and SZA.
In the Golden Globes' 71-year history, superhero movies have never been taken seriously in the major categories. And, it should be noted that Black Panther was still shut out of any acting categories and writer-director Ryan Coogler failed to receive a directing nod. The Dark Knight is reportedly the only superhero movie to win a Golden Globe with Heath Ledger earning a posthumous award for his portrayal of the Joker, which also earned him an Academy Award. Still, Black Panther's three nominations are groundbreaking for the genre, and maybe even the film industry.
After The Dark Knight was snubbed for a Best Picture nomination at the 2009 Oscars, the Academy decided to change its rules. It decided to increase the nominee pool from five to 10 films for that category in hopes of making room for popular films like The Dark Knight, that were also critical hits. Should Black Panther finally break through and earn a nomination, or maybe even win the award, it would mark a huge shift in how award shows honor blockbuster films.
While Marvel movies have a history of being shut out of the Golden Globes in recent years, they have managed to earn a few Academy Award nominations. Nearly a decade ago, the first Marvel movie, Iron Man was nominated for Best Achievement in Sound Editing and Best Achievement in Visual Effects. In 2015, Guardians Of the Galaxy earned two nominations for Best Visual Effects and Best Makeup and Hairstyling. That said, superhero movies, as well as bigger action films, have tended to be limited to those technical categories.
This year, though, might finally be the one where Marvel breaks through to earn a Best Picture Oscar nomination for Black Panther. It's rather fitting that it could happen, given the fact that the Academy tried to create a "Popular film" Oscar category this coming year. After the Academy announced the potential change, movie fans labeled this change a cynical tactic to try and get younger viewers to tune into the show. Worse, the category seemed like a way to make sure Black Panther would win something, as if it wasn't good enough to compete with the other possible old fashioned Best Picture nominees. The blowback forced the Academy to reconsider the category, which for now is on hold. The fact is, Black Panther doesn't need a separate category to be nominated — and this Golden Globe nomination proves that.
For right now, Black Panther can celebrate making a bit of awards show history, and hope that next month they'll make even more with a much-deserved Oscar nomination. Of course, a Golden Globes win would make Black Panther even more historic and perhaps finally convince everyone that superhero movies are more than just popular films.