Blake Lively & Ryan Reynolds Celebrated Their Anniversary In A Perfectly Low-Key Way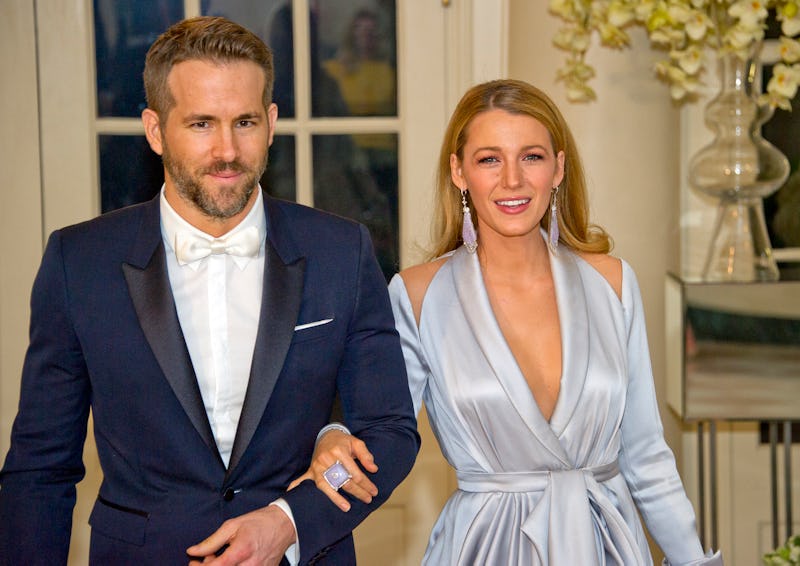 Pool/Getty Images News/Getty Images
One might think celebrity couples celebrate their wedding anniversaries in luxurious ways, but that's not always the case. Blake Lively and Ryan Reynolds celebrated their sixth anniversary in a way you might not expect. While appearing on Good Morning America on Wednesday, the A Simple Favor star dished details about her low-key celebration with her husband of six years.
Lively told GMA,
"The best vacation we can have is to be able to do nothing with our family, so that's what we did."
How perfect is that? Being able to spend time with family, especially when it's a special occasion makes it all the more special. Reynolds and Lively have two daughters, 3-year-old James and 1-year-old Inez.
Lively said one of her daughters didn't really understand exactly what they were celebrating, so she attempted to define it. "I had to explain to my daughter what an anniversary is," the former Gossip Girl star said. "She's like, 'What is it, does it mean you're having another baby today?' and I was like, 'Dear God, no. It doesn't, it means it's our wedding's birthday.'"
First of all, that's a great way to describe it. If any other parents out there are in need of a way to explain what a wedding anniversary is, Lively probably won't mind you borrowing her explanation.
Lively and Reynolds not only love each other immensely, but when it comes to their children, they couldn't be more grateful. The Sisterhood of the Traveling Pants actor also gushed to GMA about James' voice cameo on "Gorgeous," Taylor Swift's song on her Reputation album. For those unaware, at the beginning of the song, you can hear a child saying the word "gorgeous." Yes, that is none other James.
Actually, the couple were able to experience their eldest daughter's huge moment live at Gillette Stadium in Massachusetts, when Swift performed a show there in July. Upon hearing James' voice at the concert, well, Lively and Reynolds acted pretty much like any parents would — they were beyond excited. You can even watch a video here to see them jumping up and down. They are seriously the cutest.
"We were very embarrassing," Lively admitted to GMA, according to People. "That is the true, unfiltered version of our terrible stage-parent pride."
Lively also said that James is unaware she's famous for being featured in a Swift song. "Our kids have very normal lives, as much as that's possible ... so she didn't even get a title on the album," she said. "I should be collecting royalties," she then joked.
It's safe to say Lively loves being a mom, and the same goes for Reynolds. Actually, watching his wife become a mom made him fall even more in love with her.
In February 2015 while appearing on The Late Show With David Letterman, Reynolds gushed about Lively, "It's amazing. I'm not one for vomiting declarations of sentiment out across the airwaves, but when we had that baby, I fell more in love with my wife than I'd ever been in my entire life. I couldn't even believe it."
Becoming a mother and father made their romance even stronger, so by celebrating their anniversary as a family really made it all the more perfect.