'Boy Erased' Shines A Light On A Serious Danger To LGBTQ+ Americans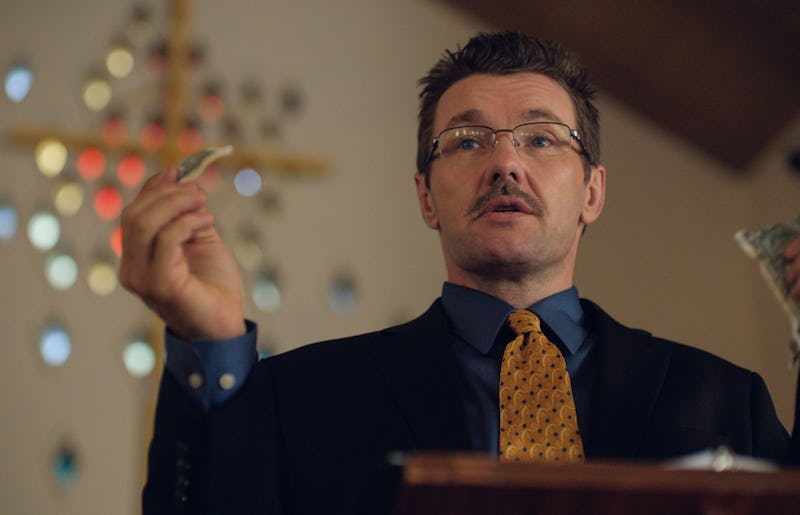 Focus Features
It's 2018, and gay marriage may be legal nationwide, but that doesn't mean those in the LGBTQ+ community don't still face challenges. Anti-gay discrimination is still a major problem in many parts of the country, and one of the most ardent forms this discrimination takes is "gay conversion" therapy. Per The Washington Post, the practice is still legal with zero restrictions in over half of the states in the U.S., and only a handful of states have banned it outright. The new film Boy Erased, out Nov. 2, deals with the issue in a very realistic manner, which makes sense since Boy Erased is based on a true story.
The movie is based on the memoir of the same name by Garrard Conley. Conley grew up in a fundamentalist Christian family in Arkansas, and his father was a Baptist minister. At the age of 19, he was outed as gay to his parents, who indicated that he would be shunned by them and his community unless he was able to somehow rid himself of his gayness. In order to try and accomplish this, Conley's parents enrolled him in a gay conversion therapy program called Love In Action. The movie — and Conley's memoir — deal mainly with his conversion therapy experience, where he suffered intense abuse and emotional turmoil, and witnessed it happen to his peers as well.
Conley himself does not technically appear as a character in the film. Instead, the main character based on him goes by the name Jared Eamons. He's portrayed by Lucas Hedges, while Nicole Kidman and Russell Crowe play his parents, respectively. Joel Edgerton portrays the lead therapist at the gay conversion camp where Jared is sent, and he also directed and wrote the film. They all strived for accuracy to some degree, but perhaps none made as big a splash as Crowe, who attended one of Conley's father's sermons in Mountain Home, AR. "It made a little bit of a scene – it's a very small town, a lot of people have been on meth," Conley told The Guardian's Aaron Hicklin. "And then Russell Crowe comes in with his entourage and sits down. I was told my dad paused in his sermon for about two minutes, before continuing."
By allowing his deeply personal experiences to be adapted into a major motion picture, Conley is exposing more of the public to the horrors of gay conversion therapy. Though he says that he came out of the experience in better condition than most, it's not uncommon for people who have been subjected to conversion therapy to suffer lasting effects or end up with irreparable harm done to their familial relationships. "I didn't have to leave my parents behind," Conley told The Guardian of his experience, noting that he was "one of the lucky ones."
Boy Erased shines a light on what remains a serious but seldom talked about problem in the United States. Around 700,000 people, many of them teenagers, have been forced to suffer abuse by undergoing conversion therapy in the hopes of ridding themselves of their homosexuality. Garrard Conley was one of those teens, but now he has a chance to make a difference by sharing his own life story in the hopes of helping others who are going through the same situation.