Brittany From 'Pump Rules' Is So Happy Being Engaged That She Isn't Even Mad At Jax Anymore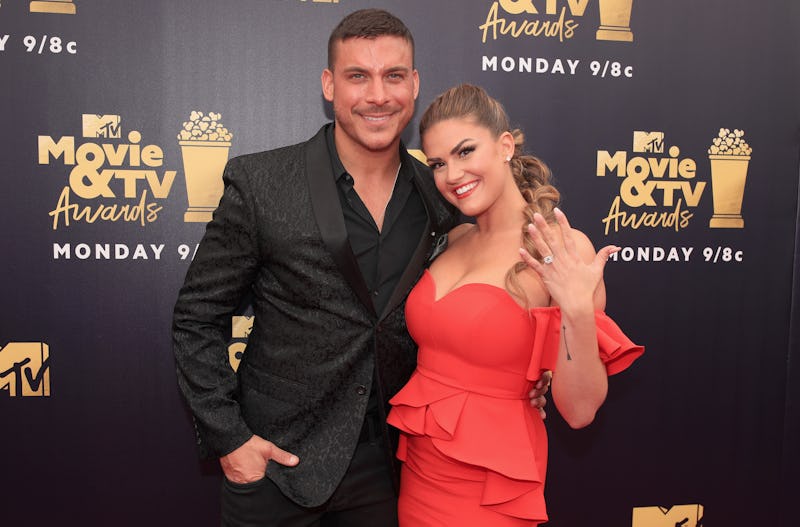 Christopher Polk/Getty Images Entertainment/Getty Images
Brittany Cartwright and Jax Taylor have come a long way. So much so, Brittany isn't mad at Jax anymore for cheating, the Vanderpump Rules star dished to People on June 28 at the relaunch event for Kristen Doute's T-shirt line, James Mae. This might be surprising to some, but they've both made it repeatedly clear they're looking to the future.
"We just have been so happy. I can't even be upset with him, I can't stop smiling," she said. Brittany didn't stop there and added, "We're doing very good. It's just such a happy time right now."
As Pump Rules fans know, Season 6 focused mainly on Jax cheating on Brittany with former SUR-ver Faith Stowers. They endured a lot of heartache, including Jax even breaking up with Brittany. Eventually, they found their way back to one another and are now set to get married.
What really made Jax change his self-destructive ways was, sadly, the death of his father, Robert Cauchi. The loss of his dad served as a sort of wake-up call. The SUR bartender admitted on the Pump Rules Season 6 reunion that he realized how lucky he is to have Brittany in his life. "Ever since then I can't imagine my life without her," he told Andy Cohen about his dad's death and how amazing his now fiancée has been through it all.
Brittany also reflected on Cauchi's death while chatting with Bustle in June. She said, "The passing of his father has completely opened his eyes. I think he realized he was being a bad person and that he just didn't want to be that person anymore, he wanted to be more like his father. You know, he says that again and again, but I believe him."
She continued, "I was there by his side through everything and I know how he's still hurting so much over this. It's just been something that really opened his eyes to really treasure everything you have and not take anything for granted. I think that's something he's definitely doing."
Now, they are engaged. On June 8, Brittany and Jax confirmed their engagement on Instagram. It was both shocking and exciting, especially for fans rooting for them. "Omg omg!!!!!!!! We are ENGAGED! What a way to start our summer and season 7!! I am so happy, so in love, and so beyond excited for this next chapter of our lives!" Brittany wrote on Instagram next to a picture of her stunning ring. "She said yes!!! I can't wait for y'all to see how this happened next season!!! I am marrying the woman of my dreams and I could not be happier!!" Jax gushed about Brittany on Instagram.
For Brittany to now say she's beyond happy and not mad at Jax is huge. After Jax cheated and broke up with Brittany, she told Stassi Schroeder and Lisa Vanderpump, "He's embarrassing me even more for ending it for no reason." She also said she felt "numb" after being cheated on, trying to work on their relationship, being dumped, and dealing with it all publicly. Fans watched her repeatedly cry and have her heart broken over and over again by Jax. The fact that they've lasted and are planning a wedding is almost unbelievable. They've grown so much as a couple.
Like she told Bustle a month ago, "I'm glad I stuck around because Jax is amazing and I knew he had it in him all along. I know his heart is good and I'm just so happy where we are today. I can't be any happier." She even said their relationship is "completely different" compared to what it once was, including, "The way he talks to me. The way he's treated me. His patience. He's not angry."
Despite how you may feel about Jax, only Brittany's happiness matters. At some point, they both have to move forward, strengthen their relationship without the past influencing it, and live in the present. It sounds like that's exactly what they're doing. It's wonderful to hear how happy Brittany is, because she deserves nothing but pure bliss.