Bumble Just Launched A Genius New Way To Meet Your Matches IRL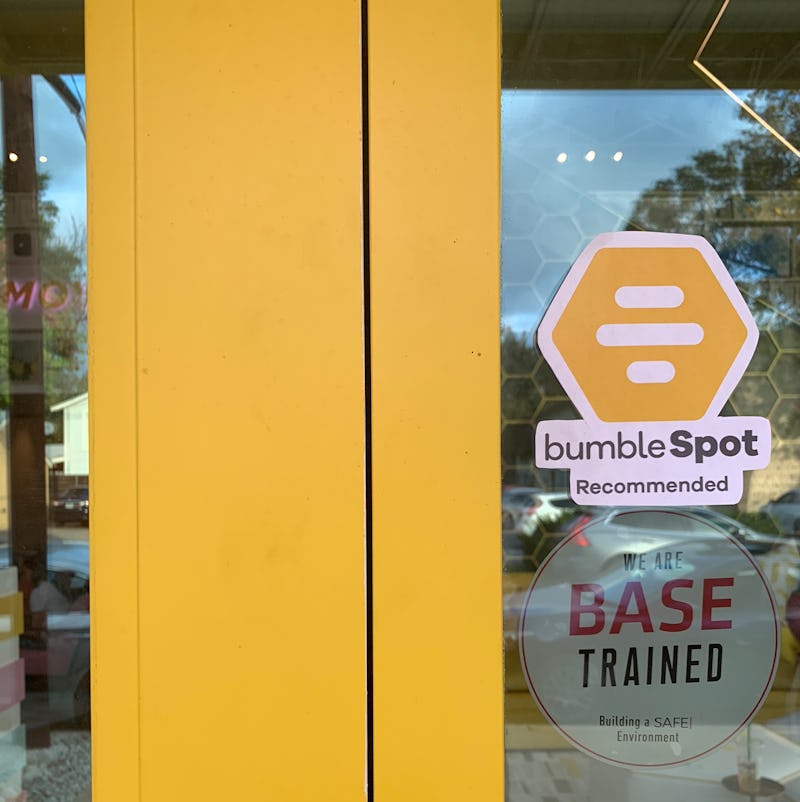 Courtesy of Bumble
The main point of using dating apps is to connect with somebody, then meet them in person. Easy, right? Well, not quite. I'm sure I'm not the only one who's fallen into the pen-pal trap, when you and a match communicate so much, but you never end up actually meeting in-person. Or perhaps you match but then don't ever message. That's why Bumble wants to make the process a whole lot easier.
The company exclusively shared with Bustle that they're launching BumbleSpots, Bumble-verified places where you and a Bumble match can meet in real life. But, Bumble's not only a dating app; they also have Bumble BFF for making friends and Bumble Bizz for career and networking opps. So, with BumbleSpots, you can meet your matches offline within any of these categories.
The first BumbleSpot partnership is with Moxy Hotels, Marriott International's experiential brand, where official Spots will be at eight of their locations: two in New York (Times Square and the Financial District), and one apiece in Chicago, Denver, New Orleans, Seattle, Tempe, and Minneapolis. If you don't see your city on the list, don't worry. Bumble will be rolling out more Spots throughout the year at various restaurants, bars, and coffee shops across the U.S. and Canada, and in some international locations in 2019. Decals will exist at all BumbleSpot locations, so you'll easily be able to identify them.
Andee Olson, Bumble's director of partnerships, tells Bustle that a constant goal of the platform is looking for unique ways for users to bring their digital connections into real life. "BumbleSpot provides a safe environment for our users to feel comfortable meeting their connections," she says. Olson adds that Bumble holds their users to such high standards on the app, and that this very much carries over to real-life interactions, as well. "BumbleSpots are an extension of the Bumble platform," she says.
To find a BumbleSpot, Bumble will send out emails as locations are announced in your city, based on your location settings. Then, when it comes time to meet a Bumble match IRL, you can check out the BumbleSpots in your city. Or, you may just randomly walk by a place and see that it's a BumbleSpot. Bumble says that, of course, anyone is welcome at a BumbleSpot at the Moxy, and at all future partners, as it is within the hotel and open to the public. However, if the person wants to gain the benefits of the BumbleSpot (i.e., food and beverage perks; more on that in a moment), they need the Bumble app and will show it to the bartender or waitstaff.
Some of the BumbleSpot locations will have Bumble benefits and promotions, too. For instance, with the Moxy partnership, Bumble users will receive complimentary access to Moxy's workspace for entrepreneurs on the go, food discounts, two-for-one cocktail specials, and access to fun, new Moxy bar programming with updated games to break the ice with your connection.
Other BumbleSpots, too, may include conversation starters and icebreakers to help you and your date/BFF/networking contact connect, such as your coaster or napkin being tailored to help promote conversation. Plus, you don't have to go to the Spots alone — Olson says that perhaps you can bring along a current friend to meet a potential Bumble BFF, and they can bring along a friend, too. And the same goes with dating and networking, if you so choose.
How To Connect With A Bumble Match IRL
Even with the conversation-starters, if you're still stumped on what to talk about when you and your Bumble match actually meet in person, Olson says that Bumble's blog, The BeeHive, as well as their social media channels, are a great resource for tips on everything from making the first move to networking. She also says that doing some research in advance of your IRL meeting with someone can help lessen nervousness, too.
"Look at the profiles of people you're meeting, what their interests are, their Spotify playlist, and what badges they have on their profile," Olson says. She adds that if you know how your potential match spends their free time, for example, the conversation will flow more naturally, since you'll instantly have something to talk about.
Olson also has some advice to share if you're new to apps like Bumble — whether you're using it to date, make a new friend, or network. "I think the number one thing to remember is to be yourself," she says. "At the end of the day, you're going to make the best connection if you're being true to yourself."
All in all, BumbleSpots seem like a cool twist on the dating app scene, and a great way for online matches to get offline — which is the whole point of online dating anyway. "They're safe places, but also cool, fun, and have a great atmosphere," Olson says. "We know we've had a good time at the locations, and know users will, too." So, the next time you're wondering where you and a new Bumble match should go to meet, you don't have to worry about it — instead, you can just try out a BumbleSpot.