Busy Philipps Talks 'Dawson Creek' In This Audiobook Excerpt From Her New Book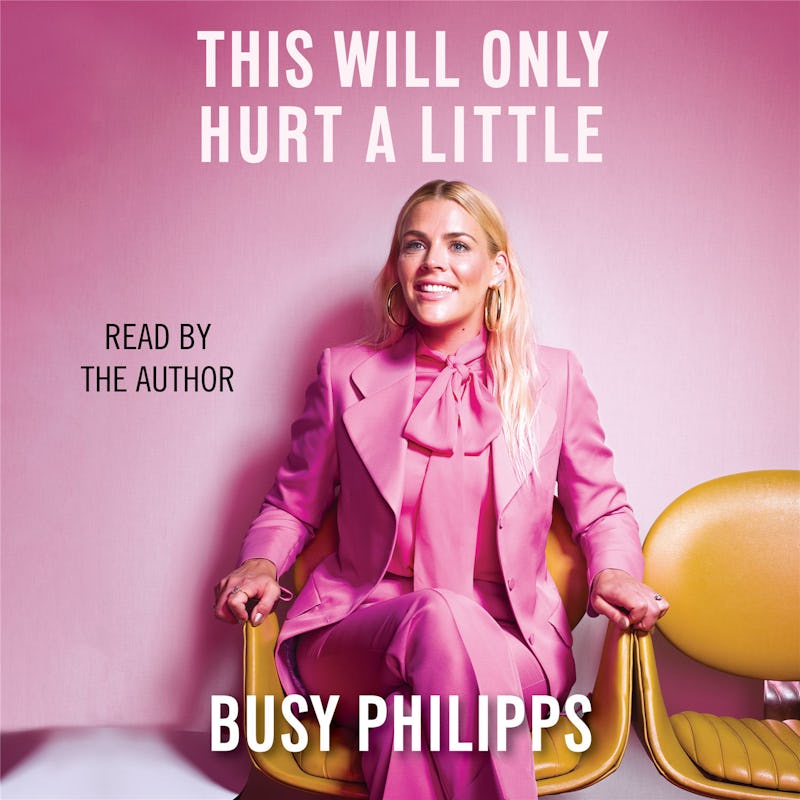 Maybe you know her as Audrey Liddell from the iconic teen drama Dawson's Creek or as Laurie Keller from Cougar Town. Maybe you met her as Kim Kelly in Freaks and Geeks or as Jane in I Feel Pretty. It's possible you know her because of her epic Instagram stories, or because of her upcoming late-night talk show, Busy Tonight, or because she is one half of the most iconic friendships in Hollywood. However you were first introduced to Busy Philipps, you are about to get to know her better than ever before, because the actress, writer, producer, director, and (now) author has written a memoir. This Will Only Hurt a Little is out now from Simon & Schuster, and Bustle has an exclusive audiobook excerpt from it below.
In This Will Only Hurt a Little, Philipps chronicles her life in the entertainment industry and beyond, from the time she left her home of Scottsdale, Arizona at 19 to pursue her passion for acting in Hollywood, to the present day, where she reigns as one of the industry's funniest stars and Instagram's most honest voices. Of course, making it to where she is today wasn't easy, and Philipps doesn't pull any punches in describing the sometime funny, sometimes painful journey, nor does she shy away from telling the hard truths about her personal life or the industry she is a part of. In this moving memoir, Philipps talks as candidly about her experiences with body shaming and sexism on set as she does about her struggles with postpartum depression and modern motherhood. When it comes to being real, it doesn't get much closer than this.
A hilarious, insightful, and incredibly intimate portrait of one of Hollywood's most fascinating women, This Will Only Hurt a Little is an irresistible read, and an even better listen, because Philipps narrates the book herself. In the audiobook excerpt below, the actress talks about joining the cast of Dawson's Creek in 2001, when the show was in its fifth season, and points out how different the set was from that of her previous gig, Freaks and Geeks. With her signature wit and honesty, Philipps opens up about her costars — Katie Holmes, James Van Der Beek, Joshua Jackson, Michelle Williams, and Kerr Smith — and dishes all of the dirt about who didn't get along with who and how the "fairly intense" group dynamic worked, on and off set. Can you guess which cast members she called the "Creek's very own mini George Clooney?" Listen to the clip below and find out.
This Will Only Hurt A Little by Busy Philipps, narrated by author, $17.95, Amazon or Indiebound
A funny and poignant book that transcends the traditional celebrity memoir, This Will Only Hurt a Little will make listeners laugh and cry in equal measure. From her heartwarming story about the instant connection between her and Dawson's Creek costar Michelle Williams, to the heartbreaking truth about watching her best friend face a traumatic loss, there is so much emotion — joy, anger, sadness, frustration, disgust, hopefulness — in this book, and hearing Philipps read it herself only amplifies it. Just like the actress who wrote and expertly narrates it, it's honest and hilarious, upbeat and unapologetic, sometimes intense and always interesting.
Whether you are a Busy Philipps fan who wants to journey behind the scenes of Dawson's Creek, a devoted Instagram follow who just can't get enough of the actress's candid humor, or just an avid reader looking for a laugh with a side of wisdom, this comedic memoir is for you.
This Will Only Hurt a Little by Busy Philipps is available on audiobook from Simon & Schuster wherever books are sold.