What's Next For Jo In 'Grey's Anatomy' Season 15 Is Hinted At In The Actor's Contract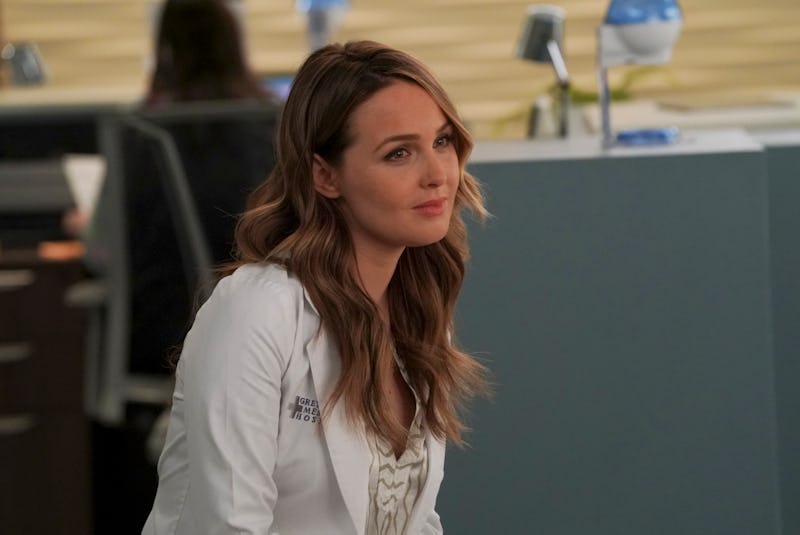 Byron Cohen/ABC
It was sort of a good news/bad news kind of day for Jolex fans: The couple finally tied the knot in the Season 14 finale… but Jo also announced that she had been accepted into a fellowship at Mass Gen. Will Jo Wilson be in Grey's Anatomy Season 15? Maybe Camilla Luddington's contract can give viewers some clues as to whether or not she'll be staying on the show for its landmark, ER-tying season.
A decade-and-a-half into its run, Grey's fans are used to the bizarre pastime of parsing the fine print of cast members' contracts in order to determine which characters are staying and which they should prepare to say goodbye to. That's part of the reason why Derek's death was such a shock: Patrick Dempsey was less than halfway through his new two-year contract when his character was killed off towards the end of Season 11. As that particular example demonstrates, contracts aren't always an infallible harbinger of a character's fate… but it might be all we have to go on in this case.
Despite Meredith's best efforts to keep Alex in her life by offering Jo an attending position at Grey Sloan, Jo announced her decision to accept the fellowship… meaning a move across the country to Massachusetts, a move her newlywed would presumably follow her in. But after losing her husband and her "person," would Grey's really take away Meredith's best friend? That just seems cruel.
Fortunately for Mer, it seems unlikely that Luddington (and therefore Jo, and therefore Alex) is going anywhere anytime soon. Luddington joined the cast of Grey's in Season 9 as part of a new crop of interns, also including Jerrika Hinton (Stephanie Edwards), Gaius Charles (Shane Ross), Tessa Ferrer (Leah Murphy), and Tina Majorino (Heather Brooks). As part of their contracts, those actors all had options to be promoted to series regulars in ensuing seasons. In Season 10, that option was exercised for the whole group — except Majorino, who was already committed to starring on TNT's Legends. (Brooks was killed off in the Season 10 premiere, tragically electrocuted during the superstorm that rocked the hospital.)
At the end of Season 10, ABC declined to renew the contracts of cast members Charles and Ferrer (Shane followed his mentor Cristina to Switzerland and Leah was fired), while Luddington and Hinton's were renewed for Season 11. Eventually, Hinton asked to get out of her contract so she could star on the new HBO drama Here And Now, and Stephanie departed the show at the end of Season 13. Luddington remains the only member of that new class still on the show, with Jo now promoted from intern to Chief Resident.
There hasn't been any official public word on Luddington's contract in recent years; but most Grey's contracts are negotiated in two-year stints, as Pompeo's recent renewal for Seasons 15 and 16 demonstrates. So if Luddington's contract started in Season 9 — with a promotion in Season 10 — that means the contract that was renewed in Season 11 ended with Season 12, and the contract that was renewed in Season 13… ended with Season 14. So could that fairy tale ferry boat wedding be the last fans see of Jo Wilson?
Probably not. First of all, Alex isn't going anywhere. If ABC allowed fans to brace for the departures of April and Arizona by announcing that Sarah Drew and Jessica Capshaw would be leaving well ahead of time, there's no way the network would write off one of the four original cast members between seasons without giving him a proper sendoff. So if Justin Chambers is staying, it's likely that Luddington is as well. Indeed, both Chambers and Luddington were announced as part of the Season 15 cast in ABC's official press release about the show's renewal.
So does that mean Jo will change her mind about accepting the fellowship? Maybe not. Over the years, several characters have left Seattle to pursue career opportunities without leaving the show: Cristina briefly attended the Mayo Clinic in Minnesota; April did a tour overseas with the army; Arizona went to work in Africa; and Derek accepted a job in Washington, D.C. Granted, those last two aren't great examples for Alex and Jo; one ended in the implosion of one of a fan-favorite couple, and the other led directly to the death of a long-running character… who was still in the middle of his contract.
I don't mean to imply that Jo is going to die if she goes to Mass Gen. But anything can happen in the twisty, unpredictable world of Grey's Anatomy. For now, I think fans can rest easy knowing that, even if Alex and Jo move to Boston (presumably temporarily?) the show will still find a way to keep this happy couple around.