Here's Everyone Who's Leaving & Staying On 'Grey's Anatomy' For Season 15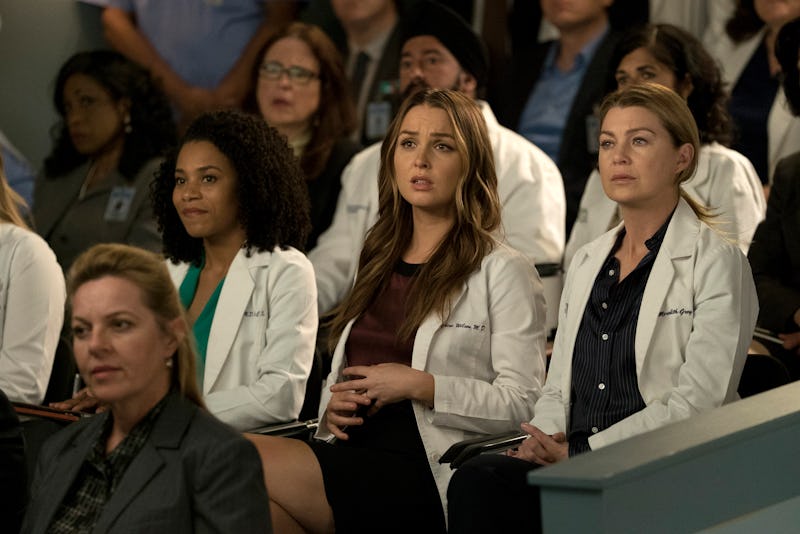 Byron Cohen/ABC
If one thing is constant on Grey's Anatomy, it's change. The show has evolved countless times over the years, both onscreen and off, as relationships have blossomed and died, characters have been killed off, and cast members have come and gone. So who's in the Grey's Anatomy Season 15 cast? Which doctors will still be employed at Grey Sloan Memorial Hospital when the series returns for its landmark fifteenth season?
That's the perennial question, as the roster of the ABC primetime soap has featured no fewer than 28 series regulars over the course of its first 14 seasons, with some actors lasting as long as the show has been on the air, and others whose tenure in the main cast lasted one brief season. (Hi bye, Shane Ross and Leah Murphy!) Over the years, the cast has ballooned from nine series regulars in Season 1 — positively tiny in retrospect — to as big as 16 at its peak in Season 12.
Season 14, ending on May 17 with the much-hyped wedding of Alex Karev and Jo Wilson, featured 14 main cast members. But the revolving door of Grey Sloan is spinning once again, and not all of them will be back when Season 15 premieres in the fall, tying ER's record as longest-running medical procedural in TV history. Here's who made the cut… and who didn't.
Who's Already Gone
A couple of names were struck from the cast list before Season 14 even reached its finale. Martin Henderson's Nathan Riggs departed Grey's after only appearing in five episodes last fall, bringing his time on the show to an abrupt end after joining in Season 12. And Jason George's Ben Warren left to star in the spinoff series Station 19 midway through Season 14. Although he remained credited as a series regular on Grey's and put in sporadic appearances through the back half of the season, it is likely he will be demoted to a recurring or guest status for Season 15, considering Station 19 was renewed for a second season.
Who's Leaving
Of course, by now fans will be well aware of the impending departures of two fan-favorite characters: Jessica Capshaw's Arizona Robbins and Sarah Drew's April Kepner. Capshaw and Drew joined the main cast in Seasons 6 and 7, respectively, and they are the longest-standing series regulars on the show apart from the originals and Kevin McKidd (who joined in Season 5). Fortunately, despite a brief scare for April, both characters appear to be getting happy sendoffs rather than tragic deaths; but either way, their absences in Season 15 will undoubtedly signal a new era for Grey's.
Who's Staying: The Originals
Star Ellen Pompeo (Meredith Grey) famously inked a deal this year that will keep her on the show through a hypothetical Season 16 and also makes her the highest-paid female actor on all of television. Likewise, her remaining fellow originals Justin Chambers (Alex Karev), Chandra Wilson (Miranda Bailey), and James Pickens, Jr. (Richard Webber) show no signs of going anywhere anytime soon. It's remarkable that Grey's still boasts four of its nine original cast members a decade-and-a-half into its run — especially considering that ER had lost all of its six of its originals by the time it hit Season 9.
Who's Staying: The Veterans
Besides the four departing actors and the four remaining originals, that still leaves another six of the 14 current cast members likely to return in Season 15: the aforementioned McKidd (Owen Hunt), along with Jesse Williams (Jackson Avery), Camilla Luddington (Jo Wilson), Caterina Scorsone (Amelia Shepherd), Kelly McCreary (Maggie Pierce), and Giacomo Gianniotti (Andrew DeLuca). Yes, that does appear to mean that the controversial #Jaggie 'ship is still full steam ahead.
Who's Getting Promoted: Intern Edition
Even barring any more unforeseen departures over the summer hiatus, that still leaves only 10 returning regulars for Season 15 — the first time the cast would be so small since the dog days of Season 2. It's likely, then, that the main cast will see some new additions for the first time since Season 12. Could the show be about to promote a new class of interns to series regulars? Any or all of Jake Borelli's Levi Schmidt (aka "Glasses"), Jaicy Elliot's Taryn Helm (aka "Hellmouth"), Sophia Taylor Ali's Dahlia Qadri, Alex Blue Davis' Casey Parker, and Rushi Kota's Vikram Roy could be about to increase their presence on Grey's in a big way. (Perhaps Jeanine Mason's Sam Bello could even find a way to return from her ICE-imposed exile and get back to her medical education.)
Who's Getting Promoted: Guest Star Edition
There's plenty of other places for Grey's to find some fresh blood besides its intern pool — any number of popular guest stars could get promoted for Season 15. Likeliest candidates seem to be Debbie Allen's Catherine Fox, who could finally join full-time after recurring on the show for the past seven years running; Greg Germann's Tom Koracick, who could join Amelia on Grey Sloan's neurosurgery team; Stefania Spampinato's Carina DeLuca, who would need to find something else to do now that her love interest Arizona is moving to New York; and (bound to be the most popular suggestion), Scott Speedman's Nick Marsh, with whom Meredith shared some truly electric chemistry during his one-episode appearance this season.
Of course, Grey's could also recruit some fresh faces that haven't appeared on the show yet… but fans will just have to wait for some official announcements from ABC to find out who's joining the cast of the show's landmark 15th season.