Can Amal Clooney Be My Mom Too?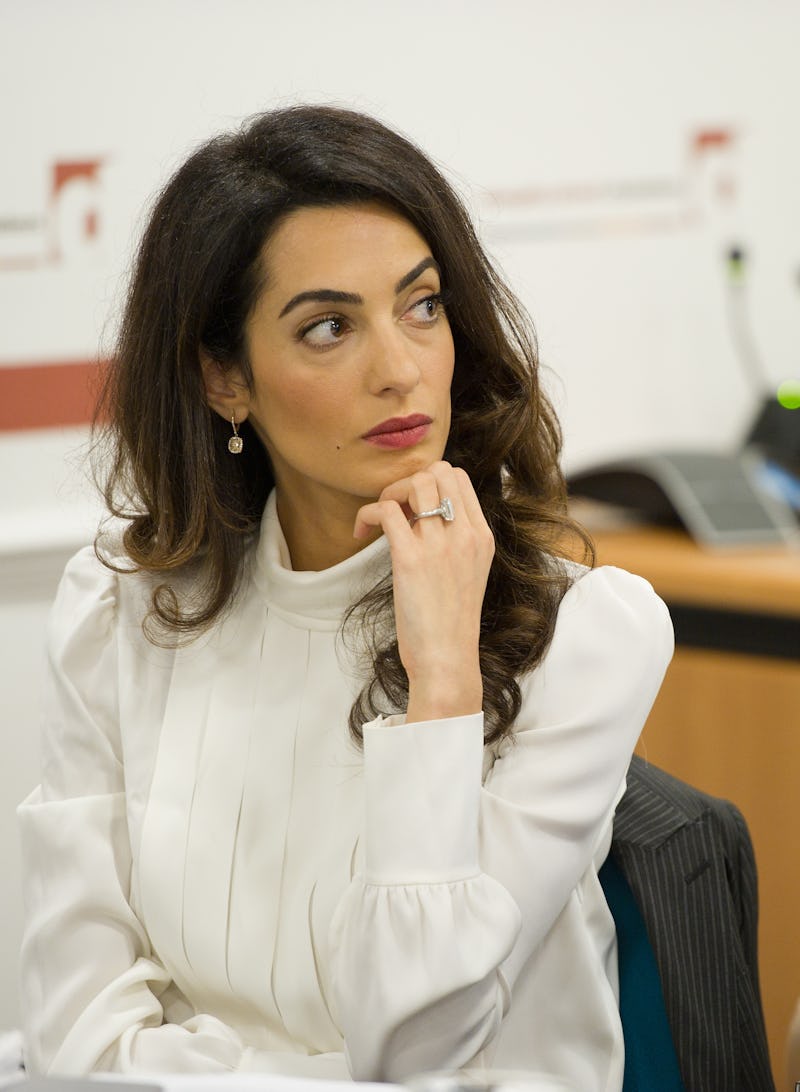 Eamonn M. McCormack/Getty Images News/Getty Images
Here's what we know about Amal Clooney: She's an accomplished human rights lawyer. She speaks French, Arabic, and obviously English because she has to communicate with her admitted trophy husband, George Clooney, somehow. Amal studied at Oxford and NYU Law. Her hair is so shiny I could probably see my reflection in its strands. In the morning, forest animals dress her while she hums show tunes. And now, we also know that the Clooneys are reportedly expecting twins. (Bustle reached out to George's rep for comment, and Amal's rep could not be reached.) It's already clear that Amal is going to make an amazing mom.
How George managed to lock her down, the world will never know. Not that he isn't 1997's and 2006's Sexiest Man Alive, or a renowned Hollywood icon, or you know, the George Clooney. It's just that next to living hair goddess Amal, nothing sparkles like it would alone. Amal Clooney (née Alamuddin) eclipses George Clooney's spotlight. Nevertheless, the pair said "I do" in 2014, and now they may soon be parents to the luckiest children alive.
If you made a list of all the things that you would want in a mom, Amal would check every box. She would satisfy all the wants, wishes, and demands. She's indisputably intelligent, but uses her intellect for the greater good. She's accomplished, but not arrogant. She's more cultured than some parts of Hollywood, but doesn't look down on the industry. She's impossibly stylish, but doesn't appear to be over-invested in her looks or superficial. She's somehow managed to master everything without looking like she's tried at all.
Though she makes it all look easy, that's not to say Amal doesn't understand hard work. As Tina Fey so eloquently said of Amal's accomplishments at the 2015 Golden Globes, "Amal is a human rights lawyer who worked on the Enron case, was an advisor to Kofi Annan regarding Syria, and was selected for a three-person U.N. commission investigating rules of war violations in the Gaza strip... So tonight her husband is getting a lifetime achievement award." As the joke suggests, that's an exceptional amount of feats. Enough to make George's résumé appear sophomoric in comparison.
I'm not a parent, so I can't speak to this, but per everything I've witnessed, read in books, and seen on TV, parenting appears to be somewhere between climbing Mount Kilimanjaro and not sleeping for 18 years on the scale of "exhausting." In other words, somewhere between working on that Enron case and investigating rules of war violations in the Gaza strip.
Amal's line of work necessitates a certain amount of patience and empathy. It's evident just in the title of her profession — "human rights lawyer." She's a spokesperson for those who don't have a voice, or can't use their voice. She's an expert, diligent communicator, and can understand the suffering of others. Plus, I'm going out on a limb here, but I'm 99 percent positive, Amal would cut the crusts off any peanut butter and jelly sandwich with flawless execution.
Oh, and she has a British accent. She's basically a liberated Mary Poppins with better style. Amal, will you be my mom too?