Rob Kardashian Might Get Kicked Off Twitter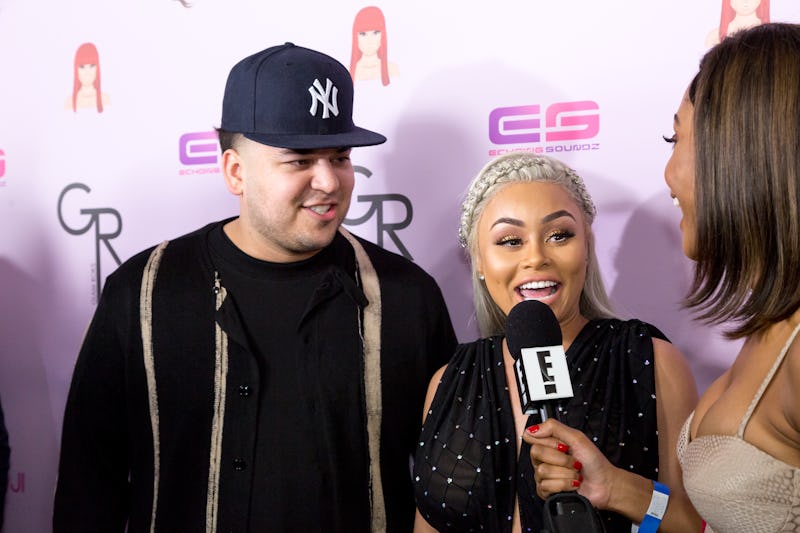 Greg Doherty/Getty Images Entertainment/Getty Images
Rob Kardashian gave the world a front row seat to his intense feud with ex-fiancée Blac Chyna on Instagram on July 5. According to the reality star, his misconduct — i.e. Kardashian posted explicit pictures reportedly of Blac Chyna and aired out all of the former couple's dirty laundry in a series of disturbing allegations — has led to him being kicked of the social platform for violating the community guidelines. That didn't stop Kardashian from continuing his tirade over on his Twitter account, however. But, considering he didn't play by Instagram's rules, we can't be too sure that Kardashian won't get kicked off Twitter, too.
UPDATE: Blac Chyna's lawyer told ABC News in a statement "We are considering all legal options and recourses at this time." Bustle has reached out to Kardashian for comment, but did not receive a response at the time of publication.
UPDATE #2: Kardashian's lawyer told TMZ in a statement that Kardashian's actions were a "spontaneous reaction that he regrets" and that they will not be contesting the restraining order. "Rob's only concern is for the well-being of baby Dream," the statement finished.
EARLIER: An Instagram spokesperson told Bustle that they "value maintaining a safe and supportive space for our community and we work to remove reported content that violates our guidelines," which Kardashian's posts from Wednesday morning very much did. Specifically, the guidelines state that users cannot "post... pornographic or sexually suggestive photos" and "must not post private or confidential information via the Service, including... non-public phone numbers." All things considered, it's no wonder Kardashian's account has been suspended.
He has since been using his Twitter account to speak his peace, much as he had been doing on his Instagram account, he didn't keep things P.C. over there either.
A Twitter spokesperson told Bustle that, "We don't comment on individual accounts, for privacy and security reasons." However, the Twitter terms of service state:
"The consequences for violating our rules vary depending on the severity of the violation and the person's previous record of violations. For example, we may ask someone to remove the offending Tweet before they can Tweet again. For other cases, we may suspend an account."
And, according to the site's policy, "repeated and/or or non-consensual slurs, epithets, racist and sexist tropes, or other content that degrades someone," is a sure-fire way to have your account flagged — and streamlines with all Kardashian's previous Instagram posts.
Since moving to Twitter, Kardashian has reposted the reported video that appears to be of Blac Chyna and a suitor — allegedly sent to him by his ex-flame — but all other tweets appear to be in a more "safe" zone. At least, they seem less overtly likely to get his account suspended for now.
Although celebrity feuds can be entertaining, this one has been extremely sad to watch unfold.