Here's The Only Way To Get Every Single New Fenty Beauty Lipstick Shade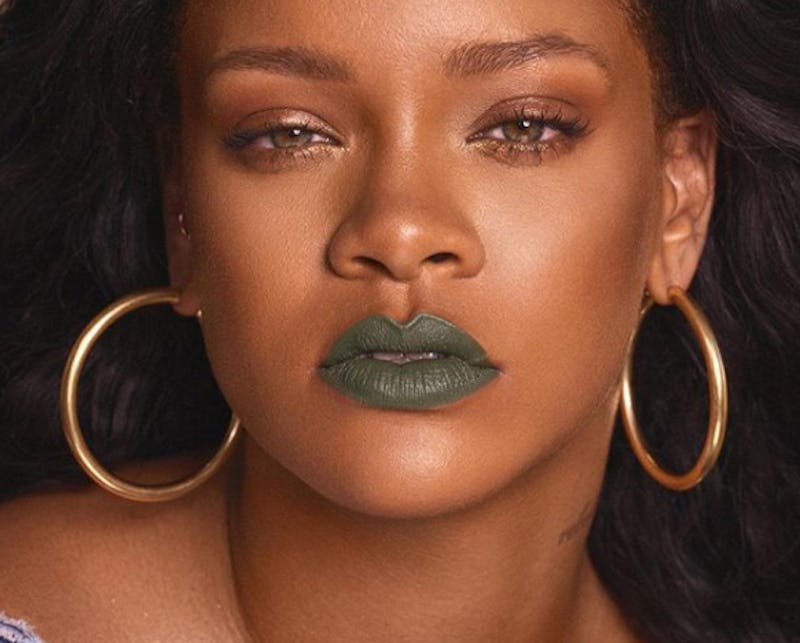 Fenty Beauty
The drop of Fenty Beauty's Mattemoiselle Lipstick line has had a lot of speculation and buzz surrounding it. About a week before it launched, Rihanna took to Instagram and began leaking photos of her wearing mystery lip colors in the most tantalizing, beautiful shades. From sharing a paparazzi snap of her wearing rock-candy-pink lipstick, to her at an event rocking a navy blue lip, to a close up shot of her in a lilac lip color (with her lips tagged with Fenty Beauty's account), fans were going wild trying to guess what it could all mean. And when the answer was that the singer-turned-beauty-mogul-turned-our-lord-and-savior has gifted us with a whopping 14 new lipstick shades, we were all besides ourselves.
Mattemoiselle is a matte lipstick line that not only gives beauty lovers a chance to pick up their favorite nude and pink shades, but a spectrum that also includes playful colors like forest green, lilac, and chocolate brown. And as you can imagine, choosing just one can be a hard decision to make. Do you go the sensible route and try out all the different shades of nudes and browns? Or do you give yourself room to play and instead veer towards the more off-beat hues, like navy and purple?
And all those questions leads us to our next question: Can you can buy Rihanna's Mattemoiselle lipsticks as a set? After all, it's just too hard to choose.
Many beauty brands are offering set deals for their products, letting you bundle your favorite products together for a small discount. I mean, who wants to own just one Mattemoiselle lipstick?
Unfortunately, it turns out that as of right now, there are no sets like that available for Rihanna's new line. There aren't any bundles that mix and match some of the wilder colors with the more tame. What you can do, though, is treat yourself and make your own bundle. Just buy three or more colors you're obsessed with, and you'll get them in the mail in bulk. Tempting, isn't it?
To tempt you further, below is some of Fenty Beauty's most exciting Mattemoiselle shades, modeled by Rihanna herself. Prepare to drool.