Cardi B Bought Her Mom Her Dream Home & Even Gave Fans A Virtual Tour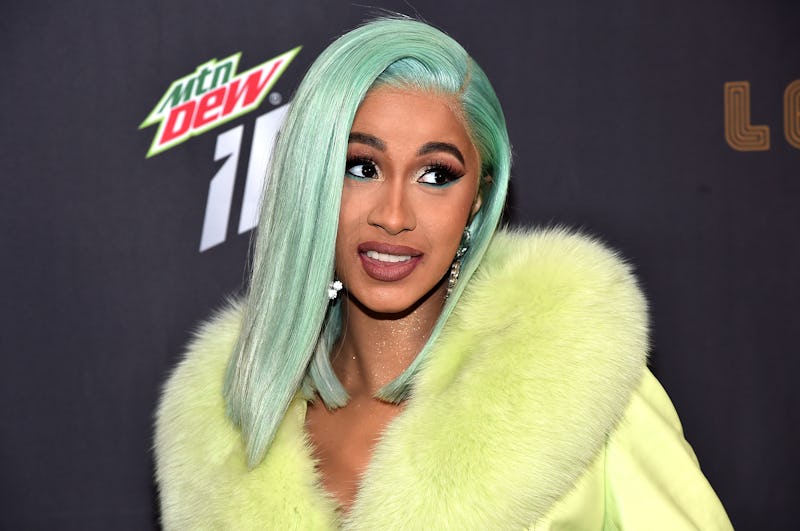 Theo Wargo/Getty Images Entertainment/Getty Images
Christmas came early for the family of one famous star, and it came equipped with a potential in-home movie theater, too. On Nov. 19, a series of Instagram videos revealed that Cardi B bought her mom a house in New York, as reported by People. The Bronx-born rapper took fans on a mini-tour of the sprawling new digs, and — as Cardi would say — it's real bute.
This very special gift has been a long time coming, the rapper revealed in the Instagram caption, explaining:
"Stay down till you come up !Its always been a dream to buy my mother a house .Last year i was so thirsty to buy my mom a house but the ones i was interested for her weren't at my price range .I worked and worked and now I'm here !! Thank you everybody who supported me to make my childhood dreams come true! Buy my momma a house !!.....don't ask me for sh*t motherf*ckers i got big girls bills."
In case you're curious what Cardi's previous "price range" was, by the way, the star explained in one of the videos that all she could afford last year was a home that cost $600,000. Oh. That's all? Granted, real estate in New York is notoriously expensive, but you could probably buy something pretty sweet for $600,000. Clearly not as sweet as what she ended up with, though.
The video tour started off in the kitchen, which is decked out in white tiled floors, a ton of white cabinets, and what looks like tan-colored, granite counter tops. "Happiest day of my life," Cardi can be heard saying as she shows fans around. "I waited, I waited, I waited, I waited until I could afford a dream home, and I copped it," she said.
The rapper then pans around to reveal a huge, beautiful foyer, a quick glimpse of a luxurious guest bathroom, and a grand, winding staircase leading to the second floor. "My favorite part is the basement," Cardi admitted, as she started down the stairs. "Lemme show ya."
As she reached the bottom, she confessed that she was still pretty "emotional ... I'm just happy that when my daughter visits her grandma's house, she's going to come here." Once in the basement, fans got a peek at a private gym, a spacious, columned room with a fireplace, and — Cardi's self-described "favorite part of all" — a red-carpeted space that definitely has the makings of a home theater.
She then took fans upstairs, and wow — do you see how long those window curtains in the foyer are? They basically stretch the height of the entire house, from the ceiling of the second level, all the way down to the first floor. Wow.
It's been an incredible year for Cardi B, and her hard work has paid off in more ways than one. She married Offset of Migos back in September 2017, the couple welcomed their first daughter Kulture in July 2018, and all the while Cardi has continued to climb the charts.
Regardless of her rising fame, she's been consistently vocal about the importance of family. Now, after all these years of support from her loved ones, she's gotten to give them the gift of a brand-new home.