Cardi B Deleted Her Instagram After Defending Her Grammy Win In An Impassioned Video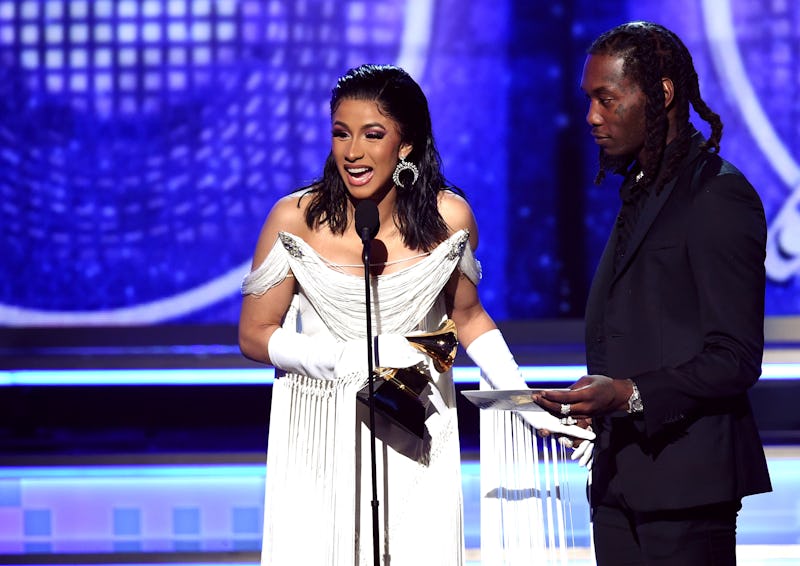 Kevin Winter/Getty Images Entertainment/Getty Images
Cardi B had a huge night on Sunday, Feb. 10, at the Grammys when she won the award for Best Rap Album, making her the first solo female artist to do so. The night took a sour turn, however, with many criticizing the rapper online and pitting her against Nicki Minaj. This appeared to have led Cardi B to delete her Instagram on Monday night, although the Invasion of Privacy rapper didn't provide an explanation for deleting the account. Bustle reached out to Cardi B's reps for a comment, but had not heard back at the time of publication.
Multiple outlets, like Deadline, have linked Cardi B's social media absence to a forthright Instagram video that the singer had posted on Monday, right before she deleted her account. The Twitter account @musicnewsfact re-posted the video of Cardi, which shows the rapper venting about the backlash to her Grammys win. Cardi B opened her video by saying, "It's not my style for people to put other people down to uplift somebody else. That's not my style and that's not what I'm with and I don't support that." According to Deadline's interpretation, that statement could have been referencing the BET Twitter account's distasteful joke about Cardi B receiving more Grammys recognition than Nicki Minaj this year — a joke that clearly put down Minaj to elevate Cardi, something she doesn't condone.
But Cardi didn't just want to dissuade fans and snarky Twitter accounts from insulting her contemporaries, because she also had a few strong words to say to the people criticizing her own Grammys win. In her since-deleted video, Cardi B said, "I've been taking a lot of sh*t — today I'm seeing a lot of bullsh*t today, and I saw a lot of sh*t tonight, and I'm sick of this sh*t. I worked hard for my motherf*cking album. I remember last year when I didn't win for 'Bodak Yellow' everybody was like 'Cardi got snubbed...' Now this year it's a f*cking problem? My album went two time platinum." The rapper continued defending her record, noting how hard she worked to get the album done despite being pregnant with her first child.
Just one week before Cardi B deleted her Instagram, the rapper had tweeted about feeling overwhelmed with anxiety, saying, "Anxiety is kicking my ass right now." Some big time celebs like Missy Elliott and Sarah Silverman responded via Twitter to give their encouragement and advice, but again on Monday night at the Grammys, the rapper spoke about experiencing anxiety. After winning the Grammy for Best Rap Album, Cardi took the stage and hesitated before talking. "Oh my goodness. Listen, I'm sorry, I just, wooo, the nerves are so bad. Maybe I need to start smoking weed," Cardi B said.
Seeing as limiting one's social media use has been found to improve one's wellbeing, according to a University of Pennsylvania study, perhaps a break from social media could do some good for the "Money" singer. Sometimes it's best to cancel out the noise, especially if people are harassing you about winning a history-making Grammy award. That said, hopefully the Instagram hiatus won't last forever, because Cardi B's candid posts make her one of the most honest, forthright, and entertaining celebrities of the social media age.
While Cardi may never explain why she abruptly deleted her Instagram just 24 hours after winning a monumental award, the truth is, she doesn't have to explain anything. She's Cardi B and she can do what she wants.