Cardi B Will Share Her Grammy With Mac Miller For The Sweetest Reason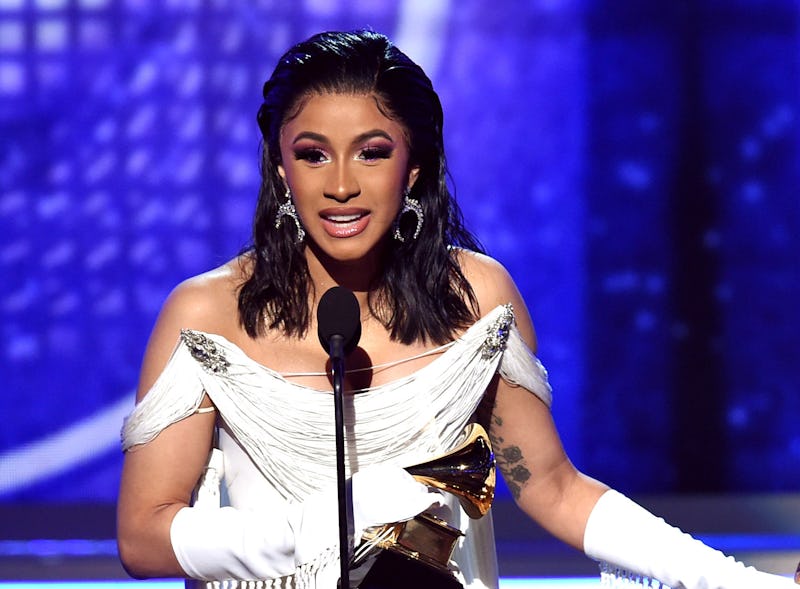 Kevin Winter/Getty Images Entertainment/Getty Images
Cardi B made history at the 2019 Grammys when she became the first solo female rapper to win Best Rap Album. But the Grammy award won't just belong to the Invasion of Privacy artist since Cardi B is sharing her Grammy with Mac Miller. Miller was posthumously nominated for his fifth studio album Swimming, which was released one month before his death in September 2018. Cardi won the award, but on Instagram after the ceremony was over, she explained that this award will be both hers and Miller's.
In addition to performing during music's biggest night on Feb. 10, Cardi was nominated for five awards at the 2019 Grammys — Best Rap Album and Album of the Year for Invasion of Privacy, Record of the Year for "I Like It" with Bad Bunny and J Balvin, Best Rap Performance for "Be Careful," and Best Pop Duo/Group Performance for "Girls Like You" with Maroon 5. She lost all of the other categories, but she won her first-ever Grammy for Best Rap Album. While celebrating her win backstage, she announced that she was sharing the accolade with Miller. "I read a article that Mac Miller's family said that if he don't win, they want me to win. So I'm sharing this Grammy with you, mother f*cker. Rest in peace," Cardi said in a video shared to her Instagram.
Cardi then followed-up with a screengrab of the Us Weekly article from Jan. 20 that had the headline, "Mac Miller's Family Is 'Rooting for Cardi B' If He Doesn't Win at the Grammys." A source close to Miller's family was quoted in the article as saying, "They are really hopeful that the Recording Academy will honor what they believe to be the most important and impactful rap album of the year. ... It will be a bittersweet moment for them if Malcolm wins. And if he doesn't, they're rooting for Cardi B."
In September, Miller died at the age of 26 from an accidental drug overdose. He earned his first Grammy nomination for his final album and his father Mark McCormick and his mother Karen Meyers reportedly attended the Grammys on behalf of their son. Cardi didn't initially acknowledge Miller (or the other nominees of Nipsey Hussle, Pusha T, and Travis Scott) during her acceptance speech. But she made it clear on Instagram that she considers this Grammy to be Miller's too since she captioned her Us Weekly post, "WE WON A F*CKIN GRAMMY" with the trophy emoji.
Following Miller's loss of Best Rap Album, People reported how his ex-girlfriend Ariana Grande tweeted her anger in a series of posts that have since been deleted. Grande, who won a Grammy but didn't attend due to a dispute with the producers, clarified that she wasn't upset that Cardi won, and instead was upset that Miller lost when his parents were in attendance. "Nothing to do w her. good for her. i promise. i'm sorry," Grande wrote, according to People.
Cardi didn't acknowledge Grande in her posts mentioning Miller, and Cardi's other Instagram updates show she's riding high after her win with her daughter with Offset, Kulture. But considering that Cardi is the first solo female artist to win Best Rap Album in the category's 24-year-long history (Lauryn Hill won as part of the Fugees in 1997), it's particularly touching that she wants to share it with Miller. As host Alicia Keys demonstrated during the ceremony, sharing a Grammy is possible — John Mayer split his 2004 phonograph with Keys. But no matter what she does with her physical Grammy, by graciously sharing this moment with Miller, Cardi showed that there are far more important things in life than just winning.