Here's Why Cardi B Is Still Nervous About Sharing Photos Of Kulture With Fans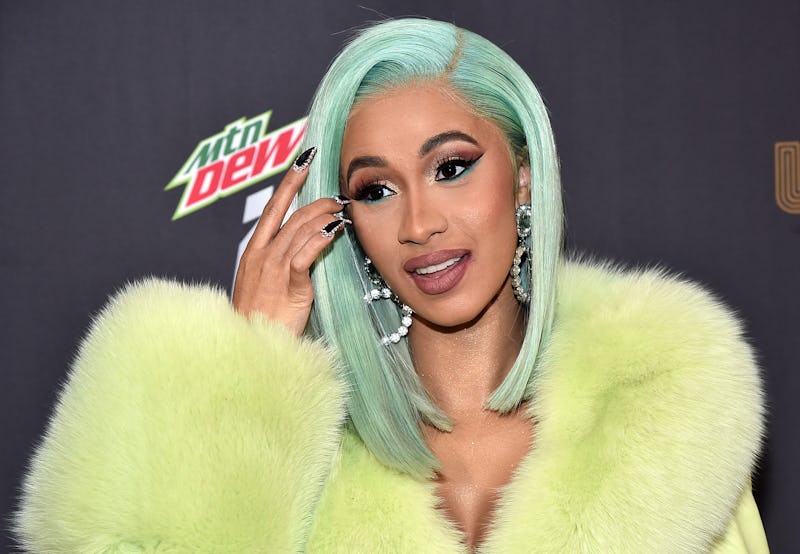 Theo Wargo/Getty Images Entertainment/Getty Images
The world has been waiting four long months for this moment — the unveiling of an icon in the making. Is it time, you ask? Is she ready? Kind of. Sort of. It's very possible that Cardi B may share photos of baby Kulture in the near future, Entertainment Tonight reported. She's still got some reservations, though. So perhaps don't hold your breath just yet?
Cardi gave birth to her first daughter with Offset back in July. Fans have gotten quick glimpses of Kulture since then — not all of her, just like, her hands — but the Bronx-born rapper has been vocal about her concerns in subjecting her to social media entirely.
"Me and my husband [Offset]," she told Ebro Darden on Apple Music (as per The Fader). "We just don't wanna show our baby right now. I got offered seven figures," Cardi claimed in regards to the demand for the first photos of her baby.
Seven figures is a lot. A whole lot. For pictures. Of a baby. Most people post tons of photos of their kids on social media for free. Not Cardi. Not yet, at least.
"One day, soon," she told ET. "I'm scared of sharing her to the world. There are too many mean people out there."
On the other hand, she told the outlet,
"Sometimes I do want to show people how beautiful and how precious she is. She's so precious. There's a lot of people that have crazy minds, you know. I want to protect her! She's my little buggy."
Buggy! She calls Kulture her "little buggy." How cute is that? The cutest. People are definitely going to want to see how beautiful and precious she is now. On the other hand, it totally makes sense that she's still trying to protect her daughter from all the wildness in the world right now.
Part of the fascination with Cardi B's baby likely comes from the fact that her daughter has not one, but *two* successful, chart-topping hip hop parents. Cardi's husband Offset — whom she married spontaneously and in secret back in September 2017 — is part of the Migos trio. Before they even got hitched, though, she already knew he'd be a good dad.
The 26-year-old told ET,
"He is changing diapers, but I've been seeing Offset being a dad. He already has three kids, so I already fell in love with the way that he was a dad already. I'm like, 'Oh my god, I can have a little one with this guy.' He's really good."
She said she could and then she did. That's the power of thinking things into existence, my friends. Now, about those photos ... *thinks hard, really hard*
Look. Just be patient. Eventually, it'll happen. It has to happen. Cardi can't keep Kulture away from the public eye forever ... can she? OK, technically, she could — it would be tough, but she could do it. Thankfully, it sounds like the rapper is finally coming around to the idea of revealing her baby to her fans.