Cardi B & Offset's Texts About Her Next Song Will Have You Feeling Confused, Yet Excited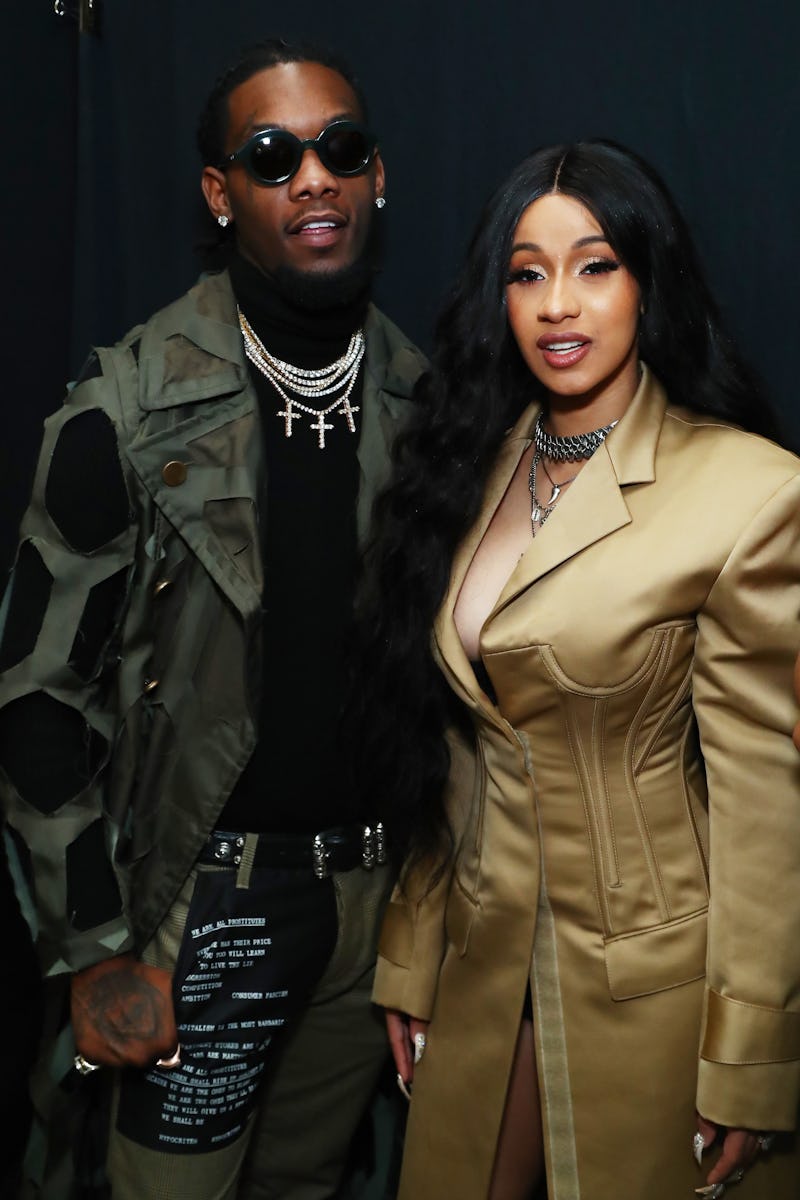 Astrid Stawiarz/Getty Images Entertainment/Getty Images
The thing about emojis is that they don't always mean the same thing to each person. Everyone kind of develops their own emoji-speak code with whoever they're messaging, which is exactly why Cardi B and Offset's texts about her new single are so confusing. The first few emojis in the series are pretty straightforward, but it's the last few that some fans can't quite figure out.
First thing's first, though: Cardi B is apparently working on a new single, y'all. How exciting is that? There have been rumors that the Bronx-born rapper has been working on new music since before she gave birth to baby Kulture, but this is the first time Cardi, herself, has confirmed that a track is on the way.
Cardi announced the news on Twitter by sharing a screenshot of a text message conversation between her and her husband Offset. She captioned the photo, "Baby father likes my new single," plus three "face with steam from nose" emojis (as per Emojipedia), and one "flexed bicep" emoji.
So, this is already kind of confusing from the get-go. The "face with steam from nose" emoji usually indicates anger, right? Emojipedia notes that among its interpretations are: "airing of grievances," "frustrated," "mad face," and "steaming" — none of which would convey how you'd think Cardi B would feel if Offset said that he liked her new single. The "flexed bicep" aka "strong" makes sense, though.
Let's move on to Offset's emoji sequence. Perhaps it will provide some clues about the true meaning behind Cardi's triple "mad face" use.
Offset opens with eight "fire" emojis. He thinks her new single is fire, got it. He then adds three "face with tears of joy" emojis — which is positive any way you slice it — plus two "OK hands," which is also good. The next emoji Offset uses is the "star-struck" face, because Cardi B is obviously a star, but then things get perplexing.
He texts a lightbulb, followed by a guy facepalming, followed by "no" plus hat emoji. The lightbulb might indicate that something about her new track was a "bright idea," but why would he then facepalm? According to one fan on Twitter, the "no" with a hat emoji part indicates the phrase "no cap," which means "it's real good" — so, there's that at least.
The true meaning behind the facepalm emoji remains to be seen, but it could be like, "damn, are you serious with this hot new song?" or "I can't believe you said that in the lyrics." Who knows. Only Cardi B and Offset can say for sure. (Does this analysis attempt make me look old, by the way?)
It seems as if the main takeaway from Cardi B and Offset's text message conversation is that 1. she's got a new single coming out, and 2. it's good. Probably.
What we do know for sure, though, is that Cardi B somehow has 629 unread text messages. Six. Hundred. Twenty. Nine. That is, quite frankly, unfathomable. We also know that her phone is currently at 2 percent, which means she's in desperate need of a charge. Hey, girl? Go charge that phone and drop that single, please.