Cardi B's Newest Instagram Shows The Rapper Isn't Slowing Down Before Giving Birth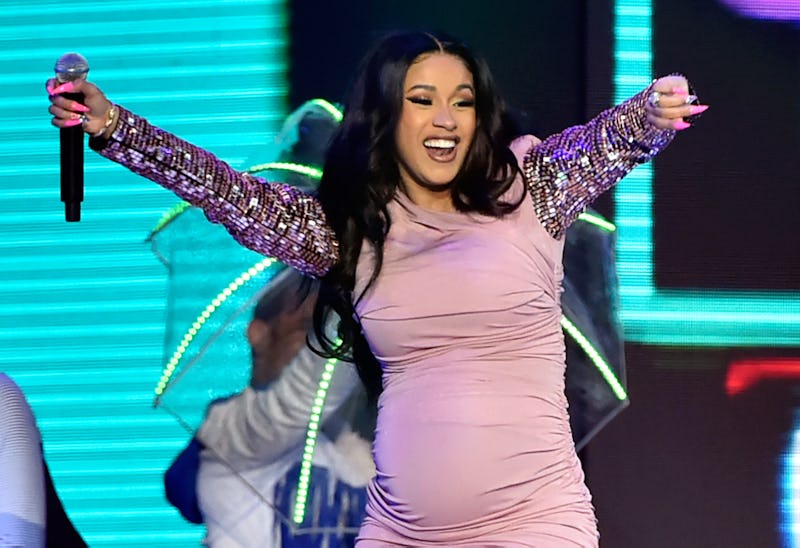 David Becker/Getty Images Entertainment/Getty Images
Cardi B is set to give birth to her Bartier Baby any day now, and she only just dropped her debut album, Invasion of Privacy, a few months back in April. According to a video posted to her Instagram Stories, though, an 8-months pregnant Cardi B is back in the studio recording new tracks — which might explain why her little girl hasn't been able to stop moving around as of late.
The clip Cardi posted in the early morning hours of July 2 — captioned, "because I can't sleep" — is basically a blink-and-you'll-miss-it kind of moment. The bare-faced, Bronx-born rapper can be seen donning headphones, and briefly appears to be spitting some bars. There's no audio on the video she shared, but why would she be in the studio re-recording old songs? Perhaps there's a small chance that she's working on a remix, but it seems more likely that she's feeling something new.
A few hours before posting that alleged studio snap to her stories, though, the rapper shared another clip of her baby bump bumpin' — like, really bumpin'. Or buggin', as Cardi said. "Yo, this baby today," she told fans in a video, showing them a clear view of her baby bump and little movements that almost makes it look like her baby is beating the inside of her belly like a set of drums. "This has been going on for hours."
"I don't know what's going on," she continued. "It's like she's in the club or something in there." Interesting. Well, if Cardi was work-shopping some new lyrics in bed before hitting up the studio, maybe the baby did think she was in the club. She wouldn't be bumpin' like that to songs she'd already been hearing for the last 8 months, would she? Cardi must have tipped her off to something new ... probably. OK, it's a most unfounded guess, but still.
While the 25-year-old star regularly shares all kinds of things with fans on social media — like, for example, when she tweeted, "I wanna have sex but i loose my breath Soo fast," on July 1 — when it comes to big news (i.e. her once-hidden pregnancy, her secret marriage to Migos' Offset, or say, a new album in the works), she tends to keep it close to her vest.
Despite months of speculation, Cardi B didn't announce her pregnancy to the world until her second performance as the musical guest on the April 7 episode of Saturday Night Live. In fact, when a fan asked, "[is] there maybe a Kylie Jenner secret that we need to know about lol," in an Instagram comment back in February, Cardi flat-out denied being pregnant and replied, "No b*tch I'm just getting fat. Let me fat in peace," according to The Cut.
Fans were shook, yet again, at the end of June, when the rapper admitted that she and Offset secretly got married back in September of 2017. It's safe to assume that almost no one saw that coming. After all, they started dropping hints about their wedding plans almost immediately after what we now know was a post-wedding, faux-public engagement announcement — but some fans probably thought they'd hold off on the ceremony until 2019.
There's a chance that Cardi wasn't actually in the studio recording new music. Maybe she was just in there messing around. Or maybe she wants us to think that she was recording new music, but really she just couldn't sleep and wanted to stir up a new #CardiConspiracy — who knows.
As for her unborn baby, she could have just been trying to party like Cardi, or been practicing self-defense like her mother said she'd teach her, or maybe she's just ready to come out and introduce little Bartier Baby to the world.