Cardi B & SZA Friendship & Support For One Another Will Definitely Warm Your Heart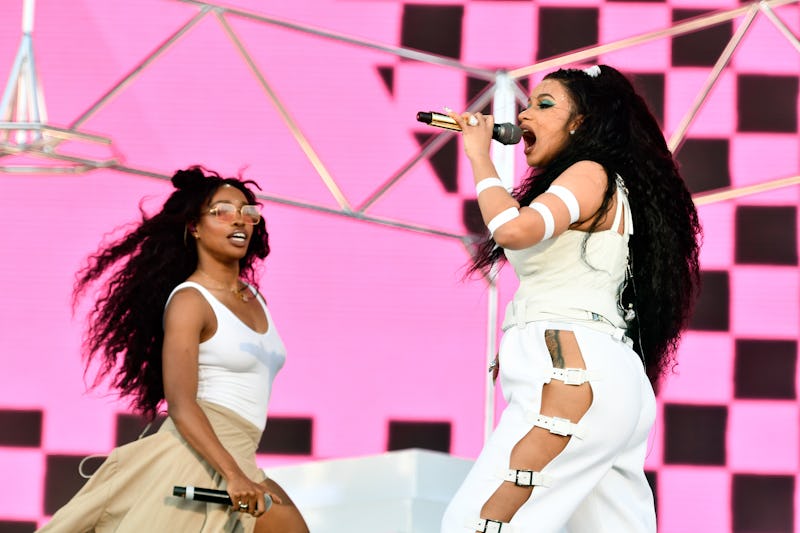 Frazer Harrison/Getty Images Entertainment/Getty Images
Between Beyoncé's history-making headlining #BeyChella performance, and Cardi B giving her fans life with her super impressive Boachella performance debut, the Coachella 2018 was one to remember. Also seemingly blossoming from the event is Cardi B and SZA's friendship. Since performing together on the Coachella stage April 22, the two powerhouses haven't been able to stop gushing over each other's talent on social media, and honestly, neither can fans.
Talented rapper Cardi B and songstress SZA performed their song "I Do" on the Coachella stage during the festival's second week and brought the house down. The two collaborated on track for Cardi B's 2018 debut Invasion of Privacy, which was just released April 6. Their stage show took quite a few fans by surprise, seeing as the "Bodak Yellow" rapper had a bit of a set change from her April 15 show. The two artists looked like they thoroughly enjoyed being on stage together, and their Instagram tributes to one another totally hints that there's a budding friendship in the works.
When reflecting over her Coachella festival debut, and recapping the final weekend's performances, Cardi B made sure to dedicate a specific post to the "Broken Clocks" singer. With a photo of the two in the midst of their crowd-rocking performance, Cardi B pretty much confirmed fan theories about the singer being the best friend they all knew they needed, writing:
"I want to thank you for coming out for my set yesterday. I wish people could meet [SZA] in person. She is the sweetest boolest girl ever. She really like me and you. Deserve[s] all her success, talented and a piece of humble pie"
And when it came to showing Cardi B some love on her own page, SZA definitely rose to the occasion. The singer not only gloated about Cardi B's level of enthusiasm for the fest — citing how she was up and moving even at two in the morning, though far along in her pregnancy — but about how inspiring it was to see Cardi B killing it on stage. In her April 23 Instagram post, SZA also shared a photo of the two artist's performance, writing:
...saw this queen at 2am last night and she WASN'T sitting...Iono how she does it!! Thank you SO much for having me ! Sooo ... inspiring to watch!
As if Cardi B and SZA's "I Do" collab and hearing that they were joined at the Coachella stage weren't enough, fans are seemingly excited to finally see the pair in the same frame. Comments like "OMG, love the both of you," and heart emojis filled the posts from both of the artists, showing that they're totally on board with whatever's developing here.
It's unclear how long SZA and Cardi B have known each other personally, but one thing's for sure, with the two of them both making major headlines this past year for their accomplishments — from Grammy Award nominations to chart-toping album debuts — they've known of each other for some time now. And seeing how thrilled the two were to have shared the stage with one another could mean that there could be more SZA and Cardi B collabs, performances, and/or major Instagram moments on the way.
There's nothing like seeing two major artists show support for one another on a public scale. And SZA and Cardi B sharing a mutual admiration for each other's work and professionalism is so refreshing. Too often are women in the industry pitted against each other, and with both having an amazing run over the past couple of years, it would have been too easy for them to fall into that overly-competitive trap.
SZA and Cardi B are obviously taking the high road, showing that when two female powerhouses take the main stage by storm, love and respect can be found.