Carole Radziwill Tells Us The Sex Advice She'd Give Her Younger Self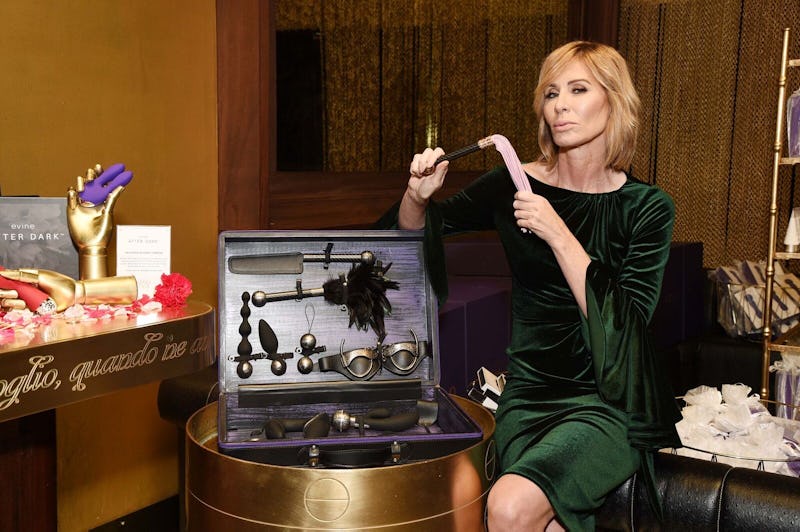 Courtesy of Evine, Carole Radzwill Celebrates the 1st Anniversary of Evine After Dark
Carole Radziwill has no shame in her vibrator game. She could talk about LELO brand vibrators for hours and hours. (And if you're new to sex toys, she recommends trying LELO's GIGI because of its flat tip.) You probably didn't realize it, but during Secret Santa gift exchanges on Real Housewives Of New York City, Radziwill often brought LELO vibrators as gifts. One time, she even brought a 24-karat gold sex toy as a gift. So it seems like Radziwill's latest collaboration with Evine After Dark, the first home-shopping show for sex toys, is only fitting.
On Saturday, September 29, at 12 a.m. EST, Radziwill will join Evine host, Kimberly Wells, for the show's one-year anniversary episode. The show is aimed at empowering and educating women in a safe, inclusive environment. In addition to teaching the audience about sex toys, and of course, selling them, they also answer sex questions from viewers. While Evine After Dark gets ready to celebrate its first successful year on air, it's also celebrating the importance of talking about sex in a public forum.
While Radziwill has talked about sex toys and masturbation at LELO trade conferences before, she's never spoken about sex to an audience quite like this. "I don't feel embarrassed to answer questions or any shame in talking about my own experiences without getting too detailed," Radziwill tells Bustle. "I grew up listening to Dr. Ruth — I still love Dr. Ruth — I watch her on YouTube. She has a way of talking about sex that I understood that wasn't shameful or salacious. She's an intellectual and I think that approach is always good."
But while sex-positivity has made strides in recent years, women's sexuality can still feel like a taboo topic. As one participant in a recent Bustle Trends Group survey of women ages 18 to 34, said, "The fact that women are sexual still blows people's minds, which hurts our ability to feel comfortable asking necessary questions."
"It's OK if that's not your thing, but the idea that it's something to be ashamed of really needs to be re-thought because it teaches a girl about her body and what she likes and doesn't like."
And one major misconception that still persists? "That you have to be hypersexual to use a sex toys," Radziwill says. "I don't really know any girl who hasn't had any experience with a vibrator. And it's OK if that's not your thing, but the idea that it's something to be ashamed of really needs to be re-thought because it teaches a girl about her body and what she likes and doesn't like. ... I think it's only healthy."
And considering most women need clitoral stimulation to climax during penetrative sex, vibrators are an easy way to close the orgasm gap during sex. Yet, in a 2017 Bustle Trends Group survey of 500 women ages 18 to 44, almost half of participants said they never use toys with a partner — or even talk about them. Another 14 percent said they want to use toys with their partner, but they're worried their partners wouldn't be into the idea. For 19 percent of women, the fear of bruising their partner's ego is what prevents them from introducing a toy into the bedroom.
Luckily, Radziwill says her partners have wanted to experiment with toys, and when long-term relationship sex starts to get a little boring, vibrators have been a way to keep things hot. But if she did encounter a partner who felt threatened by sex toys, she knows exactly what she'd do. "I would talk about it outside the bedroom," Radziwill says. "I would say that I use them — and keep them on my bedside table. LELO ones are great because they don't look like big penises. I think that's what men get worried about. And if you use it externally during sexual intercourse, it's just an enhancement. It's not taking away [from your partner]. I think men think it's sexy, but there's something in their own head saying they shouldn't think it's sexy because it's not manly and they're not doing their job. They like watching porn, and porn stars are always pleasuring themselves." And if someone's still opposed to using sex toys after knowing how much pleasure you get from them, Radziwill says that's a red flag.
"You have to know yourself and understand there's power in not only saying no but meaning it."
While Radziwill, who says she was once nicknamed "the wholesome face of vibrators" by a friend, feels comfortable talking about sex and telling her partners she uses vibrators, she says sex was never discussed growing up. Looking back, she says she'd tell her younger self to really get to know her body and to create boundaries. "You have to stand in your own power," she says. "And it's hard as a young girl to understand that, without thinking you're playing games. I've certainly ... got myself into things and thought, oh, that probably wasn't the best thing for me. But that's OK too, and then you say, I'm not going to do that again. ... but ultimately, you have to know yourself and understand there's power in not only saying no but meaning it — and removing yourself from the situation. I hope young girls are learning that now with the Me Too movement."
Wells, who's been a host in the home shopping business for 21 years, also grew up never talking about sex. So when Nicole Ostoya, senior vice president of marketing at Evine, came to her with the idea of talking about sex on TV, Wells was shocked. People told her it would ruin her career and asked what she'd do when Evine dropped her or when the press got a hold of the news, Wells said at an anniversary party for Evine After Dark.
But it didn't take long for Wells to see the show's impact on viewers. "It was after the very first show when I got an email from the mother of a transgender child and she said to me, 'I want to thank you so much for having the guts and chutzpah to talk about a message of sex-positivity, sexual health and wellness, and inclusivity and embracing the empowerment of our own sexual health and wellness'," Wells said. "From that moment on I knew we were onto something very powerful, very important."
Here's where and when you can watch Evine After Dark in your area.