This Cat-Opoly Game Lets You Buy Cat Breeds Instead Of Railroads & It's TOO CUTE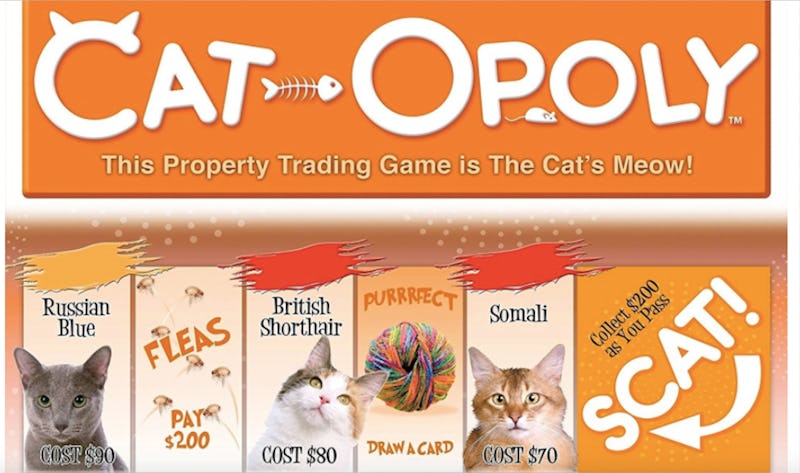 Amazon
Cat fanatics, if you're reading this while sipping out of your favorite cat mug, cuddling with your cat pillow, and beautifying with your anti-wrinkle cat mask, boy, do I have a surprise for you. Cat-Opoly is the board game for cat lovers that offers a more feline-friendly spin on the classic game we've all grown up with. While the original version might be pretty legendary in and of itself, I'd be lying if I said Cat-Opoly wasn't pawsitively purrfect. (I won't do that again. I promise.)
Monopoly initially hit the scene back in 1935, according to Smithsonian, and the obsession hit almost immediately. I'm stunned it took over 80 years for someone to make a cat version — especially if you consider one blogger's claim that there are well over 3,000 versions of Monopoly (including unlicensed and unofficial ones). If beagles and even bugs get their own board game, why not cats too? Seriously — bugs!
According to the Amazon description, in Cat-Opoly you can buy your favorite cats — like the Maine Coon and the Tonkinese. If you land on catnip, everything in the middle of the board is yours. Grow your collection of litter boxes and trade 'em for fish bones instead of hotels. Just be careful, because if you run into the neighborhood bully, you might have to pay the dog tax; and if you fall into the water, you lose three turns. Yikes.
This thing is the real deal — the... cat's pajamas, if you will. The reviews prove it, too. The game currently has 419 and an overall 4.8 stars.
When it comes to the love we have for cats, our feelings are not to be taken lightly. We get matching manicures with our felines. We fill our wardrobes with cat fashion. An incredible 47.1 million households in the United States alone have a cat, according to information from the Insurance Information Institute. They're our companions, our BFFs. Heck, they may even reduce our risk of cardiovascular diseases, one study published in the Journal of Vascular and Interventional Neurology says. We spend over $1,000 a year on our cats, says LearnVest, and they're our favorite creatures to have a Netflix marathon with.
Wasn't a cat version of Monopoly the next logical step?
If Monopoly isn't quite your jam (that would be me, because put simply, the game infuriates me), rest assured there are plenty of other games that will satisfy your feline obsession. In Crazy Cat Lady, the goal is to collect as many cats as possible. Um, I'm sorry, but is this heaven? This certainly sounds like heaven.
Here, Kitty, Kitty is similar. In this game, your neighborhood has a cat problem, and you have to scoop up as many cats as you can before your neighbors get them, all while avoiding stray dogs and hairballs.
Sequence Cats asks you to match the cat shown on your card to a cat on the game board, and you put a chip there. When you've got five chips in a row, you win.
If you don't want too much of a brain-buster, how about a soothing and relaxing cat jigsaw puzzle instead? This one is 1,000 pieces — that should keep you busy for a while.
And if you really want a good laugh, you might need to check out The Cat Game. It sounds a lot like Pictionary, except you have to incorporate a cutout of a cat in all your drawings.
If you're looking to spice up your next game night, Cat-Opoly will make a great addition — it's challenging, silly, and feline-approved.