'Champions' Gives Much Needed Representation To Queer Desis — But We Need & Deserve More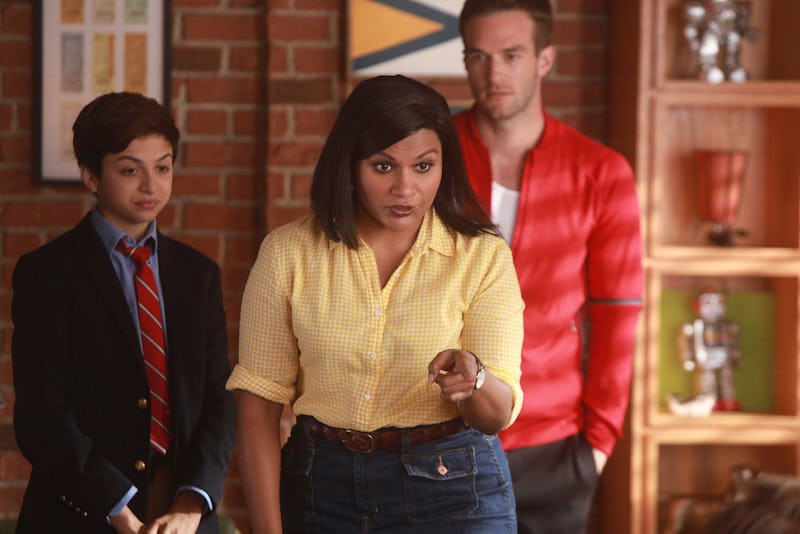 Jordin Althaus/NBC
Hollywood would like us to believe that it's a great time for South Asian representation, even though success is restricted to an exclusive, mostly-male pool that includes Hasan Minhaj, Riz Ahmed, and Dev Patel. Yet, popular South Asian creators keep churning out examples of shoddy representation that garner critical praise but fail to represent the complexities that exist in desi communities.
Now that shows like The Mindy Project, Master of None, and Quantico have introduced South Asians to the mainstream, creators are turning their attention toward queer desis. Both Mindy Kaling and Kumail Nanjiani are currently spearheading projects that have a queer desi as the protagonist or as a pivotal character, but from what I've seen so far, neither representation seems promising.
Kaling co-created and executive produces NBC's Champions, which centers around a dramatic gay teen, Michael, whose mother (Kaling) drops him off in Brooklyn to live with his white father who he's never met. Michael is played by J. J. Totah, who is of Palestinian and Lebanese descent. I'm not going to fault a 16-year-old for taking a job, especially one that he's good at, but I will fault decision-makers like Kaling who wield enough power to know and to do better.
"Audiences become so accustomed to misrepresentation that some even fail to recognize the harm in Hollywood's orientalist habit of casting desis and Arabs interchangeably."
This casting of an Arab actor as a desi is part of a larger trend: Rami Malek is playing Freddie Mercury, a desi queer icon, in an upcoming biopic. But it goes both ways: British actress Naomi Scott, who is half white-half desi, will play Jasmine in the Aladdin live-action remake. Danny Pudi, also half desi, played a brilliant Arab character on Community for six seasons; his Palestinian dad was played by desi actor Iqbal Theba. Consequently, audiences become so accustomed to misrepresentation that some even fail to recognize the harm in Hollywood's orientalist habit of casting desis and Arabs interchangeably as if both groups are part of the same monolith.
And then there's the question of representing queerness. Champions repeatedly uses Michael's gayness as a comedic device — his dialogues are punctuated with unearned drama and miscellaneous pop culture references ranging from Les Mis to Real Housewives to Brie Larson. Particularly cringe-worthy is the bit in the pilot when he informs his father and uncle of his gayness, in response to which the line, "I could tell from the way that you talk," is uttered. Also layered into the character are an undying love for musical theatre, sassy comebacks, and "quirky" antics like spontaneously breaking into song (which is fast becoming a lazy marker for gay men on screen). In an era when the Queer Eye reboot is doing a better job than most at presenting sexuality in a textured and nuanced manner, one hopes that we've moved past tired tropes from a '90s sitcom intended to make the audience laugh at a queer character in an effort to humanize them.
Nanjiani's next venture, meanwhile, is writing and starring in a TV adaptation of the '80s queer cult-classic My Beautiful Laundrette. Penned by Hanif Kureishi, Laundrette is the story of Omar, a gay British-Pakistani man who renovates his uncle's laundromat with his white lover. The film covers elements of race, familial obligation, and sexuality, and is by no means a simple narrative. So while it's exciting that such a compelling and complex story is getting a TV adaptation, Nanjiani's track record of representing his own community is cause for concern.
Many writers have already dissected Nanjianii's film The Big Sick and unpacked its reductive portrayal of desi women and Pakistani culture, and they make valid points. But what's also particularly interesting is the way in which white audiences have universally lauded the film — it made them cry, renewed their faith in America's goodness, earned Nanjiani an Oscar nod, and catapulted him into #wokebae stardom on Twitter that has given us unintentionally ironic tweets like this one:
He's right — all art is political. But so is representation, which is precisely why it should be real and evocative. Now, I don't expect Nanjiani to play Omar in My Beautiful Laundrette — he is too old and straight (his role is unnamed so far) — but I wouldn't be shocked if he did somehow end up in the lead role. Over the last decade, our culture has evolved to become more inclusive of queer narratives, but not enough to compel Hollywood to move away from gay-for-pay casting. In the last few years, award-winning films like Carol, Moonlight, and most recently Call Me By Your Name have all starred straight actors playing gay people.
It would appear that when it comes to a campy sitcoms, hiring a gay actor to play a stereotypically gay character is appropriate and fine, but when the project requires complex storytelling about profound aspects of sexuality (especially that of people of color), gatekeepers cast straight actors, who inevitably are lauded for their "brave" performances of queerness (see: Love, Simon).
Certainly, rebuttal arguments already exist asking whether straight people playing or writing gay roles matters after all, and the answer to that is, well, yes. Especially when it comes to desi communities. There is a special kind of unspoken violence that desi queer kids undergo in their households — whether it's questioning their sexuality in a patriarchal culture or navigating strict gender roles or suppressing their true selves to comply with religious expectations (Muslims remain one of the most homophobic religious groups in America).
"Desi creatives in Hollywood hold the power and resources to rectify this with portrayals of queer desis that aren't just representation for the sake of representation."
Film and television serve as a mirror to our world, and for a queer or trans desi kid to see themselves represented on screen in a manner that legitimizes their existence and place in the world is monumental. South Asian-American queer folks grow up stretched between two distinct cultures: one that mocks or entirely disavows their existence, and another that doesn't fully accept them. Desi creatives in Hollywood hold the power and resources to rectify this with portrayals of queer desis that aren't just representation for the sake of representation but ones that make them feel seen and understood.
So when a straight man like Nanjiani, who enjoys privilege in his community on a multitude of levels, jumps at the chance to tell a queer Muslim man's story, it can feel like he's cashing in on the #representation trend. Put simply, it's not his story to tell. (Of course, it wasn't exactly Kureishi's either, who's also straight. But his Oscar-nominated screenplay came out 35 years ago, at a time when having a gay protagonist counted as a radical act in film.)
There are plenty of desi queer writers and actors whose work never sees the light of day, and despite Hollywood's focus on diversity, there is little being done by studios to empower LGBTQ writers and actors, desi or otherwise, to tell their own stories. Change is on its way, however; earlier this month #OscarsSoWhite creator April Reign announced Akuarel, a platform for underrepresented creatives:
In the last month alone, the success of Black Panther has shown the kind of critical and financial success that good representation can yield, especially when people create content for their own community and not for a larger white audience. I imagine that as representation across platforms continues to evolve, audience tastes will as well, resulting in greater demand for nuanced and meaningful representation that Hollywood will have to satisfy in order to make its profits.
In the meantime, we're told that there is space for everyone at the table. So to producers, actors, writers, and everyone else involved, I say, use that inclusion rider that Frances McDormand told you about.