Twitter Couldn't Get Over *This* Chris Harrison One-Liner During The Latest 'Bachelor'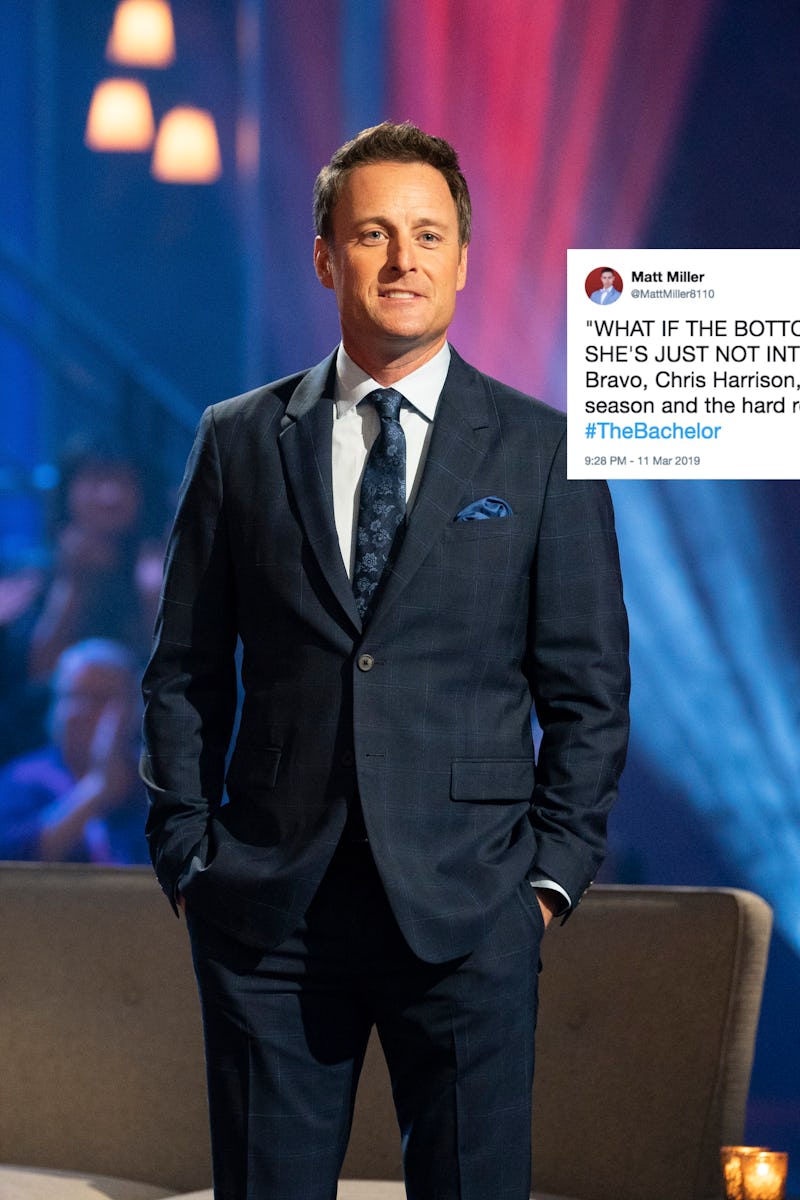 ABC/Eric McCandless; MattMiller8110/Twitter
Colton Underwood's season of The Bachelor is still not over. They're really dragging this thing out, aren't they? Thankfully, host Chris Harrison is not one to mince words. On the March 11 episode, Chris Harrison wondered if Cassie is" just not that into" Colton, and fans couldn't help tweeting about it. To briefly recap, Colton jumped a fence and tried to end his own season. Then, he dumped a couple of girls who were "in love" with him, all because he wanted to be with Cassie, who left him (and the show) because she "just couldn't get there."
Cassie said she "loved" Colton, but emphasized that she wasn't actually "in love with him" so many times. Still, Colton broke up with Tayshia and he even dumped Hannah G. without giving her an overnight date — all so he could pursue a relationship with Cassie. Before he did that, though, Chris tried to knock some sense into Colton, because no one wants to see the Bachelor end up without a final rose recipient at the end of his own season.
Colton was so insistent that Cassie loved him and that their love was worth fighting for, but the host just wasn't so sure. He hit Colton with a tough question: "What if she just isn't that into you?" Is Chris a psychic? Months in advance, he already knew what the fandom would be thinking during these last few episodes.
Colton wasn't having it. He's convinced that he will be with Cassie forever, even though she emphasized (yet again) in a voice-over narration while she packed that she just can't get to that point with Colton. While Colton wasn't picking up what Chris was laying down, Twitter users sure were.