Evan's Tweets About The Next Potential Bachelor Sum Up ALL Your Feelings Flawlessly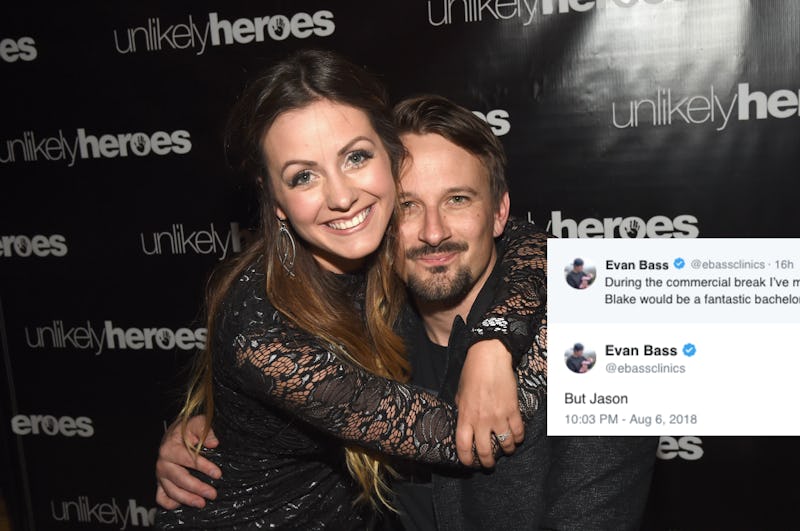 Rick Diamond/Getty Images Entertainment/Getty Images; Evan Bass/Twitter
Season 14 of The Bachelorette just wrapped and Bachelor in Paradise Season 5 is about to start, but the fandom can't help thinking ahead to the show that started it all: The Bachelor. Fans are curious who will be the next Bachelor — and alums are too. Basically, Evan Bass' tweets about the next Bachelor sum up the dilemma of fans everywhere.
For the franchise, the toughest decision isn't determining who to give roses to, but who should be the one handing out the roses to contestants. The entire season centers on the lead and his choices set up the next season of The Bachelorette. There is so much at stake — as far as reality TV casting goes (not in general). And this year, there are just so many great candidates. During her finale, Becca Kufrin chose Garrett Yrigoyen, leaving Blake Horstmann brokenhearted. Does this mean that Blake will become the next Bachelor?
Well, Evan tweeted, "During the commercial break I've made the executive decision that Blake would be a fantastic bachelor #thebachelorette." He's not the only one who thought so. Plenty of viewers and other Bachelor alums tweeted the same sentiments, but then Evan gave it some more thought and added several tweets in response to his own — listing all the options.
Rob Mills, ABC's SVP of alternative series, specials & late-night programming, discussed the potential Bachelor leads from this season in a recent interview with Variety. Mills asked,
"Is Blake too heartbroken to be 'The Bachelor?' He was torn down to the core. He is so beyond heartbroken. I think he needs to ask himself that and we'll go from there."
Most likely, he will return to the Bachelor mansion to greet 25-30 women coming out of limos, but he's not the only contender.
Evan followed up his tweet with, "But Jason." Third-place contestant Jason Tartick has had a lot of momentum behind him for the past couple weeks. He got eliminated two weeks ago during his overnight date. Then he got a lot of screentime during the Men Tell All episode. Jason is dynamic. He's well-spoken. He's genuine. There's just so much to love.
Jason might be the ideal choice. He was on the show long enough for viewers to "get to know" him. He got his heart broken, but he's clearly ready to move on, which is not as apparent when it comes to Blake. Mill told Variety,
"Jason, he sort of admitted, he and Becca had insanely strong chemistry and strong feelings, he was a little bit more of a slow burn, so I think he's ready to jump back in."
Jason and Blake are stellar prospects, but there are just so many good possibilities. Bachelor Nation and Evan are torn. When Joe Amabile got eliminated on the first night of Becca's season, fans were devastated. They weren't just upset after that episode, but for weeks to come — so much so that Grocery Store Joe became one of the most-anticipated contestants for Bachelor in Paradise. So, of course, Evan tweeted about him too.
Yes, he was only in one episode, but he will be in Paradise, so it's possible that he could build up momentum and get more support from viewers. Mills remarked, "There was such a huge following for Grocery Store Joe — someone that we really know nothing about, but we will know more after Bachelor In Paradise."
Nick Viall became the Bachelor after an endearing season of Bachelor in Paradise, so it has happened before. Then again, Nick made it very far on The Bachelorette — twice — so that's a little bit different.
The list of potential Bachelors isn't even done. Evan tweeted, "Or Wills." Yes, Wills! Who could forget Wills? He had the best outfits, facial expressions, and an unforgettable delivery of "Sup, baby?"
Wills could bring a lot to the table, as Mills pointed out to Variety: "Wills had a massive following and had a very different approach. His reactions sometimes to some of the guys was priceless... He is also probably the most stylist person we've ever had on the history of the show." All of that is absolutely accurate.
But there are even more guys on Paradise that could stick out. John Graham, aka Venmo John, even made it into Evan's Twitter confusion. Venmo John will be on BIP this summer, so maybe he'll make enough of an impression to be the Bachelor.
There are other guys to consider too, though. Colton Underwood made it to Becca's final four on The Bachelorette. He will also be on BIP this summer. There are still plenty of people longing for Peter Kraus, from Rachel Lindsay's season of The Bachelorette, to make a return. There's even buzz that Ben Higgins could be the Bachelor for a second time.
There are just so many possibilities, The fans are torn. Evan is torn. It's safe to assume that the producers are torn as well. Who's it going to be? Sounds like fans still have to wait and see.