Chrissy Metz Looked Chic At The Golden Globes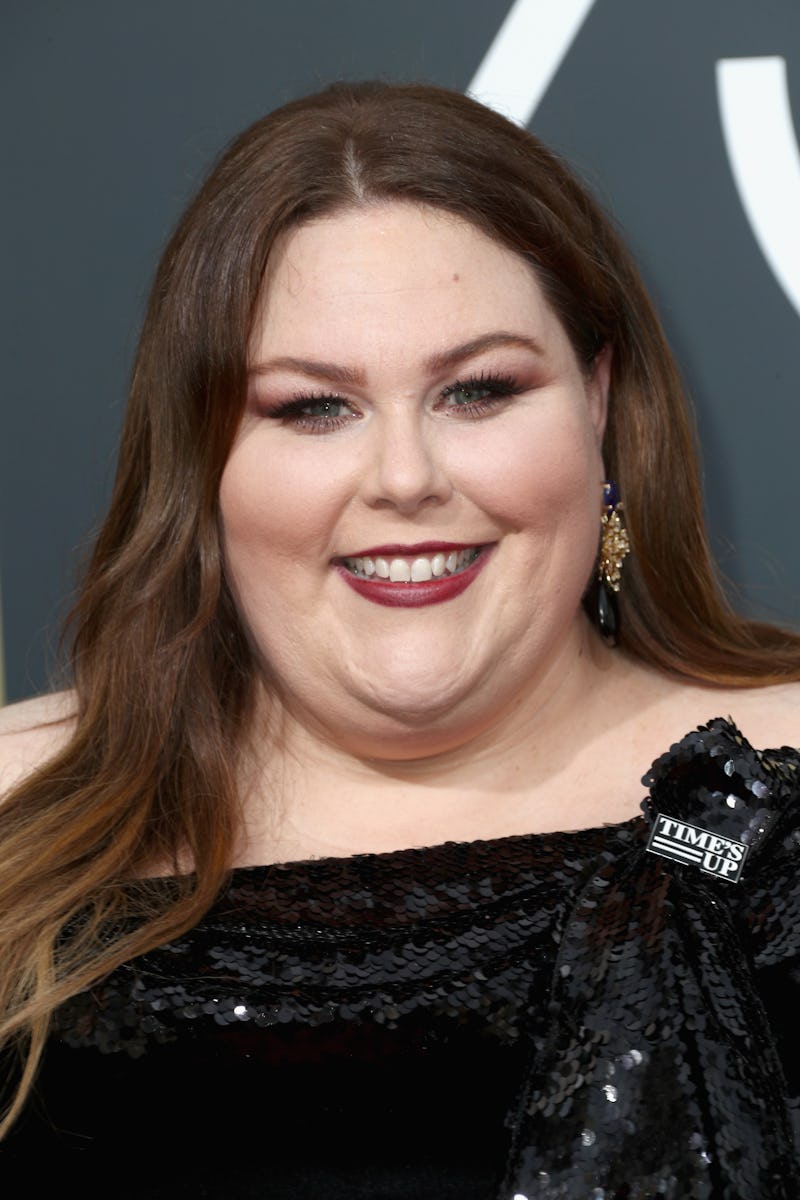 Frederick M. Brown/Getty Images Entertainment/Getty Images
Chrissy Metz is officially one to watch on the red carpet. The This is Us star not only attracts our attention due to her incredible performance as Kate Pearson on the much-loved show, but also for her classic, Old Hollywood style. Pair these two factors together, and what do you get? The unstoppable force that was Chrissy Metz on the Golden Globes red carpet.
Metz turned heads in a glittering, off-the-shoulder gown in the evening's go-to black. But, as we now know, this next-level style thing is nothing new. Whether she's wearing all black at the Golden Globes, a teal gown on the Emmy's red carpet, or a silky navy blue dress at the People's Choice Awards, the actress never fails to impress.
She also has designers clamoring to dress her, which is an excellent change we're finally starting to see for plus-size actresses, who have often been overlooked by designers in the past. And Metz knows how to keep us on our toes, too. At last year's Golden Globes, for example, she stunned everyone by not wearing one of the two custom Christian Soriano dresses she'd been thinking about wearing, and instead went for a purple velvet Nathan Paul dress. Because she's cool and surprising like that.
All of her glorious red carpet moments led up to Sunday night's show. Metz was nominated for her second Golden Globe award, so she had to wear something worthy of the stage, and that she did. Let's all take a moment to fully appreciate her look.
If ever there was a red carpet dress, this is it. Metz looked amazing in all black, which she wore in support of the Time's Up movement. A few hours before the awards show, the star posted about it on her Instagram page, along with the #WhyIWearBlack hashtag and a caption that red, "All for one and one for all."
Like many celebs on the Golden Globes red carpet, Metz found it important to protest all the gender inequality and sexual assault that's been coming to light in Hollywood recently.
Her dress for the evening wasn't just some LBD. No. It was a glittering, glorious, off-the-shoulder gown, with three-quarter length sleeves, a sequined sash, and a hemline that became more and more sheer as it cascaded down.
The dress stopped just shy of her ankles. This was all well and good, since it offered us a glimpse of her strappy sandals, which were perfect for the California heat.
The star didn't disappoint when it came to her hair and makeup, either. She wore her long locks down, in a super casual but totally beautiful way. Her loose waves paired well with the drama of the dress — one was casual, one was bold.
A cool combo, don't you think?
Metz went for sultry makeup. Her lashes — which seemed to go on for days — stood out from her brown, smoky eye. Her eyebrows were perfection. And her deep red lips were the perfect touch.
To touch it all off, the actress went for gold jewelry, which brought out the blonde and red tones in her hair.
Besides wearing all black, the actress also wore a Time's Up pin. It was a popular choice on the red carpet, and many celebs were right there with her. According to The New York Times, "Time's Up ... is an initiative created by several hundred actresses and female agents, writers, directors and entertainment executives to fight sexual misconduct across the country."
With her bold statement dress, and her bold statement pin, Chrissy was truly looking as chic as ever.