Chrissy Teigen Just Tweeted That She Wants To Act & It'll Will Make You Want Hollywood To Call Her ASAP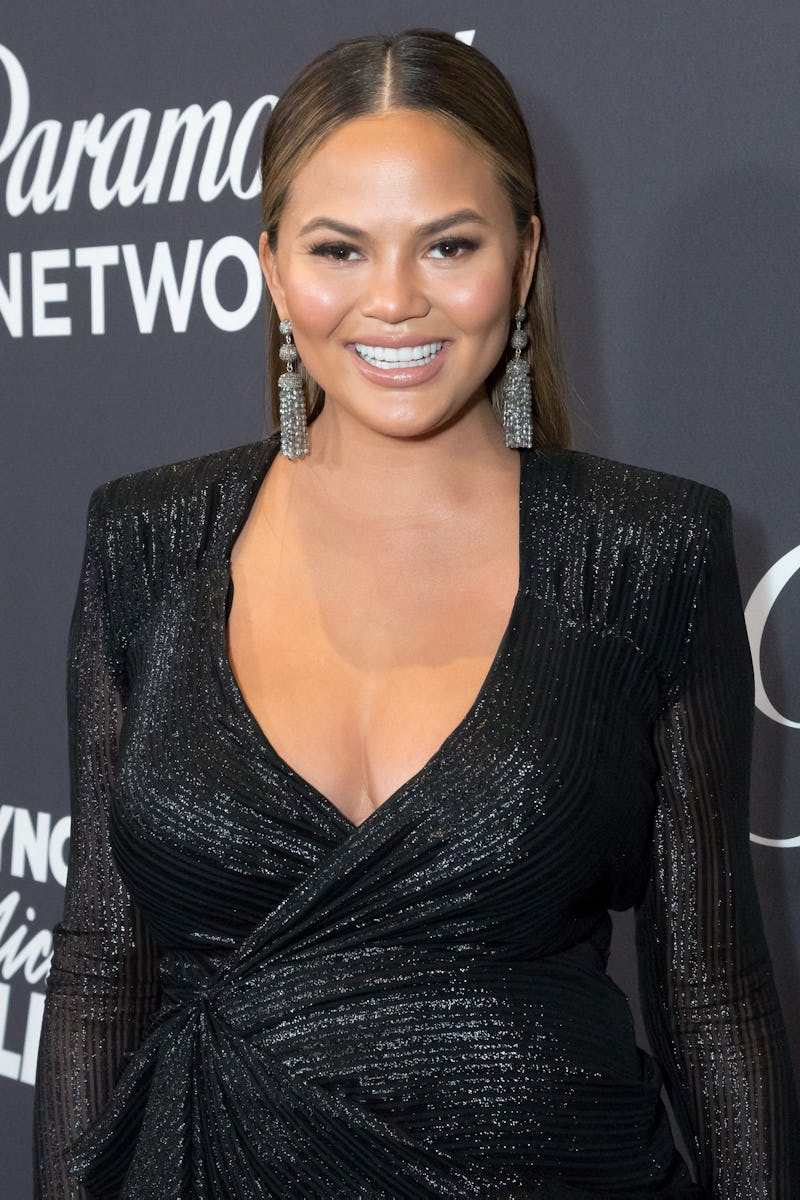 Greg Doherty/Getty Images Entertainment/Getty Images
Dear Hollywood, your next big movie star has arrived, and she already has an army of fans. On Sunday, Feb. 11, Chrissy Teigen tweeted she's ready to be an actor — although, her life status update did come packaged in a hilarious tweet, so she might be kidding. It seems the Lip Sync Battle (series director: Beth McCarthy-Miller, five episodes) co-host may have just watched a bad movie — although she didn't disclose what it was — and the experience prompted her to request "all the scripts" be sent her way.
Teigen tweeted,
"OK movies suck I'm ready to be a v famous actress now. Please send me all the scripts. Plz note I cannot cry on cue but I am very good at happy, angry, tired, bitchy, super nice gal but complete indifference is my strength. I will do sexy time scenes it doesn't have to make sense."
Fans of Teigen will know that she's already got comedic timing down to an art. The model's social media updates are endlessly entertaining, and it's easy to imagine her taking on roles in almost any kind of movie. Superhero? Yep. Comedic lead? Absolutely. Romantic comedy star? Yes, please. Teigen may have been kidding, but seeing her become an actor would be an absolute gift, and hey, she's already had a guest role in The Mindy Project (series writer: Tracey Wigfield, 15 episodes). Um, can someone page Mindy Kaling? Because it sounds like Teigen could be persuaded into volunteering as a tribute to star in her next project.
While she's not a "very famous actress," Teigen is already famous and super busy. In addition to expecting her second child with John Legend, Teigen is also a model, cookbook author, clothing line collaborator, Lip Sync Battle co-host, and, of course, social media maven. Teigen is a total boss who is not only always working on one project or another, but also making time to be an advocate for moms — her takedowns of mommy shamers are legendary.
Still, if she seriously decides to add actor to her list of accomplishments, she'll likely be amazing at that too (even if she can't cry on demand). My Big Fat Greek Wedding (producer: Rita Wilson) star Nia Vardalos is definitely here for it. Vardalos responded to Teigen's tweet with an idea for the model's first movie project. Vardalos tweeted,
"Pitching @chrissyteigen as smart & fierce superhero sashaying through the streets lasering off the eyebrows of women who mommy shame."
Yes, please and thank you. Not only would that be perfect for Teigen, it would definitely be something Hollywood has never done before.
Vardalos isn't the only one with ideas for Teigen's potential movie career. The author's tweet has led to many of her fans offering suggestions for what roles she would rock, or straight up offering to pen scripts for her. Teigen may have been joking, but now she's planted the idea in the minds of her fans and they're rooting for Teigen to become a movie star.
Short of actually joining the ranks of Hollywood's A-list actors, Twitter users are still relating hard to Teigen's tweet. Because who hasn't watched a terrible movie and then thought they could definitely be an actor? As always, Teigen is one of the most relatable celebs out there.
Even though her declaration that she wants to be a very famous actor is definitely fueled by watching an underwhelming film, if Teigen ever decides to actually take that career path, it sounds like she'll have plenty of support. Whether she takes on the big screen or not, Teigen is already a major star, and her fans couldn't possibly love her more — even if she did star in a When Harry Met Sally (writer: Nora Ephron) reboot (that's a hint, Hollywood).