Chrissy Teigen Wants To Bring Potatoes On A Plane & You'll Be SO Invested In This Saga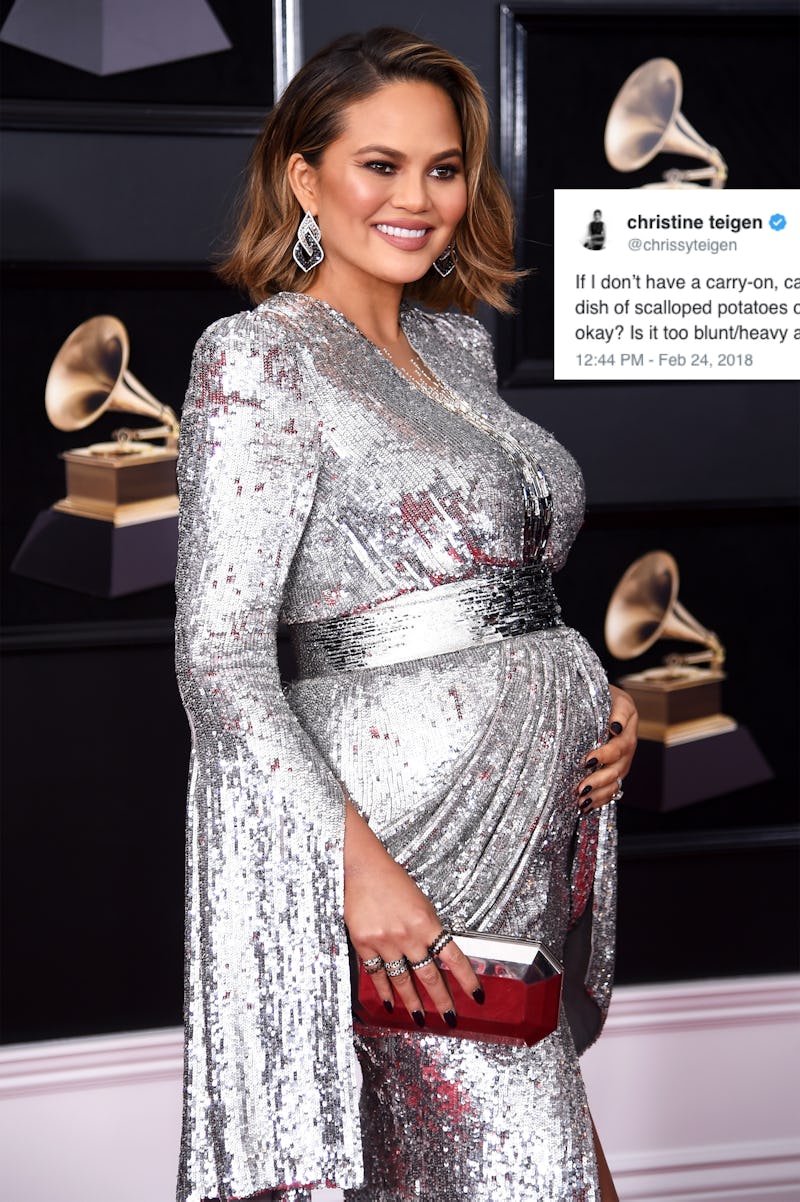 Dimitrios Kambouris/Getty Images Entertainment/Getty Images; Chrissy Teigen/Twitter
Another day, another Chrissy Teigen tweet for the entire internet to become emotionally invested in. On Saturday, the Cravings cookbook author posed a question that will change the way you view carry-on luggage going forward. Teigen's tweets about bringing potatoes on an airplane are bound to make your day — especially when you see the final verdict.
To be specific, Teigen wanted to take scalloped potatoes with her on a flight. She asked the Twitterverse,
"If I don't have a carry-on, can I bring a large ceramic casserole dish of scalloped potatoes on the plane? I am not kidding, is this okay? Is it too blunt/heavy an object? I'll cry if they throw it away"
She then posted a follow-up tweet, tagging American Airlines, presumably the airline she'd be taking. Coining the soon-to-be beloved phrase "emotional support casserole," she begged American Airlines, "please help me."
Luckily, social media also appears to be this airline's forte. They soon replied to Teigen, and after some back-and-forth clarifying that she wanted to bring the taters in a casserole dish, not a bag, she was directed to the official TSA account. TSA shared a reply that resulted in giving Teigen's followers a collective sigh of relief:
"That's a good question, Christine! Scalloped potatoes are allowed in carry-on and checked bags. You can place them in a ceramic casserole dish. We hope you enjoy!"
The Sports Illustrated Swimsuit model quickly responded, "Hooray thank you!!!"
This may seem like a slightly silly saga to care about, but now you'll never have to wonder again about whether you can bring a casserole with you aboard a flight. And considering how invested fans are in Teigen's everyday adventures — whether her disappearing toilet or attempts at baking banana bread — at least this story has a happy ending.
And this isn't the only time Teigen's air travels caught Twitter's attention. Remember a few months ago when Teigen's plane turned around mid-flight and it sparked a mystery that fans couldn't get enough of? (Apparently, it was later revealed that two brothers reportedly used the same boarding pass, causing the entire plane to make a U-turn to sort things out.)
Again, at least this casserole anecdote ended on a much happier note — she's able to bring her "emotional support casserole" and fans now know they can do the same. Seriously, they were applauding this mini victory.
Other fans posed very valid questions: Why is she bringing potatoes on the flight in the first place? And more importantly, will she share the recipe? After all, Teigen has been working on a second cookbook, and if her first is anything to go by, the recipes will be drool-worthy. Maybe she'd even update the recipe to make the potatoes not lose any flavor after traveling on a plane for a few hours.
If you want to have your world opened to a slew of other new traveling possibilities, some fans replied to Teigen's tweets with their own examples of foods they've witnessed brought on airplanes in the past.
The more you know, huh? Leave it to Teigen to give the internet a new cause to rally around. It's unclear where exactly the Lip Sync Battle host was traveling from, but she posted a video on Instagram earlier in the day, pointing out how much she missed her daughter Luna, even though it was a short trip away.
If you're already filled with joy from the potato plane victory, this may be all you need for your heart to fully burst.
Making the news all the better, it sounds like Teigen and her casserole dish filled with scallopped potatoes are on their way home. And they'll be reunited with little Luna in no time.