Here's Why You Can Bet On Colton Being The Next 'Bachelor'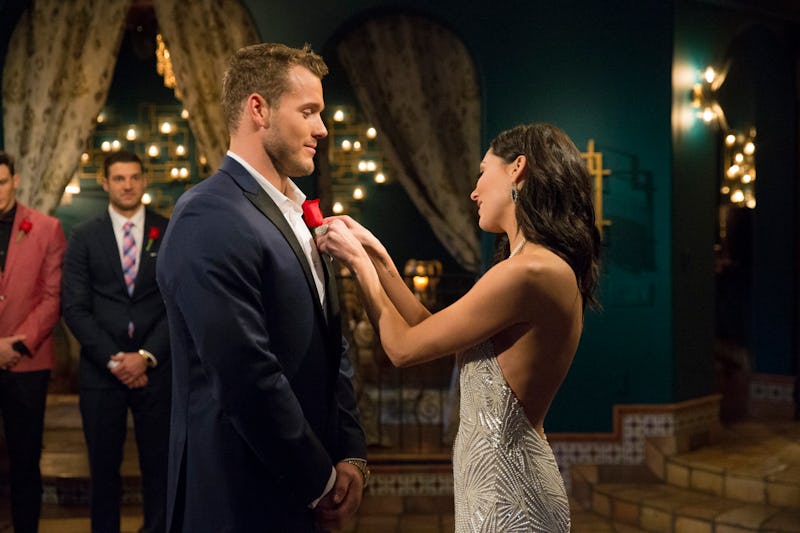 Paul Hebert/ABC
It's the height of summer, which means the end of The Bachelorette and, most importantly, the beginning of Bachelor In Paradise. The Bachelor In Paradise spinoff is the one fans like me look most forward to, mostly because it has all of the fun and none of the boring group dates and silly rules. But, if I may, for a moment, encourage you to think forward, to the short, potentially snowy months of early 2019. A new Bachelor season will air, and, of course, with that, we will be graced with a new Bachelor. Who will the powers that be choose? As of right now, there are some serious clues that Colton Underwood will be the next Bachelor.
What's not to like about Colton? He's cute, sweet, handsome, and a former NFL player — this franchise loves those kinds of guys. He also dated Olympic gymnast Aly Raisman, which means that "famous" women love him, too! (Their relationship didn't last that long, but he did talk to Becca about it on The Bachelorette.) I am admittedly #TeamBlake when it comes to the next Bachelor, but it's hard to ignore all of the many reasons why Colton could make a case for himself to find love via helicopter trips, fireworks, and awkward two-person concerts featuring artists with new albums to promote. Here are some clues that predict Colton handing out those roses come January.
He's Handsome AF
He may not be your type, but Colton is pretty delightful to look at by many people's standards. The men chosen to helm The Bachelor have to be handsome, because not only should the 30-or-so women casted to the show have to want to marry him, the rest of America has to feel it a little bit, too. Colton smiles that smile and everyone — even Becca, who really just wants to make out with him all day — melts. It's just science.
He Has A Great Story
On the July 10 episode of The Bachelorette, Colton admitted to Becca that he was a virgin. He said that he had devoted so much time to being an excellent football player that he was never in a relationship for very long, and because he was never in a relationship for very long, he just… never got around to that part of being a couple. The producers pretended Becca needed to walk away to process the news, but really, she was fine with it and gave him a rose at the end of the date.
If Colton makes it through The Bachelorette and Bachelor In Paradise (more on that in a second) without coupling up, this whole "waiting for the right woman" virgin story is amazing fodder for The Bachelor. Colton's sex life is none of our business, but the producers will make it so.
He'll Be On Bachelor In Paradise, Just Like Nick Viall
[SPOILER] According to a tweet that's been going around the internet, Colton was already photographed in Mexico with Tia, Raven, and Adam Gottschalk. That could mean a lot of things, since The Bachelor franchise often brings former contestants onto the set, but it could also mean that Colton is on Bachelor In Paradise. In The Bachelor world, this is what we call "the Nick Viall." He deserves love! He needs another chance!
He Wants To Be On TV
Look — far be it from me to denounce the kind of exposure and money that can come from being on The Bachelor. With appearances and sponsored content, you can make millions, just like Jade and Tanner did and do. Colton's motives are suspicious because, as Colton admitted to Becca, he dated Tia before going on The Bachelorette.
But Tia said they dated a little and then he admitted he had applied to be on the show. Tia was assumed to be the frontrunner for The Bachelorette role before Arie dumped Becca and made her the obvious pick, which had me thinking: Was Colton just applying to make sure he could get famous? Why did he go on the show? Why did he date Tia or Becca? Is it just for the fame and the clicks? That's never stopped someone from being casted before.
He's Ready For Something New
Colton is listed as a former NFL player on the chyrons on The Bachelorette, but when they say former, they mean it — according to Pro Football Reference.com, Colton was a tight end for the Raiders until 2016, when he was cut. Colton has no statistics on that site or on NFL.com, which leads me to believe he's looking for something new. Why not give him the The Bachelor gig and let him be the star? He has his charity, but I'm sure someone else can run that for a few weeks.
While there are still a few months to go before the big Bachelor announcement is revealed, the clues that Colton will be filming one of those cheesy, "giving out roses" promo commercials for The Bachelor are stacking up. But what will his catchphrase be?