Bughead Fans, Brace Yourself For Cole Sprouse's Intimate Birthday Message To Lili Reinhart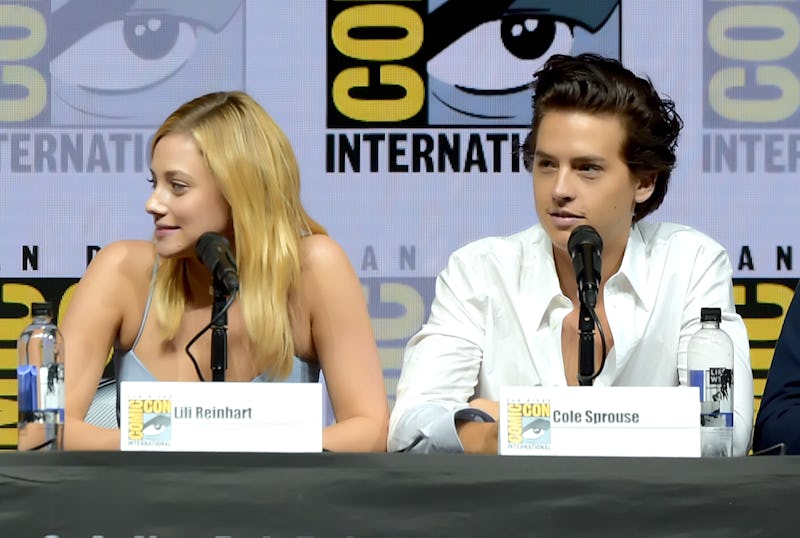 Kevin Winter/Getty Images Entertainment/Getty Images
A Bughead birthday post is a gift to Bughead fans far and wide. On Thursday, Sept. 13, Cole Sprouse wished Lili Reinhart a happy birthday on Instagram with a post that will treat Bughead shippers oh-so right. In the photo, Reinhart stands before a mirror, sans shirt. Oh, and Sprouse also happened to throw the L-word in the caption. While Sprouse and Reinhart have yet to confirm their relationship, whew, does this post ever chip away at any doubt about whether or not Jughead and Betty are an item in real life.
Sprouse's caption reads,
"Both the birthday and the gift. My little muse, happy birthday my love."
These two may never release an official statement regarding their relationship status, but they definitely are not pretending they are not a thing. The Riverdale stars are doing what works for them, and it's pretty darn sweet.
Sprouse and Reinhart have not-so-subtly hinted at their situation a bunch of times. The two attended the Met Gala together. They post photos of one another on Instagram. They celebrated July's blood moon together. And when they wished each other a happy birthday on social media this year, they called each other "my love." Yes, both have dropped the L-word on IG.
About a month before Sprouse called Reinhart "my love" on her birthday, Reinhart called Sprouse "my love" on his birthday. On Aug. 4, the actor who plays Betty Cooper shared a photo of her Riverdale co-star on Instagram and wrote,
"It seems as if the world would still be a stranger to me, if not for you. I'm so thankful that our paths intertwined to form this beautiful adventure~
Happy birthday, my love."
As far as actually opening up about their relationship goes? That's not really Bughead's thing. As Reinhart put it in a July 2 interview with Harper's Bazaar,
"I'm not okay talking about my relationship. I'm not going to tell you my love story. That's just not appropriate right now."
Again, Sprouse and Reinhart are doing what works for them. Good for Bughead.
Alice Cooper seems to share this sentiment. Bughead's Riverdale co-star Mädchen Amick recently told Entertainment Tonight that Reinhart and Sprouse are "great." She continued,
"I mean, they didn't talk about [their relationship] the entire time, until just recently. So it's nice that they're able to now, like, be public with it, so it's not so under wraps. But at the same time, they're in complete control of what they want to share and how they want to share it."
Given how private the pair is, the combo of Sprouse's photo of Reinhart plus Sprouse's birthday message to Reinhart really struck a chord with the Bughead fandom.
Yes.
"Overwhelmed" feels like an understatement.
The tears are rocking and rolling.
Bye, indeed.
We're all Pop's Chock'lit Shoppe milk-shooks.
What might October bring?
Love is alive and well and lovable.
It is a reasonable request.
He sure did not.
This is not fanfic. This is fanfact.
Both the tweeter's reaction and teacher's reaction are understandable.
Happy birthday to Reinhart, and happy birthday to Sprouse's iconic post.