Cole Sprouse's 'Friends' Crush On Jennifer Aniston Led To An Awkward Moment On Set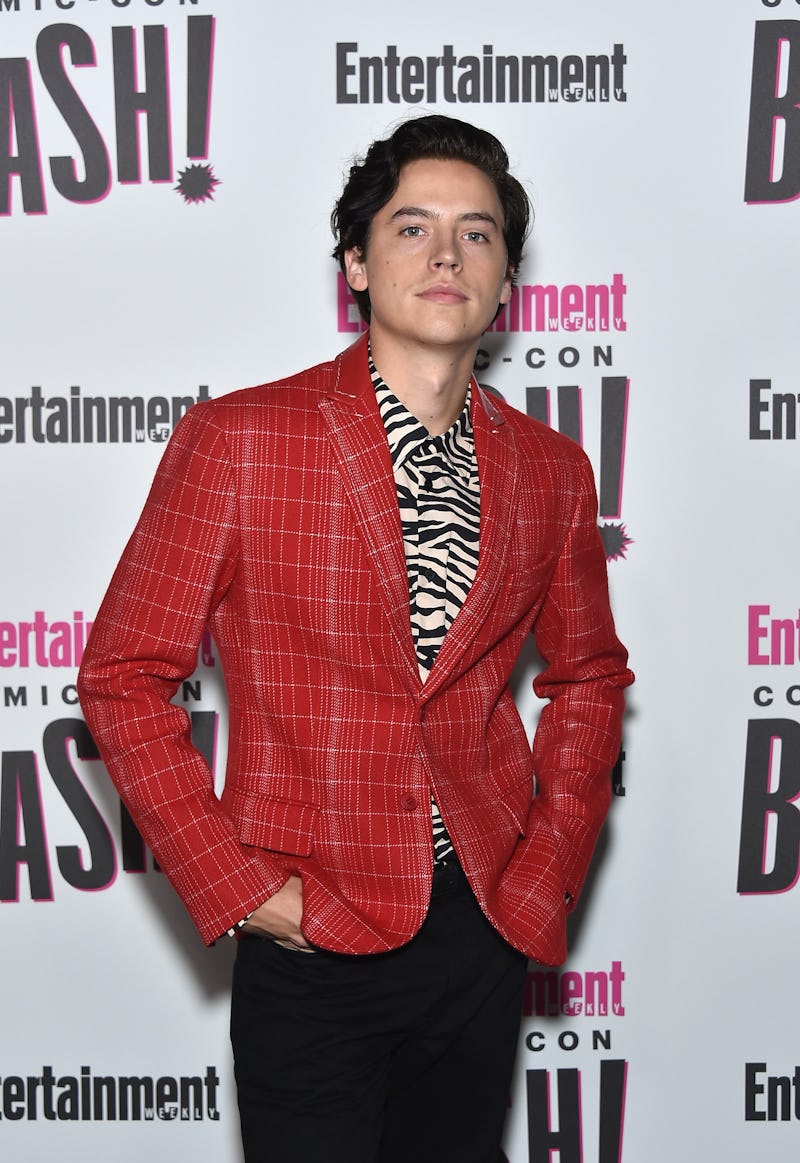 Mike Coppola/Getty Images Entertainment/Getty Images
Nobody can resist the charms of 1990s-era Jennifer Aniston — not even her co-stars. And while he may have just been a small child when he starred alongside her on Friends, Cole Sprouse had a major childhood crush on Aniston, which he revealed during a recent appearance on The Late Show With Stephen Colbert.
According to Entertainment Tonight, the Riverdale star owned up to his puppy love affection for Aniston while reflecting on the early years of his career with Colbert. After the talk show host shared a photo of a young Sprouse — who played Ben, the son of Ross Gellar (David Schwimmer) — in a scene with Aniston's character, Rachel, Sprouse joked that the shot had captured "when I fell in love with her."
But while most people who were in love with Aniston managed to keep their affections under wraps, Sprouse had his crush publicly outed in the middle of shooting: "I remember feeling so intimidated by my crush on her that I completely blanked and forgot every single one of my lines and she just stared at me and was waiting," Sprouse recalled. "One of the crew members — it was one of the camera men, you guys know who you are — goes, 'That little boy's got a crush!'"
Sprouse joked that the moment "broke me," because no matter how famous you are, there is truly nothing in the world more embarrassing than having your secret crush announced to an entire set full of people.
While the moment may have been traumatizing for a then-7-year-old Sprouse, he has often joked about how his crush on Aniston made it difficult to get through his scenes. "I had a really, really hard time working with Aniston because I was so in love with her," he told The New York Post back in 2017. "I was infatuated. I was speechless — I'd get all bubbly and forget my lines and completely blank… It was so difficult."
It may have been hard for him to get through those days acting opposite Aniston, but Sprouse still managed to make a lasting impression as Ben — so much so that he still gets recognized for his work on Friends almost 20 years later.
"I must have been maybe 7 or 8. I was only in seven episodes, but it's funny now that people are recognizing me for that," he told the Post. "People can call me Ben on the street and I will turn around."
Of course, with his starring role on the pop culture phenomenon that is Riverdale, something tells us that Sprouse gets recognized for his work as Jughead a lot more frequently than his childhood role on Friends. And now that he's older and more established, Sprouse admitted to Colbert that he's actually the person that the show's older cast — including former teen icons Luke Perry, Skeet Ulrich and Madchen Amick — come to for advice.
After Colbert asked if the actors who play Riverdale's parents have offered the younger cast any advice on being young and famous, Sprouse revealed that it's "the exact opposite."
Noting that he and his fellow young cast mates have helped instruct their older costars on using social media to their advantage, Sprouse revealed that the main lesson he's given Perry is "when it's appropriate to show a tasteful amount of nipple on social media." The answer? "All the time."
With sage wisdom like that, it's no surprise that Sprouse has 20 million followers on Instagram. Clearly, he's learned a thing or two from his Friends days about how to become a full-blown pop culture icon.