Lili Reinhart & Cole Sprouse's 'Riverdale' Parents Discussed Their Off-Screen Romance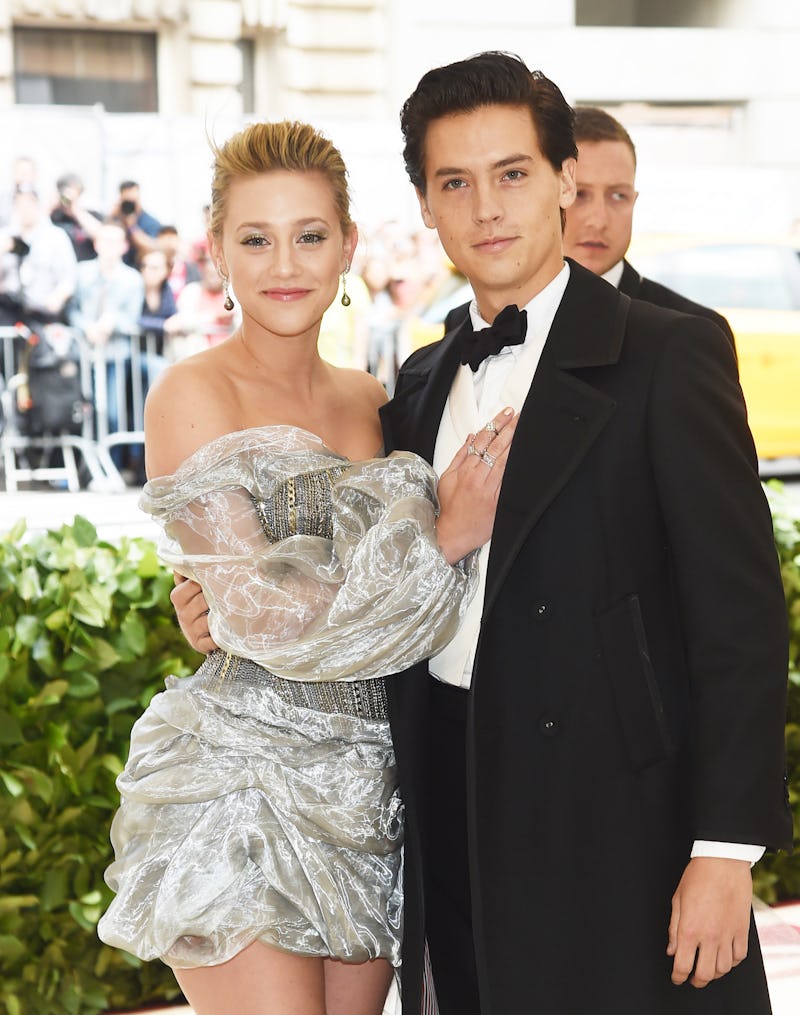 Jamie McCarthy/Getty Images Entertainment/Getty Images
Riverdale fans, gather 'round, because Alice Cooper and FP Jones are talking about the real-life Bughead like never before. While chatting with Entertainment Tonight at the Television Critics Association summer press tour, Mädchen Amick and Skeet Ulrich discussed Lili Reinhart and Cole Sprouse's relationship. Not only did they praise their romance and act like supportive parents, but they maintained their TV kids' privacy, just like they would want them to.
"It's great," Amick told ET. "I mean, they didn't talk about [their relationship] the entire time, until just recently. So, it's nice that they're able to now, like, be public with it, so it's not so under wraps."
She continued, "But at the same time, they're in complete control of what they want to share and how they want to share it. Behind the scenes, they're so sweet with each other and they're both just exceptional people."
As for Ulrich, in addition to saying he's "really glad" they're together, especially as young TV stars, he said about Reinhart and Sprouse, "It's nice. They really keep each other grounded and supported. Their friendship is beautiful."
Reinhart and Sprouse 'shippers know the two keep their relationship very private. So for Ulrich and Amick to gush about their romance without saying too much is extremely respectful. Their co-stars, who play Betty Cooper and Jughead in The CW series, would probably be happy with how they handled the conversation.
In May, Reinhart and Sprouse attended the Met Gala together, but that doesn't mean their coupling is open for discussion. As Reinhart told Harper's Bazaar in July, she isn't going to talk about her personal life, so everyone can stop asking.
The 21-year-old said, "I'm not okay talking about my relationship. I'm not going to tell you my love story. That's just not appropriate right now." She also told the publication, "I don't act to be famous. I just am a performer."
As Seventeen's May/June 2018 cover star, Reinhart also explained why she remains tight-lipped about Sprouse. She said,
"Every time someone asks me about it, I make a decision then and there about whether I'm comfortable. It's not like I'm in some kind of contract, but I'm not in the place where I want to talk about it, and that's totally fine. It's called a private life for a reason — it's mine, and it's special and sacred. My relationships are between me and whomever I'm with, not between me and the world."
Sprouse echoed Reinhart's statements in a November 2017 interview with People. First of all, he said anyone inquiring about them as a couple is an "invasion of privacy." The 26-year-old later added, "So I just never talk about it because it's not anyone's right to know. People can speculate all they want, people speculate about me with every member of the cast practically, but it's really no one's right to know. It's also sexy, these parts of the relationships that are just yours."
Fans shouldn't be too upset with them for keeping mum, especially with Reinhart's recent birthday post for Sprouse. Next to a photo of him, she wrote, "It seems as if the world would still be a stranger to me, if not for you. I'm so thankful that our paths intertwined to form this beautiful adventure~ Happy birthday, my love."
Hollywood can't be an easy world to navigate, especially when it comes to keeping your personal life somewhat private. It's definitely nice Reinhart and Sprouse have support from their on-screen parents.