These 'Riverdale' Stars' Parody Of Cole Sprouse & Lili Reinhart's Photo Will Make You Laugh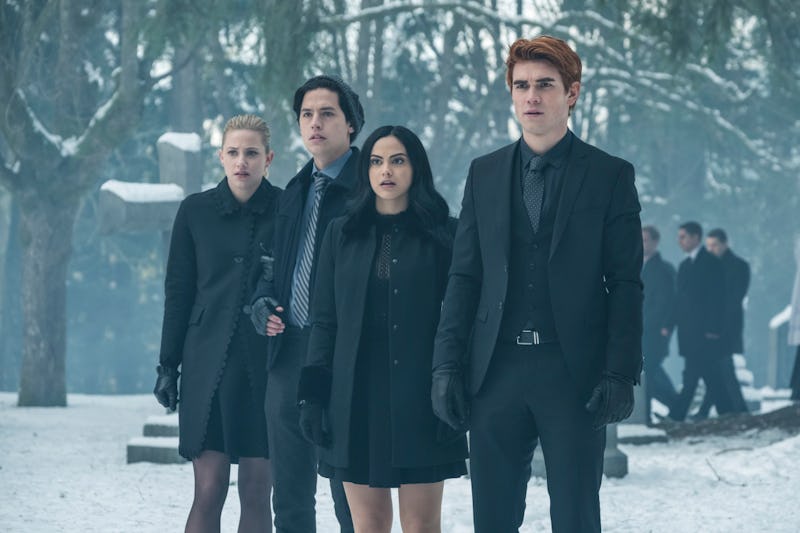 Katie Yu/The CW
One of the best parts about watching Riverdale on The CW is knowing the gang is just as tight offscreen as they are on TV. They even tease each other on Instagram! These Riverdale stars' parody photo of Cole Sprouse and Lili Reinhart is the best thing since Bughead got together IRL — well, reportedly. They haven't confirmed it yet, but still.
On Sept. 14, actor Casey Cott posted a sultry shot of costar KJ Apa for his birthday on Instagram with the following caption:
"Both the birthday and my gift. My little muse, have a good day my love."
Comments from costars poured in instantly. Camila Mendes, who plays Apa's on-screen love interest, wrote three heart-eye emojis. Other Riverdale stars wrote in as well, with Vanessa Morgan posting a single skull emoji, and Madelaine Petsch writing "This is epic". The reason for all the hubbub? Cott's birthday message to Apa echoes a post by costar Cole Sprouse earlier in the week. Actually, just one day beforehand, but let's get to that in a minute.
Perhaps the best comment of them all came from Mark Consuelos, the actor who plays Veronica Lodge's father and shares many a tense scene with Apa's character. He wrote, "Just wish I would have thought of this first," which is incredible and perfect. Can you imagine if he had? It would have been so gloriously weird. Also, do people just have these photos of Apa lying around? Did he pose for them, and if so, how many?
But other parents chimed in as well, including Sprouse's on-screen dad and Consuelos' TV wife. So it's safe to say that everyone on set had seen the Bughead picture from earlier.
On September 13, Lili Reinhart — another costar and not-so-secret partner of Sprouse — celebrated her birthday. (Team Virgo!) Sprouse posted an intimate photo of Reinhart, adding a caption that might look familiar by now:
"Both the birthday and the gift. My little muse, happy birthday my love."
If one were to think back even further, they might recall that when Sprouse celebrated his Aug. 4 birthday, Reinhart posted a sweet photo as a tribute to him. That seemed like the first time the pair had used the word "love" in an Instagram caption. Reinhart wrote:
"It seems as if the world would still be a stranger to me, if not for you. I'm so thankful that our paths intertwined to form this beautiful adventure~ Happy birthday, my love."
Even if they've never spoken publicly about their rumored relationship — not even when they attended the Met Gala together — it's obvious that they care deeply for one another. And now, Bughead fans have a new fandom to ship: Karchie. Or, better still, Bughead shipping Karchie. Because the not-so-secret couple had only kind words for the photo. (Goofy words, but still.)
Even though it was so clearly a post playfully parodying theirs from earlier in the week — basically one day later — Sprouse and Reinhart chimed in on Cott's photo of Apa. "Show me those nips," Reinhart teased, though Sprouse seemed to enjoy it a little less. At first, he wrote "bReAK tHe InTeRnET," to which Cott responded "I love you most." A little later, Sprouse added a single pink emoji heart.
So, in the end, it seems all is well in the town of Riverdale. Or at least, all is well between the TV pals. Riverdale itself is home to murder and gangs and all kinds of twists, but at least the stars have each other to consistently love (and photograph).