What To Communicate With Your Third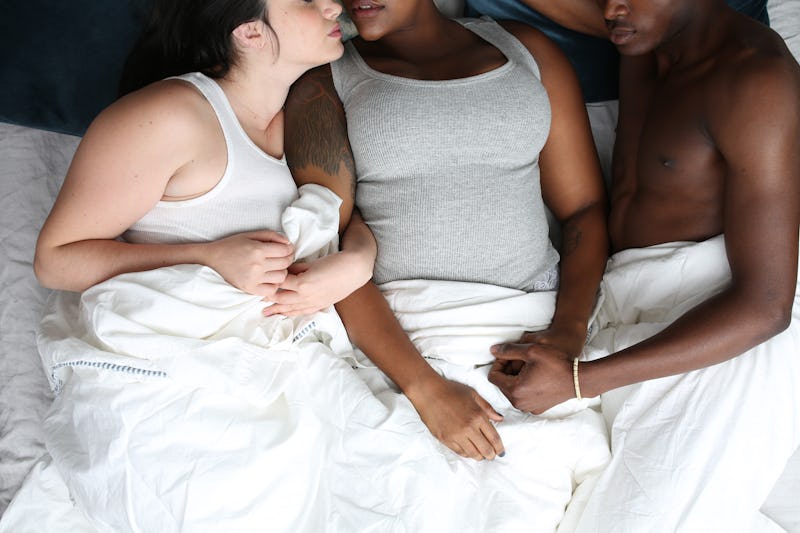 Bustle
We're always hearing that we could be having better sex, a better orgasm, or a better relationship. But how often do we hear the nitty-gritty of how we can actually better understand our deepest desires and most embarrassing questions? Bustle has enlisted Vanessa Marin, a sex therapist, to help us out with the details. No gender, sexual orientation, or question is off limits, and all questions will remain anonymous. Please send your sex and relationship inquiries to tips@bustle.com. Now, onto today's topic: how to talk to your third in a threesome.
Q: "My boyfriend and I have been fantasizing about a threesome for a very long time. We finally decided it's time to make this fantasy a reality. The two of us have had good communication together, but we've been talking about how to communicate with the third person. We're both pretty set on it being someone we don't know, so we'll be starting from scratch with this new person. Do you have any communication tips for talking to your third? What types of things are important for us to communicate about?"
A: Thanks for the question! A threesome can be a really hot fantasy, but it's great that the two of you are thinking about the logistics too. Here are some important tips for talking to your threesome partner before, during, and after the big event.
What To Communicate Before The Threesome
Who You Are
One of the hardest parts of making a threesome happen is actually finding a person to have your threesome with! It can be surprisingly challenging. If you're interested in having sex with a stranger, you'll want to let them know a bit about who each of you are individually and as a couple. If you're putting up an ad online, treat it the same way you would treat your profile on a dating app (of course, you can also look for your threesome partner on an app like 3nder). Tell a bit of your backstory. Share your interests. Try to be engaging and charming. You don't need to get too detailed or share your entire life story, but a little personal information will help potential thirds get a sense of whether or not you feel like a good fit for them.
Who They Are
Similarly, I would also encourage you to get to know your third in return. You don't need to become BFFs, but it can be nice to get to know a bit about the person you're about to bring into your bedroom. As a third, it can be comforting to know that the couple has a genuine interest in you as a person, and not just as a sex object. Some couples even enjoy going out on a date or two — or dating — their third before going to bed together.
What You're Looking For
Of course, the other important details you'll need to share with your third are what you're looking for from the threesome itself. A lot of couples balk about not wanting to talk about the threesome beforehand. There's a fantasy about letting it "just happen." But the reality of threesomes (and really of sex in general) is that they have a much higher chance of being successful if you talk about them beforehand.
Here are some specific questions to consider:
What are you looking to get out of the threesome?
How do you imagine the evening unfolding?
What activities are on the table? For example, maybe you really want to try kissing the third while your boyfriend watches.
What activities are off the table? This is one of the most important questions to consider, so be specific! For example, maybe you're not interested in the third having intercourse with either of you, or kissing either of you.
What will you do if any of you starts to feel uncomfortable or needs to take a break?
What happens when you're done with the evening's fun? Is there going to be a sleeopver, or will your third head home?
Is this a one-time-only event, or is there a possibility for a repeat?
Is there anything else that would be useful for your third to know? For example, maybe you have a bum knee and can't be on all fours for an extended period of time. That's useful information for your third to know!
What They're Looking For
Your third is also going to come into the threesome with their own set of expectations, guidelines, and boundaries. A lot of couples get so caught up in their own fantasies of what they want for their threesome that they tend to forget that the third also gets a say. This is why having a great threesome is so challenging! You have three sets of fantasies and desires to try to match up! Make sure to ask plenty of questions about what your third is looking for, and what they would like you to know beforehand.
What To Communicate During The Threesome
How You'll Keep Yourselves Safe
You should definitely talk about safety before the threesome, but it's also good to quickly recap right before getting started. Make sure you have a plan for keeping yourselves safe from pregnancy and STIs. Who is going to bring the condoms, dental dams, or saran wrap, if you're using them? Do you have a plan for keeping toys or props uncontaminated? You may even want to share your STI status, so you're all fully informed.
You also want to make sure to talk about consent, and specifically, how any of you can stop the threesome if you feel uncomfortable or simply need to take a break. If you're going to be doing any sort of roleplay, or playing with bondage gear or toys, you definitely want to come up with a joint safeword. Make sure you remind yourselves of the safe word right before getting started.
A Reminder Of The Rules
You may also want to quickly recap the guidelines of your plan for the evening, just to make sure you're all on the same page. This can be particularly helpful if a bit of time has gone by since your first discussion about the threesome.
If it seems that anyone is crossing those boundaries, it's also important to call it out in the moment. You can give a little warning at first, like, "hey, we all agreed to no kissing, remember?" If any of the three of you persists, it's time to call a time-out.
Checking-In
It can also be a good idea to take a quick pause to check in with everyone and make sure you're all doing OK. Threesomes can be a lot of fun, but they can also be intense. It only takes a few seconds to say, "hey, everyone doing OK? Everyone enjoying themselves?" but it can make a big difference in the moment itself.
Dirty Talk
Hey, communication doesn't have to be boring! You can have a lot of fun talking dirty with your third during the threesome itself. Get into character if you're doing role play. Or tell your third how sexy you find them, how much you enjoy watching them, how turned on they're getting you, or how good they're making you feel.
What To Communicate After The Threesome
Checking-In
Post-threesome is another good opportunity to do a quick check-in. Ask how it went and make sure everyone is feeling OK. If it feels too soon to process the experience, you can make a date to talk about it at another time. Later, you can continue talks about potential repeat performances (if that's what everyone wants).
Appreciation
Make sure to thank your third for helping you and your boyfriend fulfill one of your wildest fantasies! Compliments are always appreciated!
Wishing you the best of luck!