Corinne Olympios Is Returning To 'Bachelor In Paradise'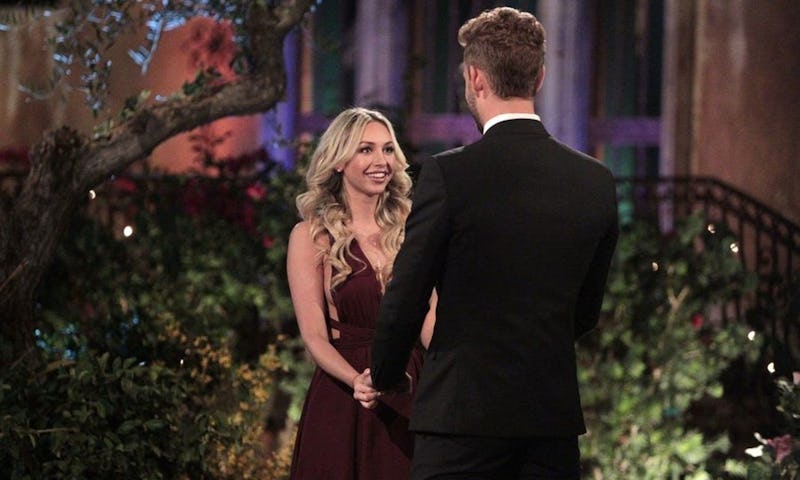 Rick Rowell/ABC
If you're a fan of a certain blonde breakout star of Nick Viall's Bachelor season, then you'll be happy to hear that Corinne Olympios will appear in a Bachelor In Paradise reunion special, according to a statement she released to Bustle on Wednesday. This may come as a surprise, since the former Bachelor contestant previouslty said that she wouldn't be participating in the season at all, but it makes sense for a variety of reasons. "I am very happy to be appearing on the Bachelor In Paradise special," she said to the publication. Days earlier, DeMario Jackson also told TMZ that "I'm doing the Men Tell All for The Bachelorette and I'll be doing Paradise as well." With these appearances, both contestants will have the opportunity to speak their truths and find closure after the investigation that halted production.
Bachelor In Paradise Season 4 production was initially shut down amidst reports that Olympios and Jackson, who had both been drinking, were involved in an alleged sexual encounter in which Olympios may have been too drunk to consent, according to People. Jackson has repeatedly denied the allegations, claiming that Olympios was the aggressor. Warner Bros. investigated the incident and found no evidence of wrongdoing. Olympios' lawyers conducted an independent investigation into the incident, and she released a statement saying it had been "completed to my satisfaction."
Since then, Bachelor in Paradise has reportedly taken steps to assure no further incidents occur, such as reportedly limiting how much contestants can drink and creating a rumored new rule that requires contestants to inform producers before having sex on set. And now, along with the announcement of a new premiere date for Bachelor In Paradise Season 4, ABC has confirmed in the same press release that "the previously announced cast will all be a part of this summer's much-buzzed about season, including the cast members that were at the center of the investigation." And, yes, that means Jackson and Olympios, likely in After Paradise.
The reunion special will be the perfect place for both contestants to find closure with each other and with their fellow contestants, the latter of whom Jackson credited for his decision to return to the franchise. "They've been very supportive of me through this whole entire thing and I want to thank them all personally, face-to-face. Give them all hugs," he told TMZ. Regardless of what actually happened during the alleged incident, Bachelor In Paradise has inadvertently opened up a public conversation about consent — what it means, when it's been given, and when it's impossible to give — and Olympios and Jackson could further that conversation with thoughts of their own. Or, at the very least, make peace with the situation.
Season 4 airs on August 8, and it could be the deepest season of Paradise yet. Even more so now that Jackson and Olympios have the chance to clear the air.