John Boyega Got A Dance Request From Daisy Ridley On 'The Tonight Show' & It Was Glorious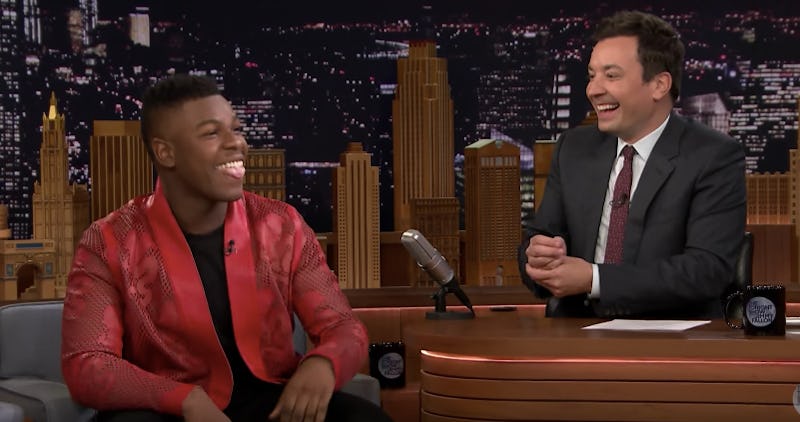 The Tonight Show Starring Jimmy Fallon / YouTube
The breakout stars of the new Star Wars movies are Daisy Ridley and John Boyega, two delightful British actors who also seem to be genuine friends. Though the two couldn't appear on The Tonight Show together, one pal still found a way to surprise the other: Ridley challenged Boyega to dance on The Tonight Show, and the result will literally delight you for hours on end.
As the world premiere of the new Star Wars film draws closer, the promotional machine is all systems go. And, during Boyega's solo appearance on Tonight Show, host Jimmy Fallon played a video message Ridley had secretly taped and sent in to the show. Fallon framed this as "a question from a fan," so the Star Wars actor was caught off-guard to see cell phone footage of a beaming Ridley. That's when it really starts to get good. "Oh, Peanut," Ridley chirps, "Please show Jimmy your breakout dance move from the wrap party." (Also, it looks like she's wearing a black evening gown just to sit on the couch at home. Tell the world your secrets of living fabulously, Rey, please.)
After a moment of actual disbelief — which is amazing, considering how the typical talk show "surprise" is often staged — Boyega accepted the challenge. The world will never be the same after we all take in what even the YouTube video identifies as Boyega's "best" Michael Jackson moves.
The actor handled the shock well, all things considered. After a minute or two of negotiation, The Roots settled on a classic Michael Jackson jam to soundtrack the moment and it could not have been more perfect. First of all, the Star Wars actor was already dressed like Thriller-era MJ, which is amazing in its own right. Second, and more important: he can dance. He was amazing. Boyega rocked a flawless Billie Jean dance, with the hand motions and finger placement and facial expression and everything. It's something else.
The young, British actor is already fun, funny, and really good as Finn, but he just became infinity times cooler. The Roots went crazy for it, and Fallon even gets up to dance with him. Understandably. As stated, there's nothing about this situation that wasn't delightful.
Also, let's just talk about this for a second: Ridley calls Boyega "Peanut." Her nickname for her co-star is Peanut. Nothing in the Dagobah or any other system in the Star Wars universe is as adorable as Ridley nicknaming someone Peanut. As they explained on the red carpet for The Force Awakens in Dec. 2015, it's actually a name both of them have for each other. "She's my peanut," Boyega said to a reporter, per ET. And Ridley explained that the pair, "Just get on really well and we are really good friends," and claims she invented the name first — not that Boyega would ever admit it.
For longtime fans of the franchise, the upcoming release of Star Wars: The Last Jedi is bittersweet. For the first time in the series' history, a Star Wars film will not feature Han Solo. (Harrison Ford's iconic character met an untimely demise in The Force Awakens.) While there should be plenty of General Leia Organa in The Last Jedi, the movie will likely be Carrie Fisher's last onscreen appearance. Fortunately, the real-life Rey and Finn are on a press tour that keeps up everyone's spirits.
And, with any luck, "John Boyega Dancing" will become the next great meme. This Fall's "Armie Hammer Dancing" was great, and "Hopper Dancing To" was a gem, but "John Boyega Dancing" has the power to become legendary. Use the force, internet. Make "John Boyega Dancing" happen. Maybe Daisy Ridley will even call you Peanut for it.