Danielle M Is Dating A 'Big Brother' Star & Her 'Bachelor' Friends Are Obsessed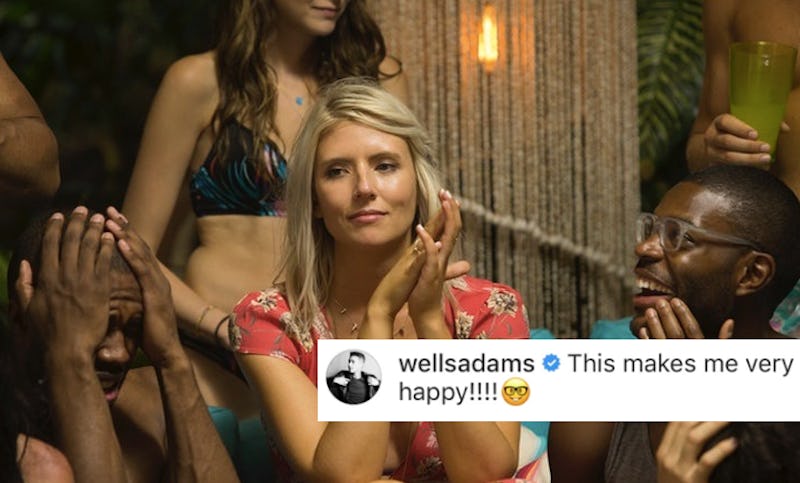 ABC/Paul Hebert
Is there a dating app specifically for reality stars, are people just sliding into each other's DMs the old fashioned way, or does it just make sense that two reality stars would easily connect? Get ready, there is another reality TV crossover romance to ship. The Bachelor's Danielle Maltby is dating Paul "Paulie" Calafiore from Big Brother Season 18. How did these two get together? It seems pretty random and there are no specific details available at this moment, but Danielle's Bachelor friends are all for it.
The news hit Bachelor Nation when Danielle posted two pictures on Instagram from a wedding that she and Paulie attended in Nashville. She is sitting on Paulie's lap in both of the photos. In one of them she is gazing into his eyes while their noses touch and they're kissing in the other pic. She captioned the Instagram, "melting." Paulie posted one of the same photos with the caption "Wedding Season."
Bringing someone as a plus-one for a wedding is a pretty big deal, as is becoming Instagram official, especially for two people with a devoted public following. Based on 21st century dating norms, you can assume these two are pretty serious.
Aside from the Bachelor and Big Brother fans who loved both posts, Danielle had support from her fellow Bachelor alums. Bachelor contestants Amanda Stanton, Jen Saviano, Carly Waddell, and others "liked" the photo and plenty of Bachelor cast members left encouraging and supportive comments.
Danielle's longtime friend and one-time kissing partner Wells Adams posted a sweet comment on the photo:
Danielle's friend from both Nick Viall's season of The Bachelor and Bachelor in Paradise Season 4 Kristina Schulman wrote, "Yes yes yes let the world know. So happy for you and your happiness." Clearly, Kristina isn't the only one who feels this way because a lot of Bachelor contestants shared kind sentiments in response to the photo.
The most recent Bachelorette star, and Danielle's friend from Nick's season, Rachel Lindsay commented, "I am obsessed" along with some yellow heart emojis. Raven Gates responded to the photo with "Wowwowowowow."
Vanessa Grimaldi wrote "I FREAKING LOVE THISSSSSS!" with many red heart emojis to emphasize her support for the relationship. Caila Quinn commented, "Aw love this. Congrats from afar."
Vanessa also scrolled over to Paulie's Instagram account to write "I love this!!!!"
Taylor Nolan wrote, "MY HEART IS SO FULL! THE WAIT IS OVER. Love you babe!"
Diggy Moreland from Rachel's Bachelorette season and BiP 4 commented, "LETS GOOOOOO!!!! Congrats!"
Christen Whitney joked, "Subtle ;)." Sure, it's not subtle (at all), but the two of them look so happy that they probably don't even care.
Fellow Nashville resident Olivia Caridi commented, "OMG WHAT."
Aside from Danielle's Bachelor friends who liked and commented on the post, Paulie himself responded with "You make me smile a whole lot." Danielle responded to that comment with "like all the damn time" and a smiley face emoji. Awww.
Clearly, Danielle has the support of her Bachelor family behind her. This isn't at all surprising since the nurse was such an easy person to root for during her appearances on The Bachelor and Bachelor in Paradise. Plus, who doesn't love an entertainment crossover involving Bachelor stars? That is something that seems to be happening a whole lot these days.
Danielle's good friend Wells has been dating Modern Family star Sarah Hyland for the past few months. This is perfect since Sarah has been very open about her avid Bachelor fandom over the years. They both found love without having to sweat it out for a rose every week, and now they can just enjoy live posting about the show when it airs and being super cute all of the time.
Even the last Bachelor, Nick, is dating someone in the entertainment industry and it isn't even a reality TV star — or at least that is the case according to the latest round of rumors. Reportedly, Nick is dating January Jones, who expressed that she thought Nick was "pretty cute" during an appearance on The Late Late Show.
Danielle didn't find love on reality TV, but she did find it with a reality TV star, and her friends and fans are all about it.